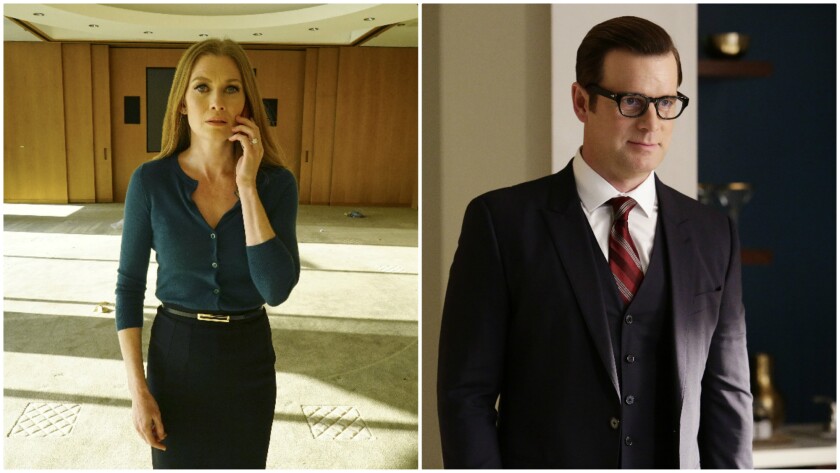 In Shondaland, love, death and monologues happen in Seattle ("Grey's Anatomy"), Philadelphia ("How to Get Away With Murder"), Washington, D.C. ("Scandal"), and, for the last two seasons, Los Angeles. The city of palm trees, stars and angels has been the backdrop — almost a secondary character, of sorts — for the Shonda Rhimes-produced "The Catch," which is about capers, con artists, relationships and people who get played.
But fashion also has a starring role in Shondaland, especially on "The Catch" and "Scandal."
The wardrobe that Kerry Washington wears as Olivia Pope in "Scandal's" view of D.C. — swing coats, Prada handbags, white hat and all the neutral and now pops of color — have helped make America's weeknight TV fashion great again. (Pope's signature style comes from Emmy-winning costume designer Lyn Paolo in collaboration with Washington.)
For the West Coast set, sartorial hope comes from "The Catch's" lead character, Alice Vaughan, played by "The Killing" and "Big Love" alum Mireille Enos. Vaughan is the L.A.-based, red-haired private investigator whose style is elegant and feminine but understated and professional — perfect for her futuristic-looking office, which in real life is the Emerson College building on Sunset Boulevard. (Think designer pencil shirts, blouses, handbags and coats that come in at the waist.)
For the last two seasons, there could have been a serious East Coast/West Coast fashion rivalry, with Vaughan facing off against Pope every Thursday in the shows' back-to-back airings on ABC.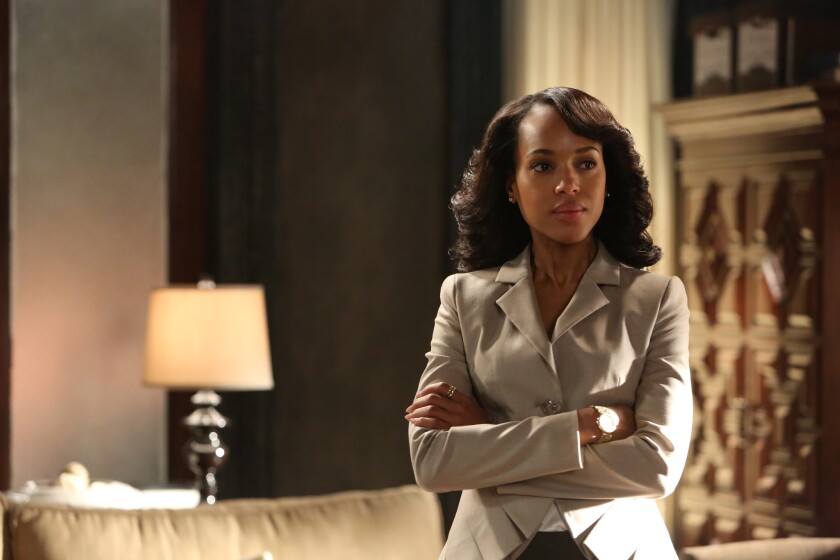 Flirting and murder aside, does Vaughan's closet stand a chance against Pope's? (Wait — before you answer, you should learn more about the newer Shondaland show.)
Enos, for her part, says yes to the question. "It's spectacular. It's gorgeous," says "The Catch" star, joined on a recent day by her costar, Peter Krause, during an interview at Los Feliz's Alcove Cafe and Bakery.
The two not only traded banter for an hour but ended up sharing a plate of crispy chicken, mac 'n' cheese and spinach — down to using the same fork.
"I feel bad that you're eating alone," Enos says after taking a bite of Krause's chicken. "I should have ordered something."
"The Catch," which was retooled this season, has had more rom-com moments in recent episodes, while taking a deeper dive into the lives of several characters instead of focusing solely on case-of-the-week story lines. Think of "The Catch" as a glass of Champagne compared to a heavy pour of "How to Get Away With Murder" Malbec. (According to Enos and Krause, the revamped tone for the series, which airs its season finale May 11, has much to do with show runner Allan Heinberg, who the upcoming "Wonder Woman" movie.)
Despite those changes, the show's style has remained the same, though with a bit more color for Enos' character this season. Costume designer Peggy Schnitzer says she wants Alice Vaughan to look ultra-feminine without being frilly.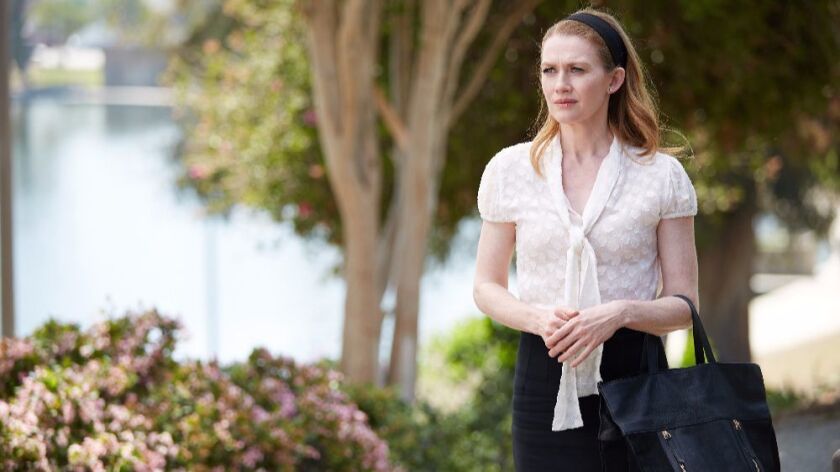 "With Mireille, my inspiration for her is a well-dressed French lady," she says. "She has red hair and blue, blue eyes. You have to be careful not to add too much color but add just enough. She looks amazing in clothes. I wanted a clean silhouette and to show her body in not a sexual way."
Enos says about her character's look: "Her taste is so spare and clean and elegant. Peggy's eye is incredible."
As a bonus, Enos adds that she's learned more about fashion and style. "I had this Lanvin purse this last season, which I didn't know from anything," she says. "I have upgraded from just a sweatshirt to a cashmere sweater."
Some of the labels worn on the show include Saint Laurent, Paul Smith, Lanvin and Ralph Lauren. (A leather trench coat in camel was cut to fit her like a glove, Enos says.)
West Coast versus East Coast: Who's the winner of this TV fashion face off?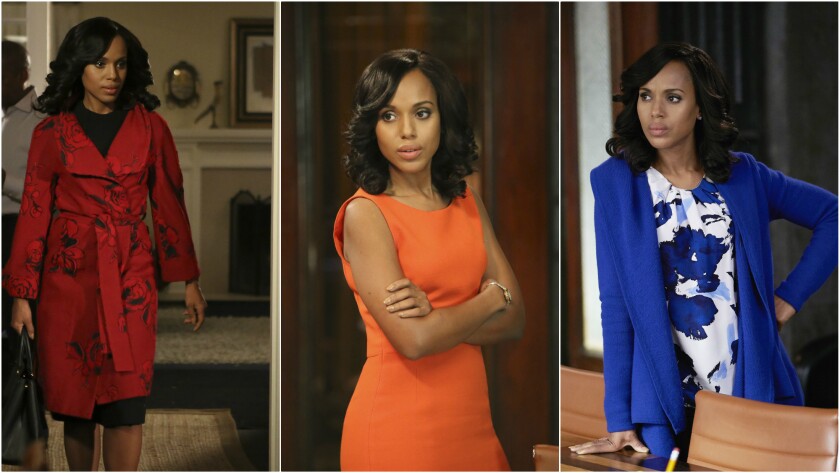 Then there's Krause, who plays bad-guy-turned-good-guy and the love interest of Vaughan, Benjamin Jones. He's regularly dressed in the type of pec-hugging, button-down shirts and fitted suits (when he's not in disguise) that might make James Bond envious. How has the actor fared with his fancy wardrobe?
"I'm fortunate I get to be dressed by a really wonderful costume designer," Krause says, mentioning a standout "Catch" look, a Lanvin tuxedo.
"I have some great tuxedos on this show. … I spend all of my time at work in those clothes and then I'm, you know, whatever," he adds, laughing. "I'm not known for my fashion? Is that what you're saying?"
Jokes aside, Enos says about her costar and clothes: "He has such a perfect form to put that on. That kind of James Bond, suave, perfectly tailored suit, he carries it so well. I've never done anything with a '60s shape, so it has been fun to put those clothes on."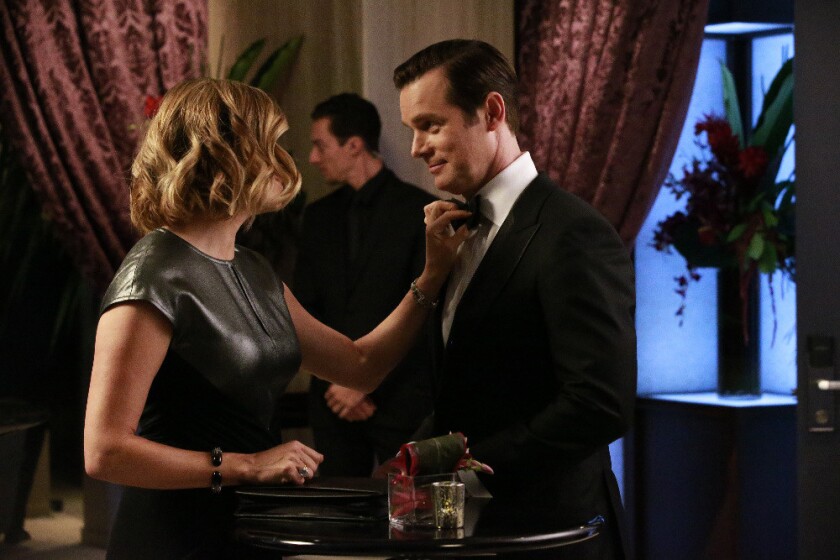 Schnitzer says she wanted Krause's character to have a consistent style. "I think men look good when they're in a uniform," she says. "I like the high collar on him and very clean lines. I just wanted him to have a silhouette. I wanted his clothes to not be distracting. It was good to go with something that worked well on his body and well with the story line."
That meant putting Krause in white and navy shirts — his shirts come from L.A.-area shirtmaker Anto — and dark suits. ("Ben, as you see, never wears a tie, really," Schnitzer says. "It's very classic, not overly hip.")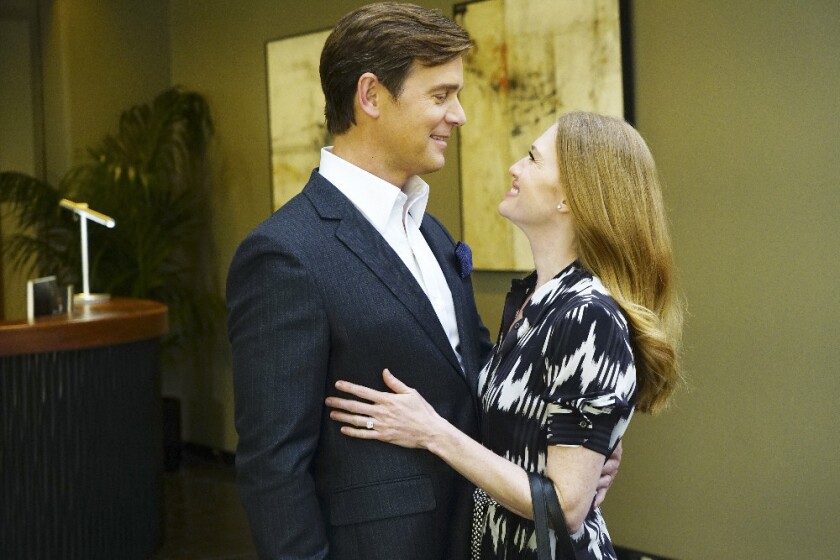 While who's the sartorial queen of Thursday nights — Pope or Vaughan — might come down to your loyalty to the coast you live on, there's one similarity between the two Shondaland shows that can't be denied. Like "Scandal's" star couple, Pope and her on-again-off-again beau, Fitzgerald Grant, Vaughan and Jones are equally as passionate. What's the secret of their on-screen magic?
"They have great chemistry in life," Schnitzer says about Krause and Enos and their characters. "They have a very great working relationship. I have amazing people to dress."
"They just dig each other," Krause says with Enos, adding: "These two people see each other in a way nobody else can."
ALSO
Everything But Water swims into new Century City space; Joey Wölffer's boho bags land in Culver City
Sofia Carson and Bruno Tonioli on hand as Los Angeles Ballet Gala raises nearly $1 million
Style sightings: Hailey Baldwin celebrates with footwear brand Schutz at a Beverly Hills party
---