Crystal + Lucy Awards: Honoree Brie Larson questions the lack of diversity among film critics
Brie Larson received honors during Women in Film's Crystal + Lucy Awards on Wednesday night, but the Oscar winner used her moment at the podium to shine a spotlight on others. "My prepared speech has nothing to do with me," Larson said jokingly. "I'm so grateful to be up here to receive this award so I cannot thank my family and my team and instead talk about something that's really important to me."
She then reminded the audience that earlier this week USC Annenberg's Inclusive Initiative released a report that found that 76% of top movie critics reviewing the 100 highest-grossing films in 2017 were white males; less than a quarter were white women; less than 10% were unrepresented men; and 2.5% were women of color.
Larson said it was a "huge disconnect" from the U.S. population. "Am I saying that I hate white dudes?" she quipped. "No, I'm not. What I am saying is that if you make a movie that is a love letter to women of color, there is an insanely low chance a woman of color will have the chance to see your movie and review your movie."
Later she said, "I do not need a 40-year-old white dude to tell me what didn't work for him about 'A Wrinkle in Time.' It wasn't made for him. I want to know what that film meant to women of color, to biracial women, to teen women of color, to teens that are biracial." Larson emphasized that like it or not, reviews matter, while adding that "a good review can change your life. It changed mine."
Larson's speech concluded a night of rousing conversation that included the discussion of inclusion riders and the importance of representation and visibility on screen.
The event
Women in Film's Crystal + Lucy Awards fundraising dinner, which was presented by Max Mara, Lancome and Lexus at the Beverly Hilton Hotel in Beverly Hills, has honored women in front of and behind the camera since 1977. This year's focus was placed on WIF L.A.'s educational and philanthropic programs as well as its advocacy for gender parity for women in various aspects of the industry, as evident from Larson's speech.
The crowd
The 45-year-old organization is known for attracting a who's who of talent who excel in their fields, and this year was no exception. Attendees included Frances McDormand, Ellen Pompeo, Regina Hall, Lake Bell, Alison Brie, Katherine Langford, Shohreh Aghdashloo, Katherine McNamara, Jane Lynch, Rosanna Arquette, Catherine Hardwicke, SAG-AFTRA President Gabrielle Carteris, Vanity Fair Editor-in-Chief Radhika Jones, Stacy L. Smith of the USC Annenberg Inclusion Initiative, Jane Fleming, Iris Grossman, Rachel Morrison, the Sundance Institute's Keri Putnam and Women in Film's Kirsten Schaffer, Cathy Schulman and the organization's new president, Amy Baer.
"I'm excited to be in the room with a bunch of women," Larson told The Times earlier in the evening on the red carpet. "It's another opportunity for all of us to see each other, shake hands and congratulate one another." She said she has a lot of hope and excitement for the future of Hollywood, though she was quick to reference the industry's tumultuous last year and the recent USC Annenberg study. "I'm angry," Larson said, "but it's a very focused, clear type of anger that I'm ready to use to make the world a better place."
First-time attendee Brie agreed, "It's always exciting to see women coming together and different industries coming together to support each other." She added, "I do think that we're seeing real consequences to actions, and that is important in terms of moving forward and a real coming together. I feel like we're breaking down barriers, and women are really making a point of supporting each other. It's been very powerful."
The honorees
Larson received the Crystal Award for Excellence in Film. While she's likely best known for her role in 2015's "Room," the actress is also a budding filmmaker, having directed the indie comedy "Unicorn Store" last year. She's currently working on a new screenplay. "I'm writing something in between setups on 'Captain Marvel,'" she told The Times, though she declined to share any further details about the project.
ABC Entertainment President Channing Dungey was honored with the Lucy Award for Excellence in Television. "We can't be afraid to stand up, to speak up, to rise up," she said, joined on stage by her five-year-old daughter.
"When we see things happening around us that are counter to values and to our beliefs, our actions must match our words," Dungey added, with a sly smile, alluding to her recent cancellation of the "Roseanne" reboot as the crowd cheered.
Alexandra Shipp received Women in Film's Max Mara Face of the Future Award, and said it was a particularly surreal honor because she has attended the event as a guest in the past. "This moment means the world to me," she said, while walking the red carpet. "I love coming to this event."
Shipp said she'd attended twice previously but that she "in no way, shape, or form" could have imagined she would one day be recognized on that same stage. "I was just happy to be here and happy to listen to the speeches," she said. "I'm freaking out about my speech because I'm like, 'It has to be good.' It's super nerve-wracking. … I get nervous in public speaking forums. I've been meditating, trying to calm my nerves, trying to breathe, using a couple yoga breathing techniques that my mom showed me, trying to stay grounded because otherwise I think I might just float away."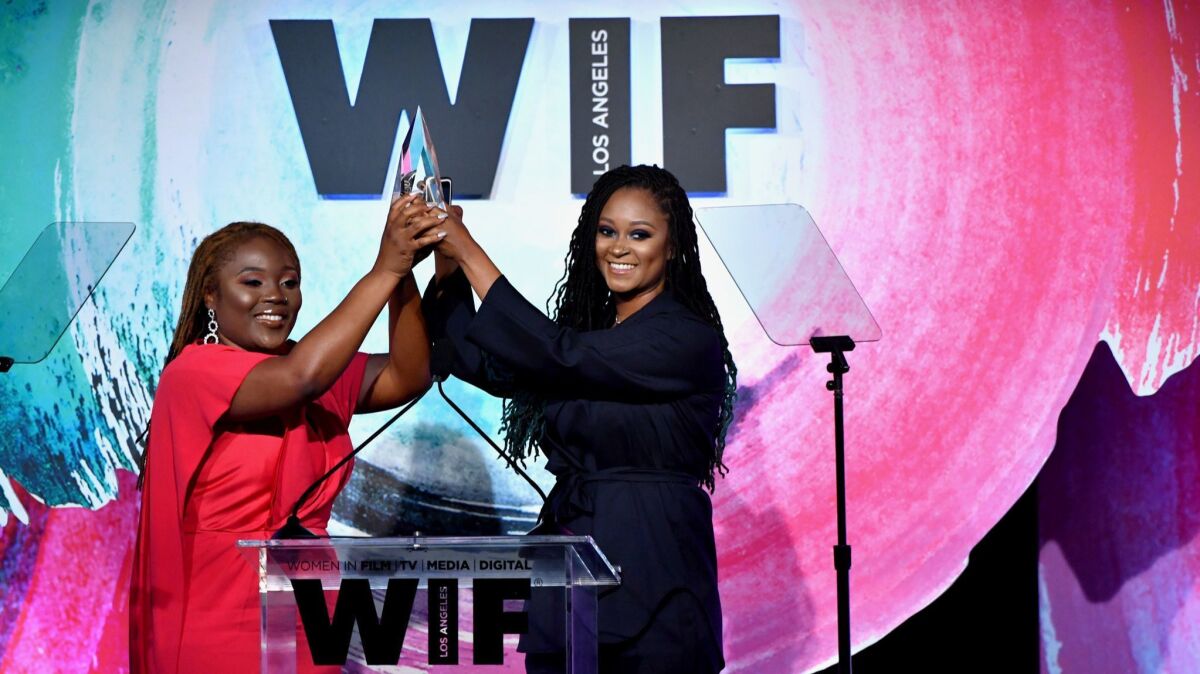 The Lexus Beacon Award was presented to the women of Marvel Studios's "Black Panther," which had 12 female department heads. Additionally, Denisia "Blu June" Andrews and Brittany "Chi" Coney of songwriting and producing duo NOVA Wav picked up the Women in Film Artistic Excellence Award. Chloe X Halle Bailey presented them with the honor moments after performing their song "Warrior," which was featured in the Ava DuVernay-directed "A Wrinkle in Time."
"We actually met our friends Blu and Brittany when we were in the studio at one of Beyoncé's writing camps," Halle Bailey said. "It was a fun moment of girls getting together and being inspired. They're female writers and producers like us. We bonded over that connection."
The looks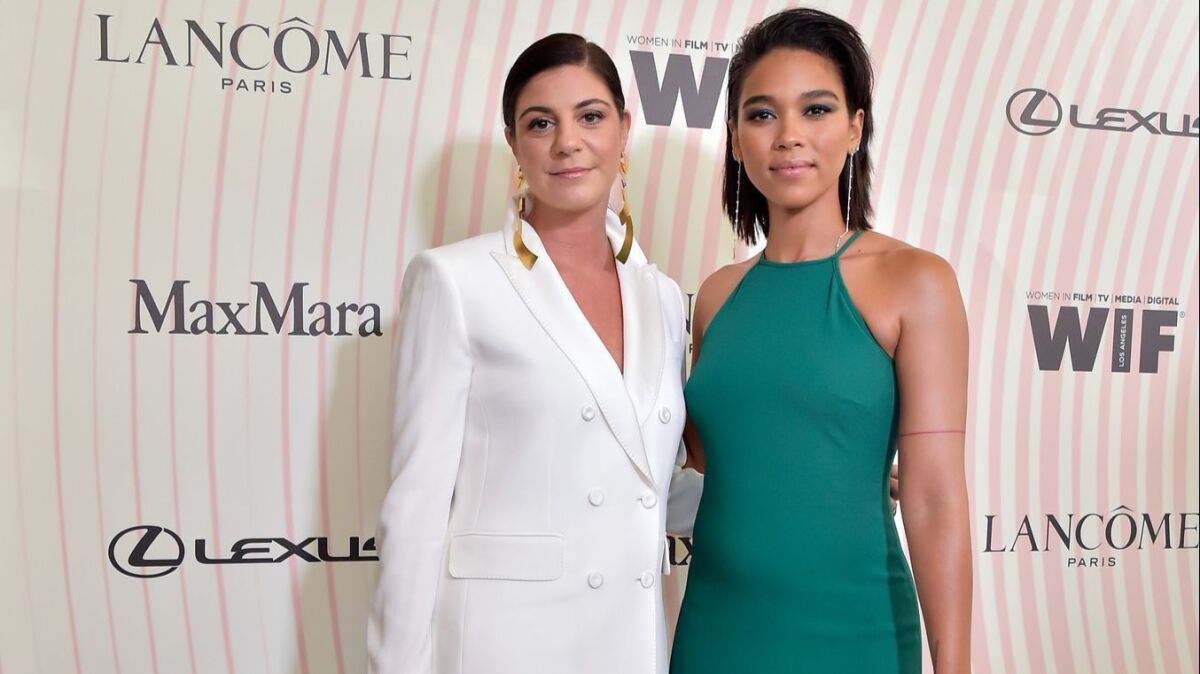 It came with little surprise that the crowd looked chic given that Max Mara was the evening's returning sponsor. "Max Mara has been involved for the past 16 years," said Maria Giulia Maramotti, Max Mara's vice president for U.S. retail and global brand ambassador, who pointed out that the room was filled with Max Mara-clad women, who continue to be passionate about their craft and who evoke, she said, an "effortless elegance and positive beauty."
Among those wearing the Italian label were Shipp, Langford, Brie, Bell and Hall. Shipp selected a sleek green dress. "I feel sophisticated," she said. "I was like, 'I want the Face of the Future to feel like a grown woman tonight.'"
Brie wore a strapless navy ensemble. "I love a jumpsuit," she said. "I think it's a fun way to emit strength and femininity at the same time."
The evening prior, Max Mara and Vanity Fair threw a pre-Women in Film party in Shipp's honor at the Chateau Marmont in West Hollywood. Naturally, the soiree attracted an equally well-dressed crowd that included January Jones, Abigail Spencer, Alice Eve, Angela Sarafyan, Bella Heathcote, Jaime King and Suki Waterhouse wearing looks by the Italian label. "It's wonderful to see fashion and the entertainment industry come together to celebrate women," Brie said. "We're proud to dress them," Maramotti added.
For fashion news, follow us at @latimesimage on Twitter.
Get our L.A. Goes Out newsletter, with the week's best events, to help you explore and experience our city.
You may occasionally receive promotional content from the Los Angeles Times.