Barneys New York, Haas brothers bring holiday cheer to Beverly Hills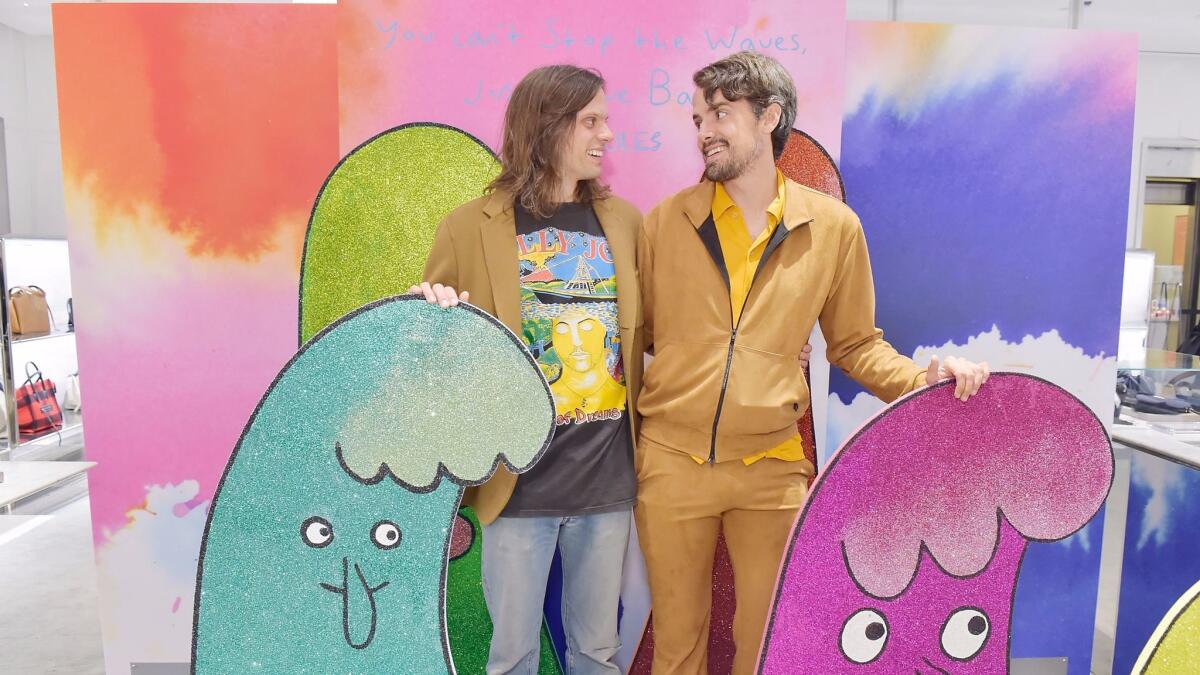 The page hadn't yet turned on December when Barneys New York rang in its holiday campaign in Beverly Hills on Thursday evening.
The event, at its flagship on Wilshire Boulevard, celebrated its collaboration with Simon and Nikolai Haas and the campaign Haas for the Holidays. It also marked Barneys' first holiday launch event on the West Coast.
The soiree brought out a good chunk of industry movers and shakers, including Devendra Banhart, Tallulah Willis, Greg Chait, Justin Kern, Juan Carlos Obando and Sophia Amoruso to help Barneys creative director Matthew Mazzucca and the Haas brothers celebrate the holiday windows and broader campaign.
"The message is that life comes in waves, obviously, and not to fight them. It's setting a positive view and that's in line with everything else," Simon Haas said of the windows as he pointed to sayings leading up the staircase within the store, such as "Love Heels All Wounds" and "Sun body Loves You."
"The idea for the holidays," Simon continued about the work he and his brother did for the Barneys windows, "was instead of being a snowy, Christmas theme is being what holidays are, which is about positivity and giving and sharing."
Haas Brothers, the Los Angeles art and design company the two started, is working on Design Miami, followed by a show at the Bass Museum of Art in Miami next year.
Barneys decked out the Beverly Hills out with different elements of the Haas Brothers campaign, from a photo booth area to an on-site screen-printing station for guests to create their own T-shirts.
So why the push now for the holidays on the West Coast?
Mazzucca's new role as creative director — the windows were his first as Barneys creative director, although not his first for the retailer — is a part of that answer. With Mazzucca in his new position, the goal is about making each store unique to the locale it's in and, given the Haas brothers hail from L.A., doing something locally made sense, he added.
"One thing that we always talked about is that there's not a really strong window culture [in Los Angeles] like there is in New York. There is a culture of windows, but you don't have pedestrian traffic like you do in New York so I looked at this as a great opportunity. Niki and Simon being from Los Angeles it makes a statement here and gives the store its own identity."
Additionally, with Barneys being a global business, doing more outside of New York makes sense, Mazzucca added.
"I am adamant about doing this more. It's an international company so I really feel it's superimportant to be that and not just focus on one thing," he said. "So that's the plan. It's the first time I'm in this leadership role to make that decision and now to be able to do that, I'm really trying to push that."
Mazzucca is also thinking more about the Barneys digital component and how that can be strengthened, which he said will come through a combination of pieces including aesthetics on the site, functionality and content to give the web its own identity.
"For me, I really want to focus on how do we take our digital channel and make it feel like a store. I feel like e-commerce can either be really simplified and become really very e-commerce driven or become super experiential. I think we do an excellent job, but if you could take all this energy," Mazzucca said, motioning to the festivities within the store, "and put it into what the web site experience is, that's my next goal. And then also, instead of doing these one-off moments, how do we keep momentum throughout the year in different cities and really connect all the dots?"