Actresses discuss Time's Up movement, black dresses for Golden Globes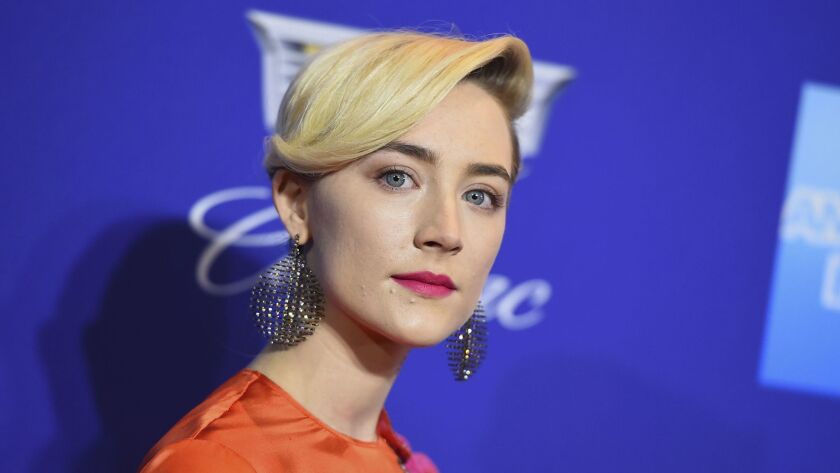 At the Palm Springs International Film Festival on Tuesday night, actors sounded off on the all-black dress code at this Sunday's Golden Globes, prompted by the Time's Up Initiative.
"It's an incredible movement," said Saoirse Ronan, who plans to wear black for the occasion. "It's a true act of solidarity. To be able to do it in such a strong visual way. For us to be able to use the media to show that support and to open the conversation even more is the most important thing. That's what it's about. To see actresses — some of whom I haven't even personally met, but people who I admire greatly — be so proactive and so outspoken and so involved in what's about to happen and what is happening from Jan. 1 onwards is incredible."
"I think it's going to be a really moving moment," Allison Janney said, "to see if everyone wears black the way I'm hoping they do. It's an incredibly exciting, powerful, positive moment for our culture moving forward. It's one I never thought I'd see in my lifetime — us really dealing with the issue of harassment and inequality."
Janney added that she's also excited by the organization's "50/50 in 2020" initiative, which will push for gender parity within the entertainment industry.
Holly Hunter said she's most struck by Hollywood's "solidarity" for Sunday's dress code. "That's the potency of that gesture," she said, "for women to stand together." Hunter reminded that the issues facing women, and Time's Up initiatives, aren't exclusive to the entertainment business as Time's Up includes a $13 million legal defense fund for women in farm work and blue-color jobs.
"That's everything in a way because those are women who are behind-the-scenes," she said. "They're workers of the United States. They are janitors and farm workers and nurses. It's not high-profile. It's the backbone. It's what we're made of. It's very easy for those women to feel underrepresented or not represented at all. And I think all of these gestures add up to a real pragmatic approach to making this problem better."
"Time's Up is appropriately named," concluded Janney. "It's enough. It's time to not allow these things to happen anymore to anyone — to any woman, to any man. It's way past time for equality."
---