Jonathan Gold's 101: Where to get pasta, pizza and more Italian food
Of the many terrific places to eat on Jonathan Gold's 101 Best Restaurant's list, where can you go for excellent Emilia-Romagna-style fresh pasta or smoked branzino, house-cured salumi or farinata? Here are the 12 Italian restaurants on the 101:
Pizzeria Mozza ranks among the best in the United States — its crisp, risen, wood-fired pizzas are unlike any particular Italian style, but the crust is good enough to eat even without squash blossoms and burrata. Osteria Mozza goes from strength to strength, from the mostly Emilia-Romagna-style fresh pastas to rabbit with sausage, from the deep all-Italian wine list to Dahlia Narvaez's suave desserts. Mozza2Go is the takeout arm, a counter with a small specialty in Puglia-style focaccia, among other things. Chi Spacca is an Italian meat restaurant, famous for mammoth steaks, slow-grilled tomahawk pork chops massaged with fennel pollen and house-cured salumi.
Bestia's pastas, which tend to be handmade, rustic and cooked just short of al dente, may be tossed with tomato and fresh ricotta or with sea urchin and chiles. Ori Menashe's brand of Italian cooking looks across the Mediterranean toward the Middle East instead of northward toward the Continent — and he may be the only chef in town whose cucumber salad is as delicious as his pizza.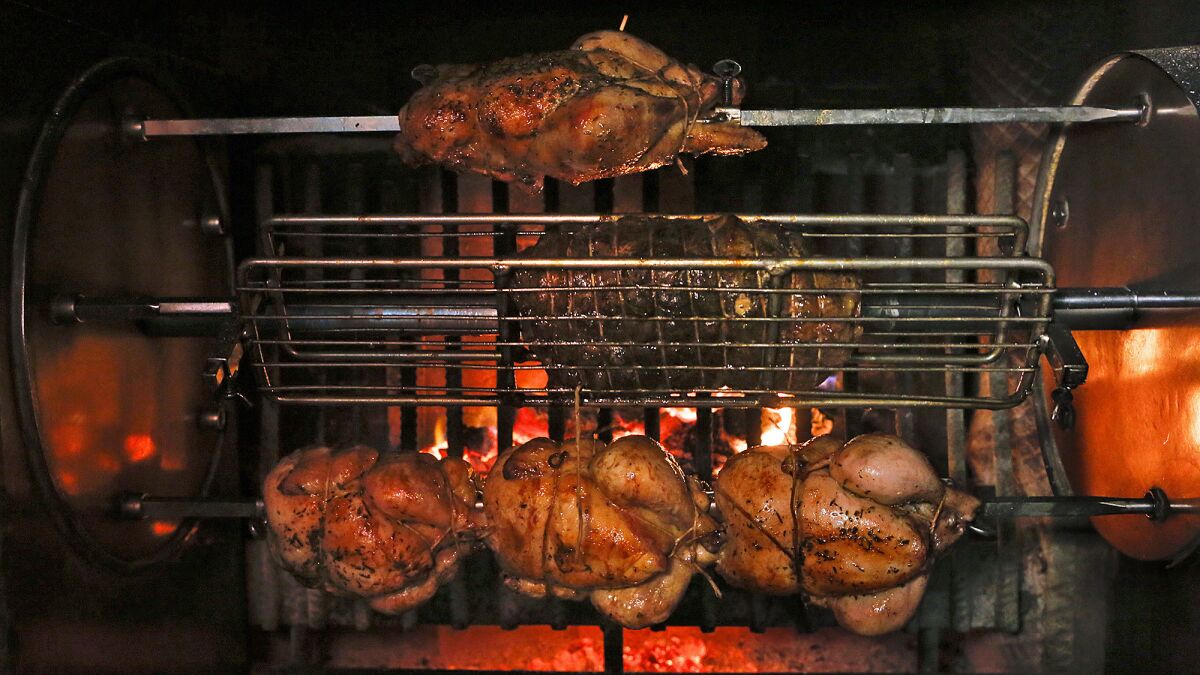 Nicola Mastronardi's polished, masculine style wasn't formulated in reaction to classic Italian cooking — it is classic, controlled Italian cooking, built around the kind of grilled seafood salads, wood-roasted meats and handmade pastas you hope to find every time you step into a restaurant in Puglia or the Marches. His food tastes like Italy. And while the wild, funky flavors of his supple fusilli with lamb ragù may come at you from a dozen different directions, they knit into a single, vibrant chord of sheep, tomato and salt — it's a pasta that makes you wonder why some other Italian chefs in town even bother.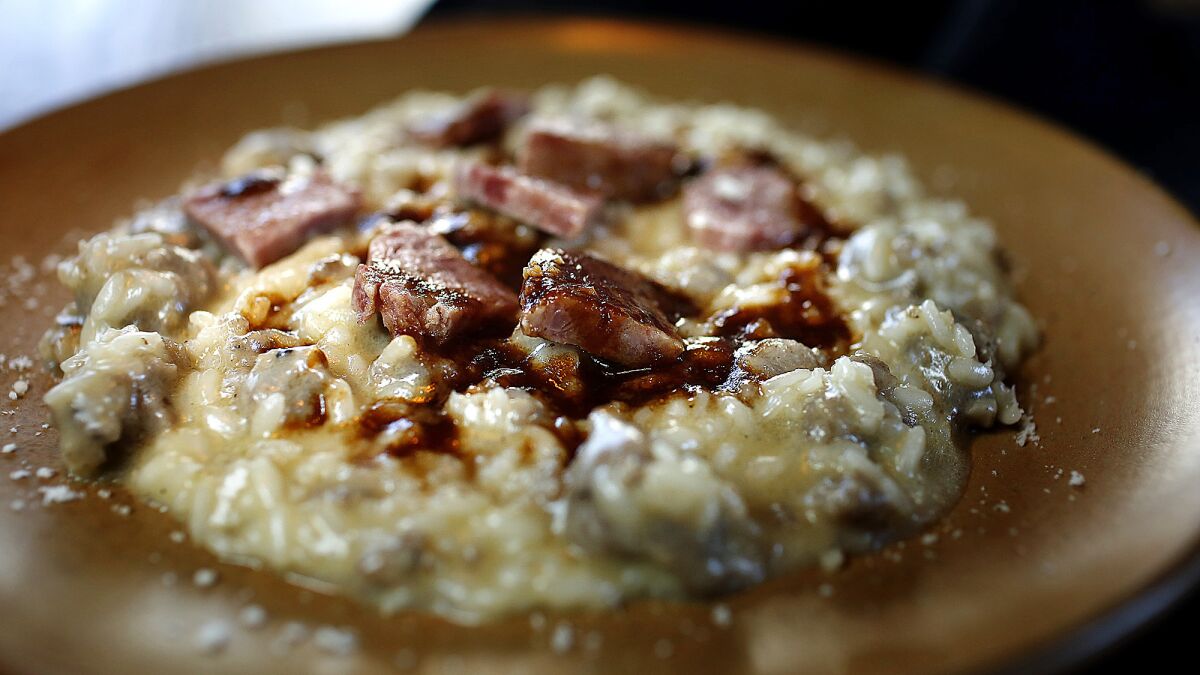 "I am beginning to think," says a friend, "that everyone who wants to cook Italian rice in Los Angeles be required to come to Officine Brera first." I have had decent risotto in Los Angeles, but she's right: Angelo Auriana's rice dishes are marvelous things: In his soaring converted warehouse near the once and future 6th Street Bridge, risotto Milanese, as creamy and subtle as it might be at a trattoria in the Navigli, becomes almost magical when you spoon in a bit of roasted bone marrow. The bassa padana, cooked with rope sausage and crumbly cotechino, may be even better: a real butcher's risotto.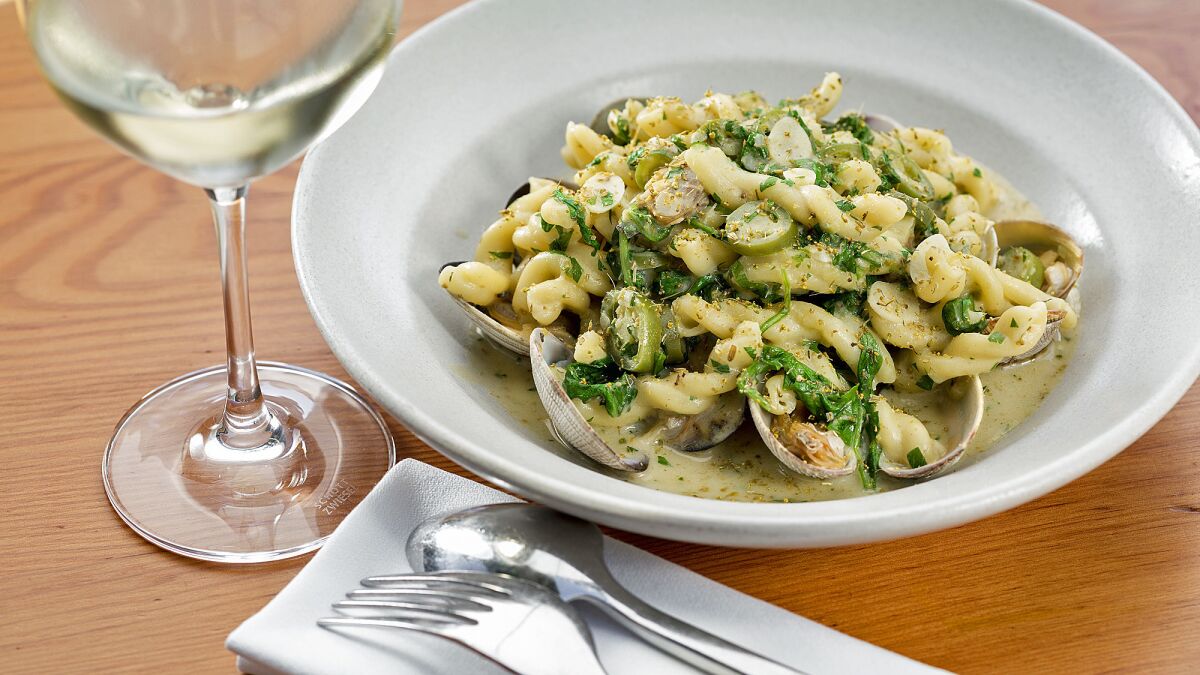 Zach Pollack's Alimento is one of the better small Italian restaurants in Los Angeles, a place so fantastically popular that even TV stars content themselves with sitting at the bar. Pollack's take on Northern Italian cooking is at least as idiosyncratic as the bands that play at the Satellite across the street — tortellini in brodo inverted into soup dumplings; pig in a blanket remade as mortadella finger sandwiches; the bitter Roman green puntarelle, traditionally dressed with anchovies, recast as Caesar salad.
The vaguely formal northern Italian dishes include Bergamo-influenced casonzei pasta with brown butter and sage, a beet casserole glazed with Asiago cheese, and an insanely fragrant roast pork belly seasoned in the style of porchetta. You are probably going to want the crisp, oozing focaccina di Recco, a kind of translucent Genoese version of a Lebanese borek stuffed with herbs and milky Crescenza cheese.
The best Italian dish I have tasted this year was probably the spaghetti alla norcina at Angelini Osteria; strands of thin, hand-cut pasta in a sauce that contained sausage and a shower of shaved summer truffles from Umbria. Gino Angelini has been cooking in Los Angeles for so long, and in so many restaurants more ambitious, that even if you have spent dozens of happy evenings in this cheerful dining room eating tripe, tagliolini with lemon or his grandmother's green lasagna, it is sometimes easy to underestimate what a splendid cook he can be.
You may have noticed a distinct restaurant style in Venice over the last several years, with an emphasis on toasted bread and barely altered seasonal vegetables, charcuterie and roasted meats, extremely regional Italian preparations and the bittersweet smack of char. And the chef responsible is probably Tasting Kitchen's Casey Lane, whose restaurant after eight years still seems like an art collective that just happens to serve insanely detailed cocktails and light, clear, herb-smacked northern Italian food. Each evening's menu is numbered with the day of service, the way a prisoner might mark the day of his sentence.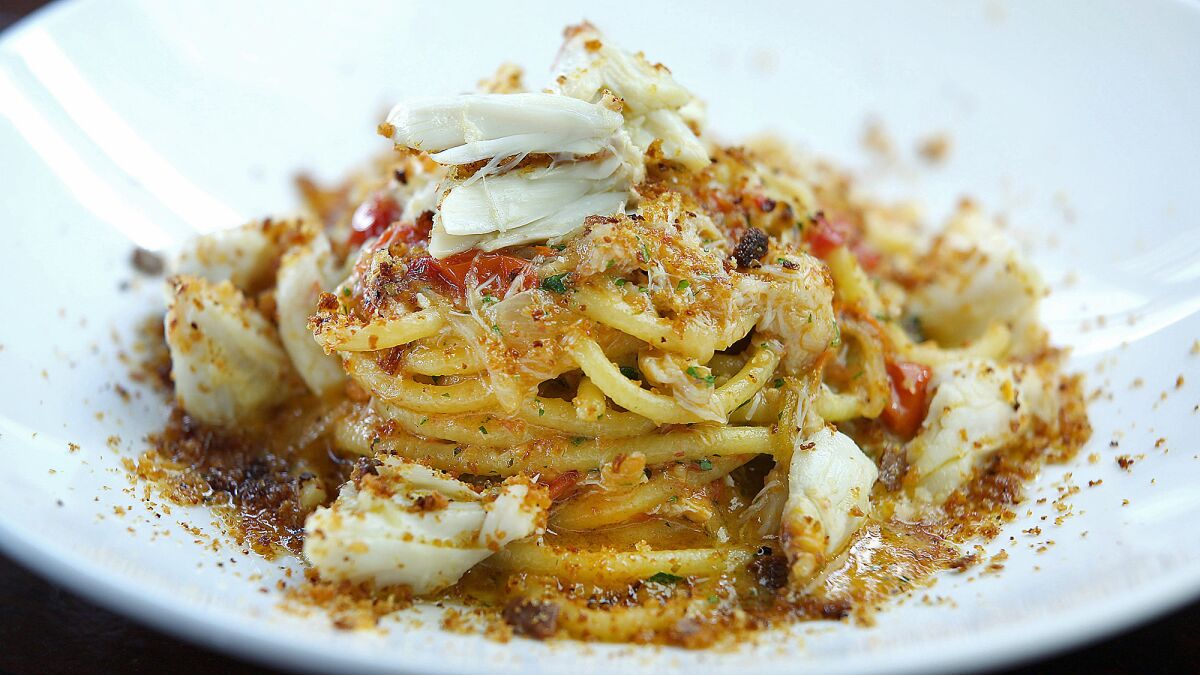 Sotto is less innard-intensive than it used to be, and the emphasis sometimes seems to be more on the excellent cocktails than on the wine, but sometimes people forget just how good Steve Samson's southern Italian cooking continues to be: spicy clams with chickpeas and 'nduja, crisped octopus tentacles with potatoes in garlic broth, and spaghetti with squash blossoms, cherry tomatoes and crab. The cannoli continue to be the very best in Los Angeles.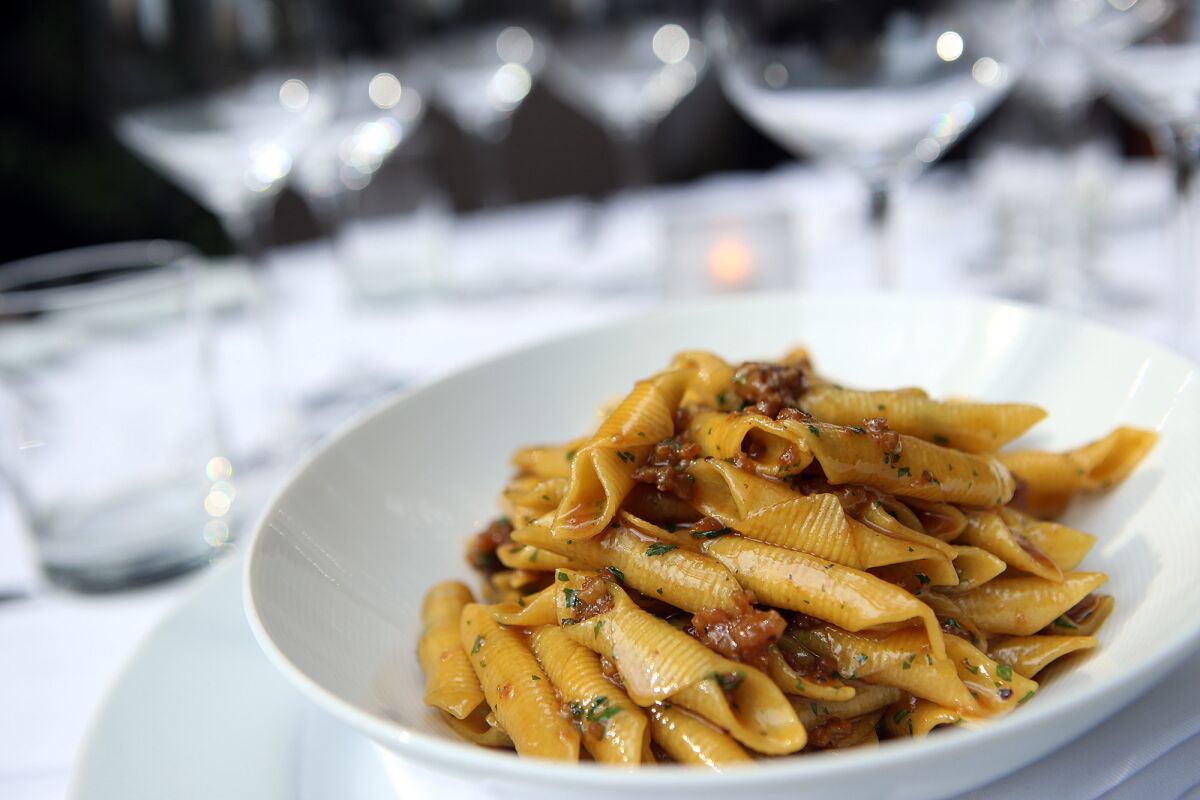 Drago Centro is a downtown restaurant in the old tradition, with a warren of private dining rooms and waiters who know enough to nod understandingly when you say you've just gone gluten-free. The cooking of Drago and his longtime chef de cuisine Ian Gresik includes both handcrafted pasta — the handkerchief pasta with crab and the handmade spaghetti with Sicilian almond pesto are as grand as the skyscraper view from the dining room — and the meatier pleasures of steak, fish and venison.
New Italian restaurants flash across the L.A. scene every year. Valentino is almost of a different world: dark and quiet, it is among the last of the great host-driven Italian restaurants, a place where some regulars have never seen a menu and the waiter's job is to solidify abstract desire into fish and pasta and Vermentino. Valentino was the first in Los Angeles to serve white truffles, balsamic vinegar and radicchio, the first to fetishize great olive oil and the first to be as devoted to Italian wine as the French places were to Bordeaux.
Union serves what friends sometimes call Tuesday-night dinners, which is to say the kind of vaguely Italian meals that an ambitious person with an oversize cookbook collection and a strong farmers market habit might prepare for her book club when it was her turn to host: steamed mussels with guanciale; goat ricotta crostone with dates; or risotto with cherry tomatoes and basil. The great vegetables, you can take for granted. The touch of Italian soul, you cannot. The porchetta, the flavors of fennel and garlic ringing true, and the new potatoes roasted in pork fat are as nice as you suspect they might be.
ALSO:
Jonathan Gold's top 10 restaurants
Jonathan Gold tells you where to get brunch
---
Get our L.A. Goes Out newsletter, with the week's best events, to help you explore and experience our city.
You may occasionally receive promotional content from the Los Angeles Times.