Those scones you love at Proof Bakery? Here's the recipe, plus five more recipes for scones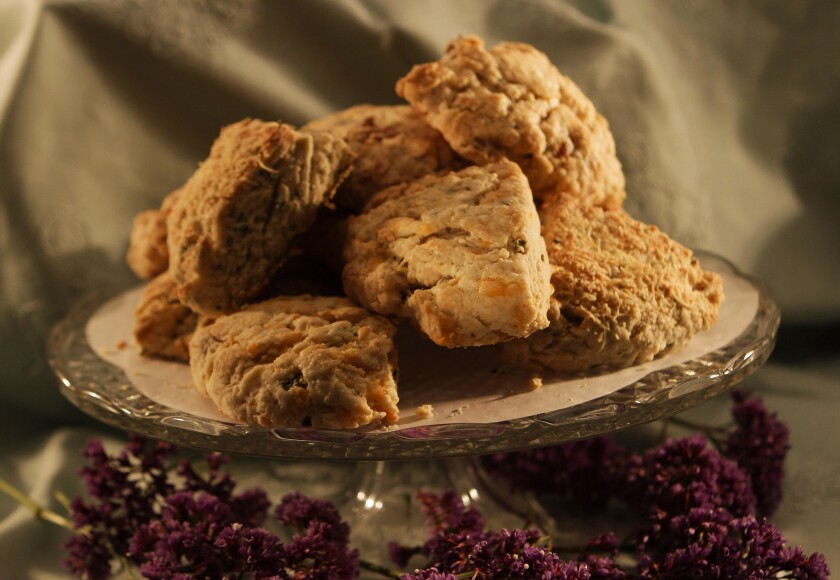 Scones are one of the basic pleasures in life. Like biscuits with a touch of added sweetness, the best scones are delicate and light, yet wonderfully rich. And if you've had the scones at Proof Bakery in Los Angeles, you understand the obsession.
Here are six of our favorite recipes, including the recipe for those scones you love at Proof Bakery. Just click on the photos below to view the recipes.
Proof Bakery's scones
Currants and oranze zest pair perfectly in these light scones, which come together quickly. Na Young Ma was happy to share her recipe so you can have a taste of the Atwater Village bakery at home.
Sweetie Pie's orange breakfast scones
Sweetie Pies Bakery folds small but brightly flavored currants with fresh orange zest in these wonderfully flaky scones. Drizzle over a sweet orange-scented glaze, and they make a delightful breakfast or a perfect snack.
Black currant scones
Fans of currants can look no further. Each of these scones is packed with those tiny little raisins, so you can be sure every bite has an extra dose of tangy sweetness. They're great served with a little softened butter, honey or marmalade, and make the perfect quick breakfast.
The Savoy's Cornish scones
These adorable scones from the Savoy Hotel in London are delicate, flaky and not overly sweet. They may be small, but they pack a lot of flavor. Buttermilk lends a subtle tang, enhancing the richness of the egg and butter, and a bit of dried or candied fruit adds a nice surprise with every bite.
Ginger scones
Hans Rockenwagner shared his recipe for these fluffy scones. Whether you're looking for a quick start to the day, or an afternoon pick-me-up, they're the perfect wake-up call with a combination of sweet crystallized and spicy fresh-grated ginger.
Basic scones
Start with the basics, and you can flavor them in any number of ways.
Love cooking as much as I do? Follow me on Twitter: @noellecarter.
ALSO
6 ideas for the ultimate breakfast
From one rotisserie chicken, 25 ideas for dinner
---
Get our weekly Tasting Notes newsletter for reviews, news and more from critics Bill Addison and Patricia Escárcega.
You may occasionally receive promotional content from the Los Angeles Times.