7 grilled cheese recipes you need to know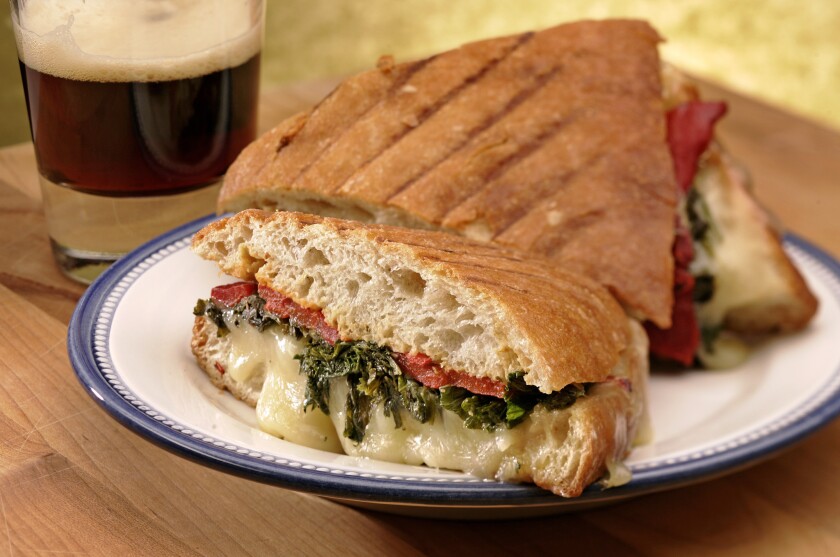 Though it may be hard to beat the perfection that is ooey-gooey melted cheese between two crisp pieces of bread, we do have some ideas to help you take your grilled cheese to the next level. Actually, we have seven ideas. Think caramelized shallots or sliced pear. Or sage-infused grilling oil or marinated onions. And then there are all the cheese possibilities. Hungry yet? Click on the photos for links to the recipes.
Lucques' grilled cheese with shallots
The grilled cheese at Lucques starts with a gentle, buttery Cantal, a mild semi-firm cheese with a fantastic creamy consistency when melted. Caramelized shallots punctuated with a little fresh thyme add another dimension. Put all that between two crisp slices of country-style bread and raise a glass.
Grilled blue cheese and pear sandwich
For a slight twist on the comforting classic, put crumbled blue cheese between slices of raisin brioche, along with thinly sliced pear. Cook until the bread is golden brown and the cheese is soft and oozing, three to four minutes on each side. If you have enough self-restraint to keep from eating the sandwich over the stove (I totally understand if you don't), plate your creation, drizzled with a little chestnut honey. Grilled cheese never looked so good.
Fontina and sage grilled cheese
Wedge some grated Fontina cheese between slices of country white bread, then brush the sandwich with fresh sage-infused olive oil before grilling. The smooth, slightly nutty cheese pairs well with fragrant herb, making for a sandwich that is perfect for dinner or any time of the day.
Savory stuffed French toast
Who said French toast was just for breakfast? This savory take on the comfort food -- stuffed with bacon, Gruyère cheese and dandelion greens -- works well served any time of the day.
Grilled cheddar cheese with apple butter
For a slight twist on the classic, wedge some grated applewood-smoked cheddar between the bread, and brush the slices with a little apple butter before grilling. The sharp cheddar is magic paired with the lightly sweet apple butter, perfect for dinner or any time of the day.
Croque-madame
La Dijonaise's take on this classic French comfort-food sandwich is rich béchamel sauce and ham between two slices of pullman bread, topped with cheese that's melted to gooey perfection. On top of that goes a fried egg (this is what distinguishes the "madame" from the "monsieur"). Yes, it's unapologetic goodness on a plate.
Green panini with roasted peppers and Gruyere cheese
This grilled cheese inspiration comes courtesy of chef and cookbook writer Deborah Madison and her husband, Patrick McFarlin, in their book, "What We Eat When We Eat Alone." This version -- ciabatta bread piled with mustard greens, cheese and roasted red peppers, then cooked in a panini maker or skillet -- is one of McFarlin's favorites.
Love cooking as much as I do? Follow me on Twitter: @noellecarter
ALSO
6 ideas for the ultimate breakfast
From one rotisserie chicken, 25 ideas for dinner
---
Get our weekly Tasting Notes newsletter for reviews, news and more from critics Bill Addison and Patricia Escárcega.
You may occasionally receive promotional content from the Los Angeles Times.