Allumette restaurant in Echo Park to close in June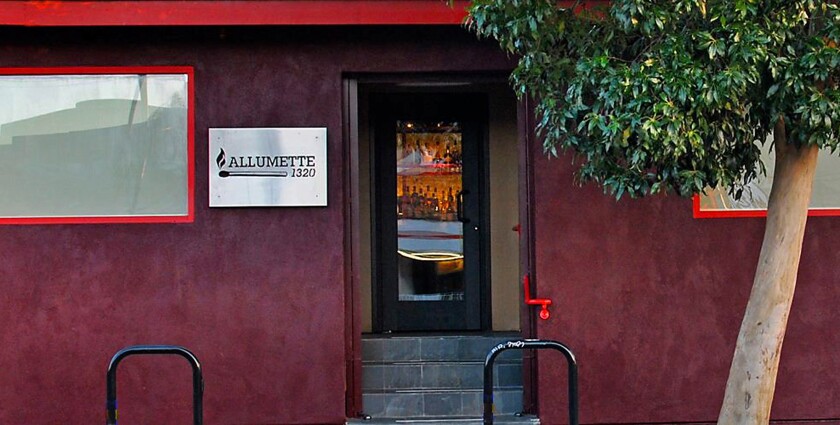 Allumette restaurant in Echo Park, where 26-year-old chef Miles Thompson executed his enthusiastically-received tasting menus, unexpectedly announced that it would close at the end of June.
Allumette recently was named one of Jonathan Gold's 101 Best Restaurants, in which Gold said: "In his scant 18 months behind the stoves, Miles Thompson has transformed Allumette from a clubby beer-and-burger joint to a buzzy showplace for his vegetable-intensive modernist cuisine. And you have left the world of kale salad far behind -- left it behind for the pleasures of poached monkfish liver served with peeled sea grapes, turnips with rhubarb gel, suckling goat with candied carrots and hops, or whatever else may show up on his constantly shifting tasting menus."
The restaurant, formerly Allston Yacht Club, had started as a venue for Thompson's Vagrancy Project dinner series. Allston Yacht Club owners Charles Kelly and Bill DiDonna decided to give the pop-up a permanent home and transformed the space into Allumette last year.
When reached by phone, Thompson (who last week cooked at the James Beard House in New York, where he'd been invited in honor of his culinary accomplishments) said he was overwhelmed by the announcement. "It's been an amazing opportunity and we were blessed to do what we did and work together as a team," he said. Thompson wouldn't comment further on the closure.
His sentiments were echoed in a Los Angeles Times video in which he was featured for the 101 Best Restaurants: "I remember the first day we did staff training, the first thing I said was, 'We are here to make food that is [expletive] delicious, and we're going to do everything we can to make this food the way that we all think about it and make it as a team.' ... I think we've pushed into another territory of delicious."
Neither Thompson nor the restaurant's owners have said what their plans are next, but a statement was provided: "A restaurant like Allumette requires tremendous and consistent effort in sourcing and producing the food and drink that we have been celebrated for. We took a calculated but substantial risk opening a restaurant like this in Echo Park and ultimately we just couldn't find the customer support necessary to sustain our business without compromising the guest experience. So, it is with bittersweet emotions that we announce that Allumette will have its final day of service on Saturday, June 28th. It has been a great ride, filled with exhilarating food, spectacular cocktails and definitive dining moments. We are all thrilled to have been part of something so special and know that all of our hard work and commitment to Allumette was well worth it. We remain friends and colleagues and are each excited for our next chapter in the ever-evolving Los Angeles dining community."
Allumette had switched to a fixed-menu format in February, which costs $60 for five courses and $45 for four courses. Reasonable prices, Gold pointed out, "although that still makes Allumette the most expensive restaurant in the history of Echo Park."
Allumette, 1320 Echo Park Ave., Los Angeles, (323) 935-8787, www.allumettela.com.
---
Get our new Cooking newsletter.
You may occasionally receive promotional content from the Los Angeles Times.