Anthony Bourdain blames Adam Richman for Islamic State, then throws more shade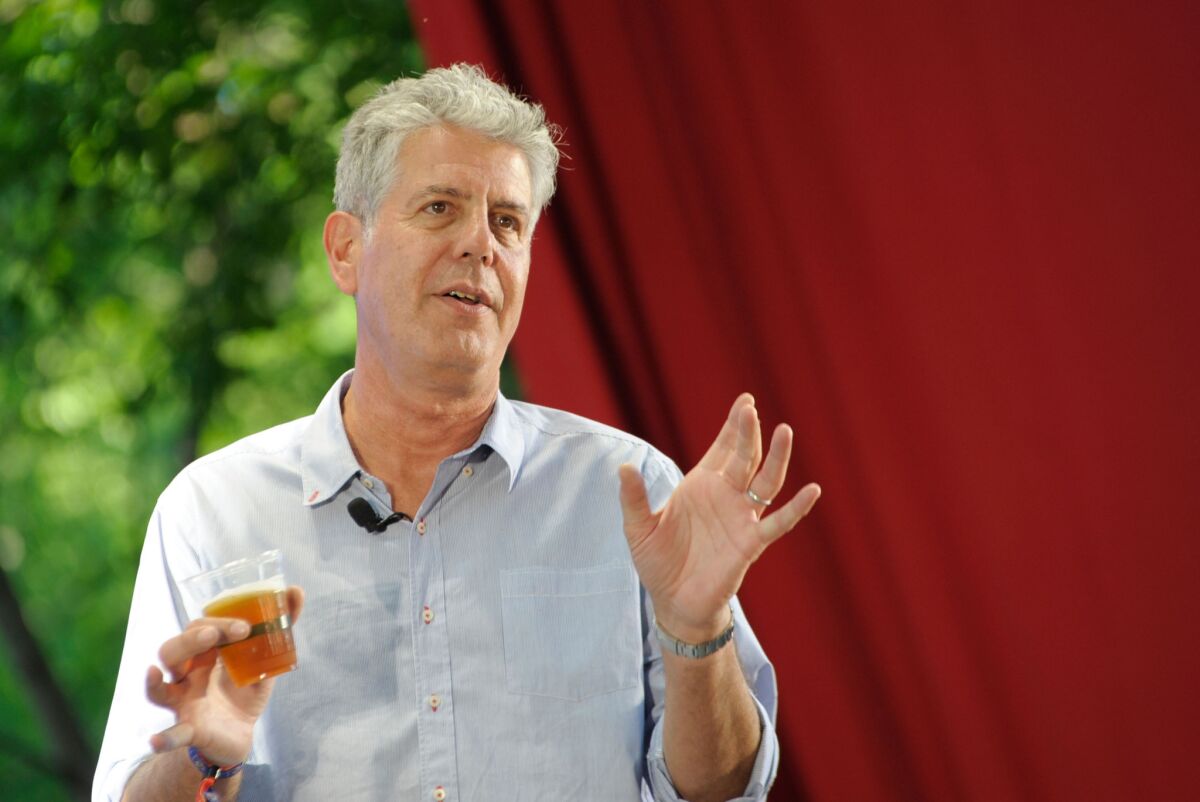 Anthony Bourdain, that's cold.
When it comes to discussing his feelings, the author and television host is a little more open than the rest of us. And that's why his legions of fans love him. But he can be harsh.
During a recent stop in Atlanta on his nationwide stand-up tour, Close to the Bone, Bourdain discussed how he feels about Food Network host Ina Garten, Food Network star Guy Fieri, Travel Channel frontman Adam Richman and that time he took Food Network star Alton Brown to the Clermont Lounge strip club.
"Why did we watch the show?" Bourdain asked the crowd, in reference to "Man vs. Food," the show in which Richman ate his way across America, gluttonously downing the likes of 5-pound sandwiches. "Admit it. You wanted him to die."
After claiming that the show is popular in Afghanistan, Libya, Iran and Yemen, he went on to say, "The show confirms their worst suspicions -- that Americans are fat, lazy, slothful [and] wasteful." And imagining a goat herder in Afghanistan: "I know what he's thinking, 'America is a terrible place. I want to join ISIS."
But as we mentioned earlier, Richman wasn't his only victim.
Bourdain said he wonders how Fieri can "de-douche," and contemplated why the 52-year-old, spiky-haired TV host still rolls around in a flame outfit.
Bourdain said he never cheats on his wife because she is a purple belt in Brazilian jujitsu, and that he actually loves Ina Garten but thinks it gets "weird in Ina Land."
"When Ina Garten roasts a chicken, she roasts it correct," Bourdain said. "In many ways, I want Ina's life."
But not all of it.
"I don't want to live in her house. I don't want to spend a weekend there. It gets weird in Ina Land. ... 'Oh, when Jeffrey gets home, he'll be so happy I made meatloaf.' And then he comes home and you're pretty sure he's not into meatloaf."
Burn.
Bourdain or bust. Follow me on Twitter and Instagram @Jenn_Harris_
Get our L.A. Goes Out newsletter, with the week's best events, to help you explore and experience our city.
You may occasionally receive promotional content from the Los Angeles Times.