You must try this bacon-wrapped pork belly recipe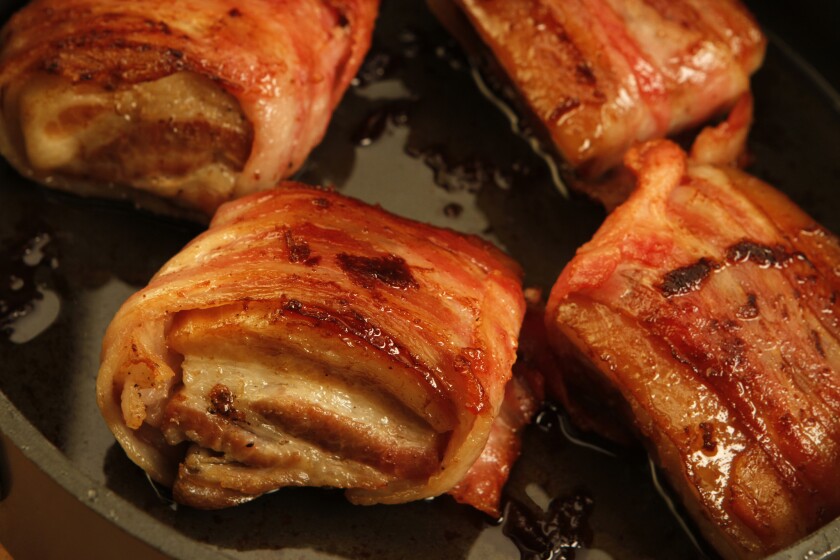 When you love bacon, you can never have too much. This love is deep, and it goes way beyond the breakfast table.
And while we bacon lovers might be content to dress up our sandwiches, salads, veggies and more with this most glorious of creations -- bacon is a team player, after all, and makes everything better -- sometimes it's important to enjoy bacon by itself.
Friends, you really have to try bacon-wrapped pork belly. It's bacon wrapped around bacon. Bacon-squared. Proof, yes, that a higher power loves us and really does want us to be happy. And it's magical.
This divine idea is the work of Gluten-Free Girl Shauna James Ahern. We originally ran the recipe with a profile of her back in 2010. And we can't stop thinking about it. So here you go:
BACON-WRAPPED PORK BELLY
Total time: 2 1/2 hours | Serves 4 to 8
Note: Adapted from "Gluten-Free Girl and the Chef." Pork belly is available through most butchers; ask ahead.
1 quart chicken broth
1 tablespoon olive oil
1 carrot, diced
1/2 onion, diced
1 stalk celery, diced
5 cloves garlic, smashed
1 teaspoon tomato paste
1 sprig fresh rosemary
3 sprigs fresh sage
4 square pieces fresh pork belly, about 6 ounces each
1 tablespoon butter
2 teaspoons apple cider vinegar
1 teaspoon thinly sliced (chiffonade) fresh sage
Salt and freshly ground black pepper
12 slices smoked bacon
1 tablespoon canola oil
1. Heat the oven to 425 degrees. In a large saucepan heated over high heat, bring the chicken broth to a boil, then remove from heat. Set aside.
2. Place a large saute pan over medium heat, then add the olive oil. Place the carrot, onion, celery and garlic in the pan. Cook, stirring, until they are golden brown, 10 to 15 minutes, and add the tomato paste, rosemary and sage sprigs. Cook, stirring until the vegetables are coated and the herbs are fragrant, 2 to 3 minutes.
3. Transfer the vegetable mixture to a casserole dish. Place the pork belly pieces on top of the vegetables. Pour in the chicken stock. Cover the dish with aluminum foil and slide it into the oven. Braise the pork belly until you can squeeze tongs easily into the meat, with little resistance, 1 1/2 to 2 hours. Remove from the oven.
4. Make the sauce: Strain the broth and let it sit for a few minutes, allowing the fat to rise to the surface. Skim the fat off the stock and pour the stock into a large saucepan. Bring to a simmer and cook until the sauce is reduced enough to thickly coat the back of a spoon, about 15 minutes. Add the butter, vinegar and sage. Taste the sauce and season it with salt and pepper accordingly. Let the sauce sit on the back of the stove or in a warm place while you finish the pork belly.
5. Place 3 slices of bacon per piece of pork belly on a plate, overlapping them like ribbons. Season each piece of pork belly with a pinch each of salt and pepper on both sides. Place each pork belly piece, skin side down, in the middle of the bacon. Fold the bottom part of the bacon ribbon up over the belly, and then bring the top down.
6. Pour the canola oil into a clean, oven-safe saute pan or baking dish. Put the bacon-wrapped pork belly, seam side down, into the pan. Slide the pan into the oven. Cook, turning halfway through, until the bacon is crisp, 10 to 15 minutes. Take care not to burn yourself, because the bacon fat will continue rendering, spitting hot fat. Carefully remove from the oven. To serve, spoon a bit of sauce over each piece of pork belly.
Each of 8 servings: 540 calories; 13 grams protein; 1 gram carbohydrates; 0 fiber; 53 grams fat; 19 grams saturated fat; 78 mg. cholesterol; 1 gram sugar; 590 mg. sodium.
Love bacon as much as I do? Follow me @noellecarter
ALSO:
Buy this now: Grapes, with 11 recipes
14 reasons to eat breakfast for dinner
Make this spicy jalapeno burger on a cheese bagel for dinner tonight
---
Get our weekly Tasting Notes newsletter for reviews, news and more.
You may occasionally receive promotional content from the Los Angeles Times.