How to make the ultimate pumpkin-spiced French toast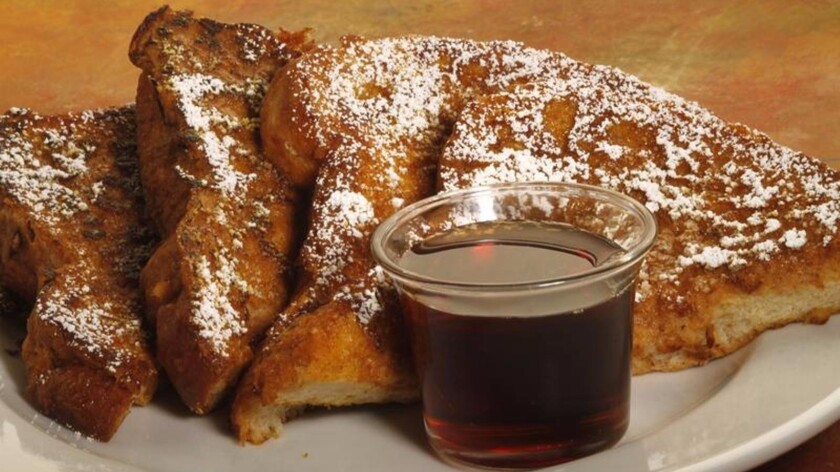 It's that time of year for everything pumpkin spice, or so it would seem. Baked goods, coffee creamer, candles, toothpaste — is there anything that hasn't been flavored or scented with pumpkin spice in some way?
Unfortunately, so many "pumpkin spice"-flavored items lack any real pumpkin, instead relying on a combination of spices including cinnamon, nutmeg, ginger and allspice, with maybe a touch of clove or mace.
Thankfully, there's no shortage of pumpkin in this pumpkin-spiced French toast recipe, which was one of our top 10 recipes of 2014. It's kind of like eating a slice of pumpkin pie, but for breakfast.
PUMPKIN-SPICED FRENCH TOAST
Total time: 24 minutes | Serves 4
3 eggs
3/4 cup heavy cream
1/2 cup pumpkin purée
1/2 teaspoon vanilla extract
3 tablespoons sugar
1 teaspoon cinnamon
1/2 teaspoon nutmeg
1/2 teaspoon ground ginger
1/4 teaspoon ground allspice
8 (1-inch thick) slices bread, such as challah or brioche, somewhat stale
1/4 cup butter or bacon fat, more as needed
Powdered sugar, as desired
Maple syrup, preferably grade B, as desired
1. In a medium bowl, beat the eggs. Whisk in the cream and pumpkin purée, then the vanilla, sugar, cinnamon, nutmeg, ginger and allspice. Pour the batter into a wide, shallow baking dish.
2. Soak the bread slices in the egg mixture on both sides, 1 to 2 minutes per side.
3. Heat a large, heavy-bottomed skillet over medium heat until hot. Melt butter or bacon fat in the hot pan, then add 2 slices of the bread. Reduce the heat and fry the slices gently on each side until the bread is crisp and golden brown, and the inside of the bread is cooked through, 3 to 4 minutes per side. Cover the pan while cooking so the bread toasts evenly and thoroughly.
4. Remove the toast and hold on a baking sheet in a warm oven until all of the slices are toasted. Repeat with the remaining slices.
5. Slice the toast and divide it among four plates. Dust each serving with powdered sugar, if desired, and serve with warm maple syrup.
Each serving: Calories 689; Protein 17 grams; Carbohydrates 69 grams; Fiber 4 grams; Fat 39 grams; Saturated fat 21 grams; Cholesterol 290 mg; Sugar 14 grams; Sodium 505 mg
Love cooking as much as I do? Follow me @noellecarter
ALSO
6 of our favorite taco recipes
Make these apple hand pies for breakfast, dessert and more
Pomegranates are in season. Here are some of our favorite recipes
---
Get our weekly Tasting Notes newsletter for reviews, news and more.
You may occasionally receive promotional content from the Los Angeles Times.