The best ways to use beer and ice cream to keep cool this summer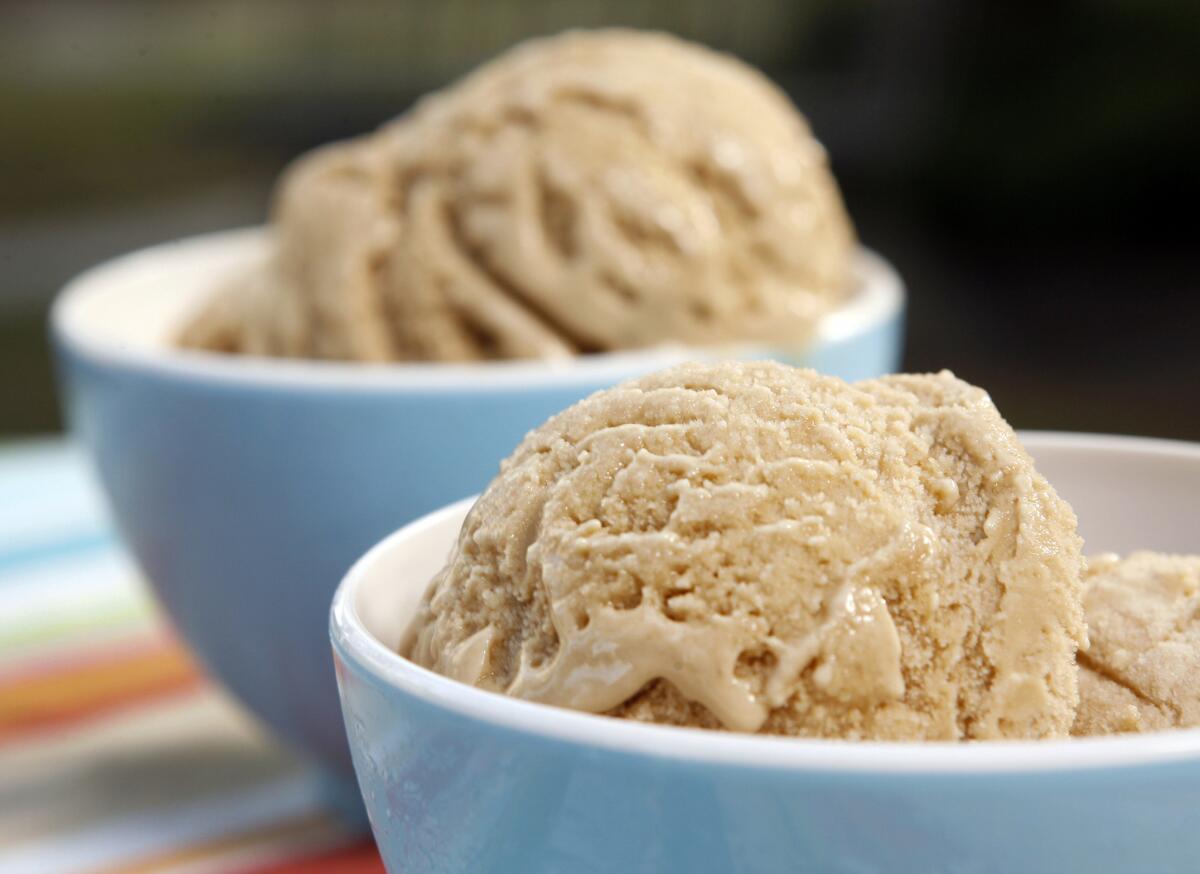 If you need some relief from summer's relentless sunshine and climbing temperatures, there's no better escape than a cold glass of beer. Except for maybe a decadent scoop of ice cream. It's a tough call, so why not just have both? From ice cream floats with a boozy twist to beer-flavored scoops, there's a growing number of ways to treat yourself to the sweet confluence of craft beer and ice cream. Here are a few of our favorites:
Beer ice cream
You can fully appreciate craft brews and ice cream when creative confectioners turn beer into frozen creations. The best examples temper the ice cream's sweetness with the bitterness inherent in beer. Dark and roasty styles such as stouts and porters are more common than the extremely bitter hoppy styles, but anything goes in a world where black olive brittle and goat cheese is a favorite flavor at the local creamery.
Start-up Scoops On Tap is a small-scale ice cream cart based in the San Gabriel Valley started by a pair of Cal Poly Pomona grads. They use beer from local brewers to create a variety of premium ice cream flavors. Their push-cart is hitting the streets in Claremont this summer, with retail availability of the ice cream coming soon.
Beer is even finding its way into some mass-produced ice creams such as Ben & Jerry's collaboration with Colorado's New Belgium Brewing Co. Last year, the companies created an ice cream-flavored beer and then made an ice cream with it; this year, they're back with a new collaboration. Hitting the streets later this year, Chocolate Chip Cookie Dough Ale takes inspiration from the fan-favorite Ben & Jerry's flavor.
If you feel like trying to churn up your own beer-fueled ice cream flavor, it doesn't get much easier than this four-ingredient recipe.
A pairing approach
Long gone are the days of vanilla, chocolate and strawberry ice cream flavors being the norm. Add all that ice cream to the surfeit of options offered by craft brewers and you get nearly endless opportunities to experiment with pairings. It can be easy to get overwhelmed, but the culinary team at Baskin-Robbins has partnered with the editor of All About Beer Magazine to offer a handful of suggestions to get you started. See the graphic below for all 10 suggestions, but the combo of Watermelon Splash from Baskin-Robbins and a tart and spritzy gose (such as Anderson Valley Briney Melon or Sierra Nevada's Otra Vez) is going to be tough to beat.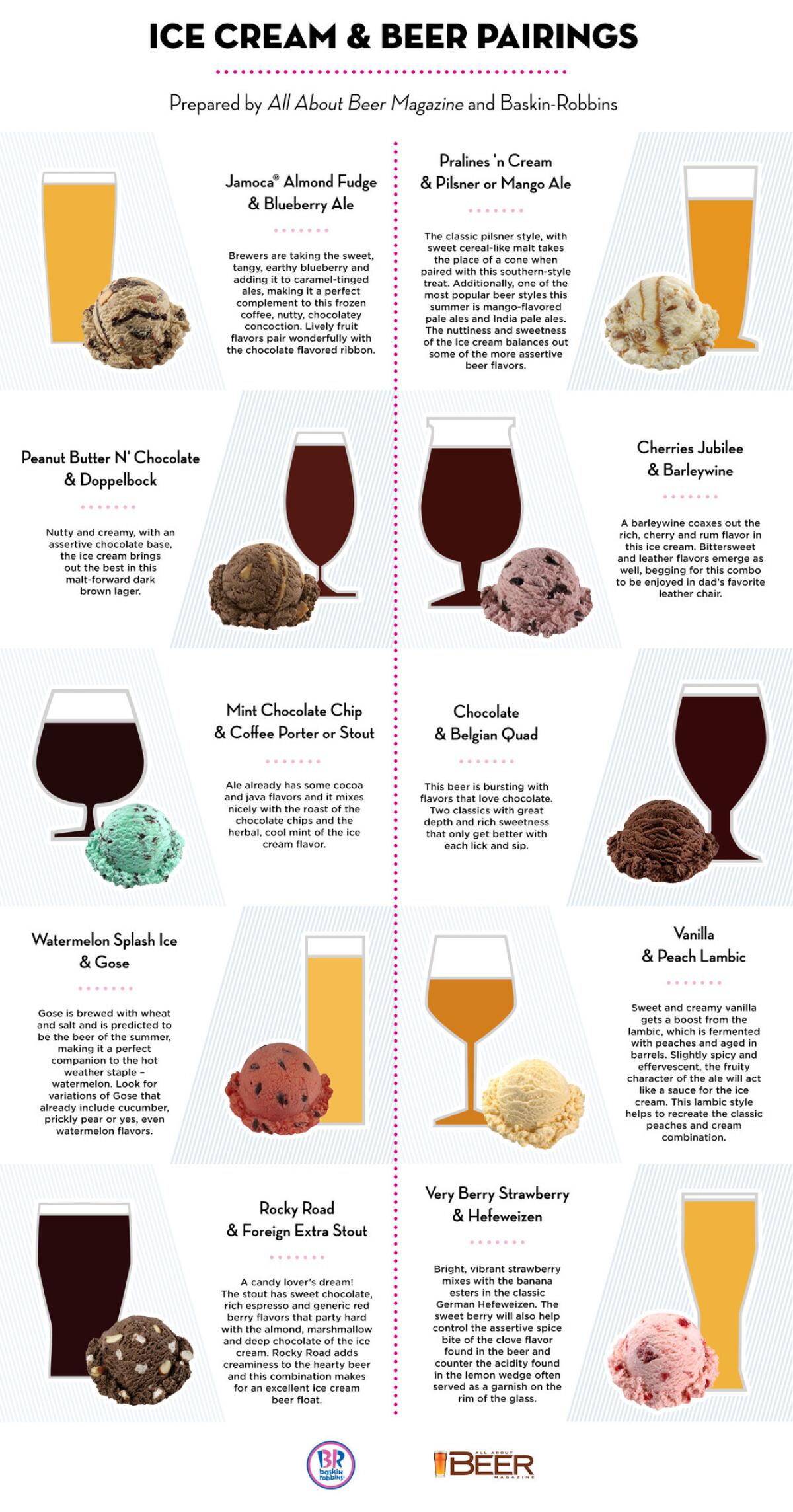 The beer float
Taking the idea of pairing beer and ice cream to the logical conclusion, the beer float is an adult version of the soda fountain classic. It's the simplest of treats to create at home — just a scoop or two of ice cream (or sorbet) immersed into a glass of ale (pro tip: to keep foaming to a minimum, add the ice cream to the beer and don't pour the beer over the scoops). It's a great way to explore some flavor combinations, from the classic Guinness and vanilla to the more adventurous, such as mango sorbet in an IPA that showcases the tropical fruit aromas of modern hop varieties.
If you're not really feeling the do-it-yourself spirit, it isn't difficult to find beer floats at restaurants around town. Plan Check uses the golden milk porter from Santa Monica Brew Works to buoy vanilla ice cream at each of its locations, and it offers the Fifth Taste Beer Float — made with espresso stout and candy cap mushroom Buffalo Trace-infused ice cream — at the Fairfax outpost. The Fairfax location also offers a float called the Golden State made with Old Rasputin Stout from North Coast Brewing and any of the flavors of Scoops ice cream in the restaurant cooler. On the Westside, Small Batch inside Playa Provisions makes its beer float with coffee ice cream and the rich and toasty CoCoNut Porter from Maui Brewing Co.
ALSO:
Celebrate summer with 42 cocktail recipes
This new rose Champagne was made to be served on ice and sipped on an L.A. patio
Get our L.A. Goes Out newsletter, with the week's best events, to help you explore and experience our city.
You may occasionally receive promotional content from the Los Angeles Times.