Hunger benefits programs are vital to many farmers markets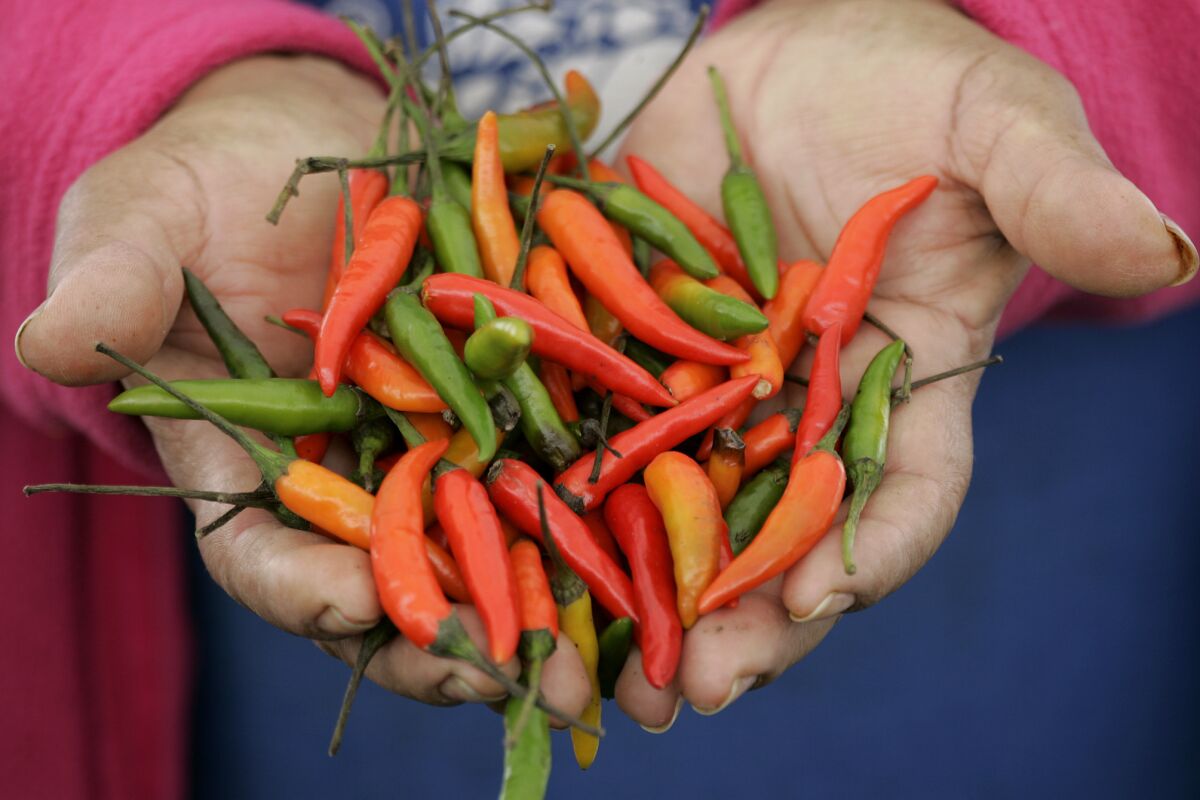 Most people think of farmers markets as places where famous chefs shop for precious fruits and vegetables, or where passionate cooks can meet their friends for a pleasant morning's shopping.
But for many Los Angeles County farmers markets, it is customers at the other end of the economic spectrum who are the backbone of the business.
------------
FOR THE RECORD:
Farmers markets: In the Feb. 14 Saturday section, an article about Los Angeles County farmers markets said that sales had fallen 43% from 2007 to 2012. That figure represents the decrease in direct-marketing sales by Los Angeles County farmers, primarily at farmers markets. No statistics are kept for farmers market sales. —
------------
Particularly at small and mid-sized markets in poor neighborhoods, food stamps — now called CalFresh — and WIC benefits make up the bulk of farmers market business. More than 60 Los Angeles County markets now accept benefits.
For Celeste Colford, shopping at the Friday market in a parking lot of the First Congregational Church in downtown Long Beach, being able to use the benefits to buy fresh fruits and vegetables is a key step in the road back from hard times.
"I first started coming here because I was homeless and I really looked forward to the market because I could sit down in a quiet place and buy fresh fruit and vegetables and get my mind off things; it was really good for me," she says.
Colford continues to come to the market now that she has an apartment of her own because "the fruits and vegetables are always really fresh and they're always in season. Plus, I trust the farmers."
Julie Schwarz, manager at the Long Beach market, estimates 65% of sales comes from customers using benefits. "This market probably wouldn't be alive today if it wasn't for them," she says.
Farmer Roland Tamai, who sells collards, kale, chard, beets and strawberries, among other items, says: "In the beginning, I was a little skeptical about the whole thing, but this is a huge part of our business, especially at this market.
"We get a lot of low-income families from this area shopping here and I'd say that it makes up up to 40% of our sales any Friday. I love it. We get business and the customers get to buy fresh fruits and vegetables. Everybody's happy."
The amount of sales might surprise you. Ida Edwards, manager at the Saturday market in Gardena says her customers regularly redeem $1,000 to $2,000 in benefits every week. "It's good business for us and it keeps getting better."
Indeed, at the farmers markets run by Sustainable Economic Enterprises of Los Angeles (SEE-LA), the use of benefits has increased as much as 50% over the last year, says Jackie Sauceda-Rivera, director of Programs, Benefit & Incentive Programs.
Nationally, the value of benefits used at farmers markets almost quintupled between 2009 and 2013 — to more than $21 million, according to one study.
SEE-LA, which oversees not only the sprawling Hollywood market, but smaller meetings, including those at Central Avenue, Watts, Atwater Village, Echo Park and Barnsdall Park, is one of the most progressive in the country.
Not only can customers use their CalFresh and WIC benefits to shop at their markets, at many of them, they can also use the Market Match program that doubles the first $10 of benefits. In addition, customers can take free healthful cooking classes and even, during a summer pilot program, collect their WIC benefits at the farmers market.
"This creates a domino effect," says SEE-LA Executive Director James Haydu. "We have customers exercising their benefits, farmers benefiting from increased sales and customers getting nutrition education to better feed their families. It's a perfect set of circumstances to sustain and build these smaller markets."
This emphasis on providing fresh produce to underserved communities is not a new thing. The first five farmers markets in Southern California were organized by the Interfaith Hunger Coalition and were located not in upscale neighborhoods, but in church parking lots in areas where fresh fruits and vegetables were hard to find.
In fact, the Gardena market was the first of them, opening in 1979, and Edwards was one of the customers that day. She has been managing the market since 1989.
Edwards' son Shawn, who grew up at the market and now helps his mother manage it, says "the idea is to eat healthy and this gives these people the chance to do that instead of just eating unhealthy fast food, which is what most of them would do without it.
"That's what it's all about right? Cheating death and staying away from the doctor. Eating lots of fruits and vegetables is the best way to do that."
Are you a food geek? Follow me on Twitter @russ_parsons1.
---
Get our weekly Tasting Notes newsletter for reviews, news and more.
You may occasionally receive promotional content from the Los Angeles Times.