Big Gay Ice Cream to open first L.A. shop downtown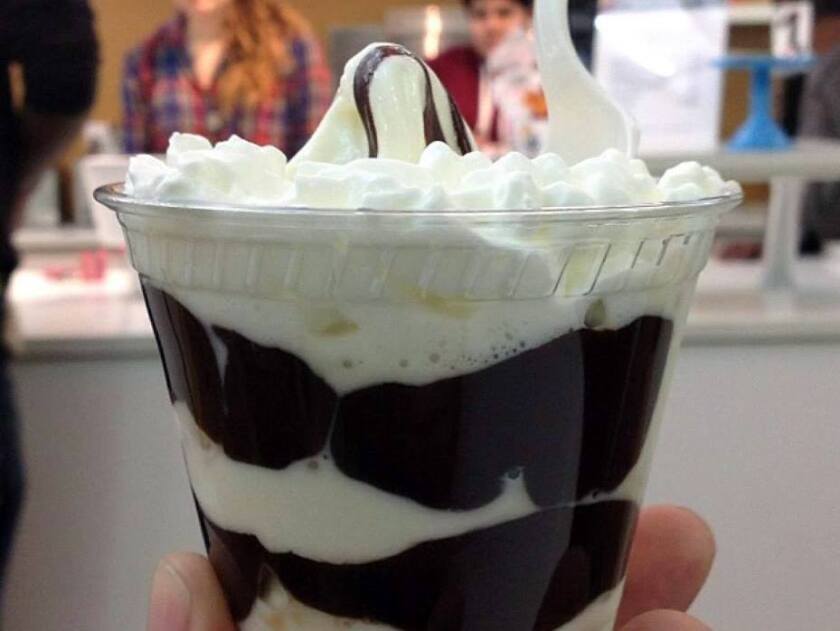 The new hot fudge at Big Gay Ice Cream in New York.
(Big Gay Ice Cream)
Bryan Petroff and David Quint are the owners of New York's Big Gay Ice Cream and will be opening their first L.A. ice cream store.
(Betty Hallock / Los Angeles Times)
The Speculoos-flavored soft serve ice cream at Big Gay Ice Cream in New York.
(Big Gay Ice Cream)
The downtown Big Gay Ice Cream shop will be designed by L.A. architect David Hertz.
(Betty Hallock / Los Angeles Times)
The Big Gay Ice Cream shop will open in downtown L.A. on 9th Street, in what was Anson's Eatery.
(Betty Hallock / Los Angeles Times)
New York's Big Gay Ice Cream is opening shop in downtown Los Angeles this spring. Hello, Speculoos soft-serve, Salty Pimp chocolate-dipped ice cream cones, Newyorkina paletas and ginger-curry milkshakes.
After two successful Los Angeles pop-ups in the Big Gay Ice Cream truck, which drew throngs of fans, owners Douglas Quint and Bryan Petroff are opening their first ice cream parlor outside of New York. Located on 9th Street, it's in the burgeoning neighborhood that now centers around the newly opened Ace Hotel on Broadway.
Quint and Petroff, who have two stores in Manhattan, have finalized the lease on what was formerly Anson's Eatery, a sandwich shop that moved down the street. The 1,500-square-foot store -- the biggest Big Gay Ice Cream yet -- will be designed by L.A.-based David Hertz FAIA and the Studio of Environmental Architecture. (Expect some unicorns as part of the design.)
"We both had an affinity for coming out here," Petroff says, "because of L.A.'s amazing weather, the produce, the food and a weirdness -- like the weirdness in New York -- that we appreciate."
"Downtown has such a great feel and it isn't as different from New York as going to Venice or even West Hollywood," Quint says. "If you're going to move to L.A. from New York, this is the baby-step way to do it."
Petroff says they started looking for spaces in the area when the Ace had just started gutting the United Artists Building. "At the time we were just one shop and a truck," Quint says. "We came here and it was a little hard to envision. We weren't 100% faithful to the notion that this would work -- not necessarily the neighborhood but even the shop."
Meanwhile, their L.A. pop-ups proved highly successful, and in a once-fairly desolate part of downtown, the raved-about restaurant Alma opened and, more recently, Swedish fashion line Acne's U.S. flagship. Across the street from the Big Gay Ice Cream space is a new Aesop skincare boutique.
"I think people will find us," Quint says.
On the Big Gay menu will be signature items such as the Bea Arthur cone (vanilla soft serve, dulce de leche and crushed Nilla wafers) and Mermaid sundae (vanilla soft serve with key lime curd, crushed graham crackers and whipped cream), as well as offerings exclusive to the L.A. shop featuring local ingredients. In New York, Ronnybrook Farm provides Big Gay Ice Cream's dairy, and in L.A., Southern California's Rockview Farms will be the provider.
And after four or five years of testing, they've finally struck a hot fudge recipe they're satisfied with. A key ingredient is malt vinegar, Petroff says, which changes the acidity level. "We cook it to the right temperature," Quint adds, "so that it cools rapidly when it cools on the ice cream. Instead of a syrup it's more of a Tootsie Roll consistency, which is what should happen with hot fudge. But we do seem to be re-educating some people. People think Hershey's syrup. No, no, no, no, no."
The recipe will be in the coming "Big Gay Ice Cream" book, to be published by Clarkson Potter next year.
124 W. 9th St., Los Angeles, www.biggayicecream.com.
ALSO:
L.A.'s first All-Star Chef Classic arrives
Gluten-free Girl Scout cookies -- but not in L.A.?
For Super Bowl 2014, all-you-can-drink draft beer at Bludso's
---
Get our weekly Tasting Notes newsletter for reviews, news and more.
You may occasionally receive promotional content from the Los Angeles Times.