Burrito Box: A hot and melty burrito from a gas station vending machine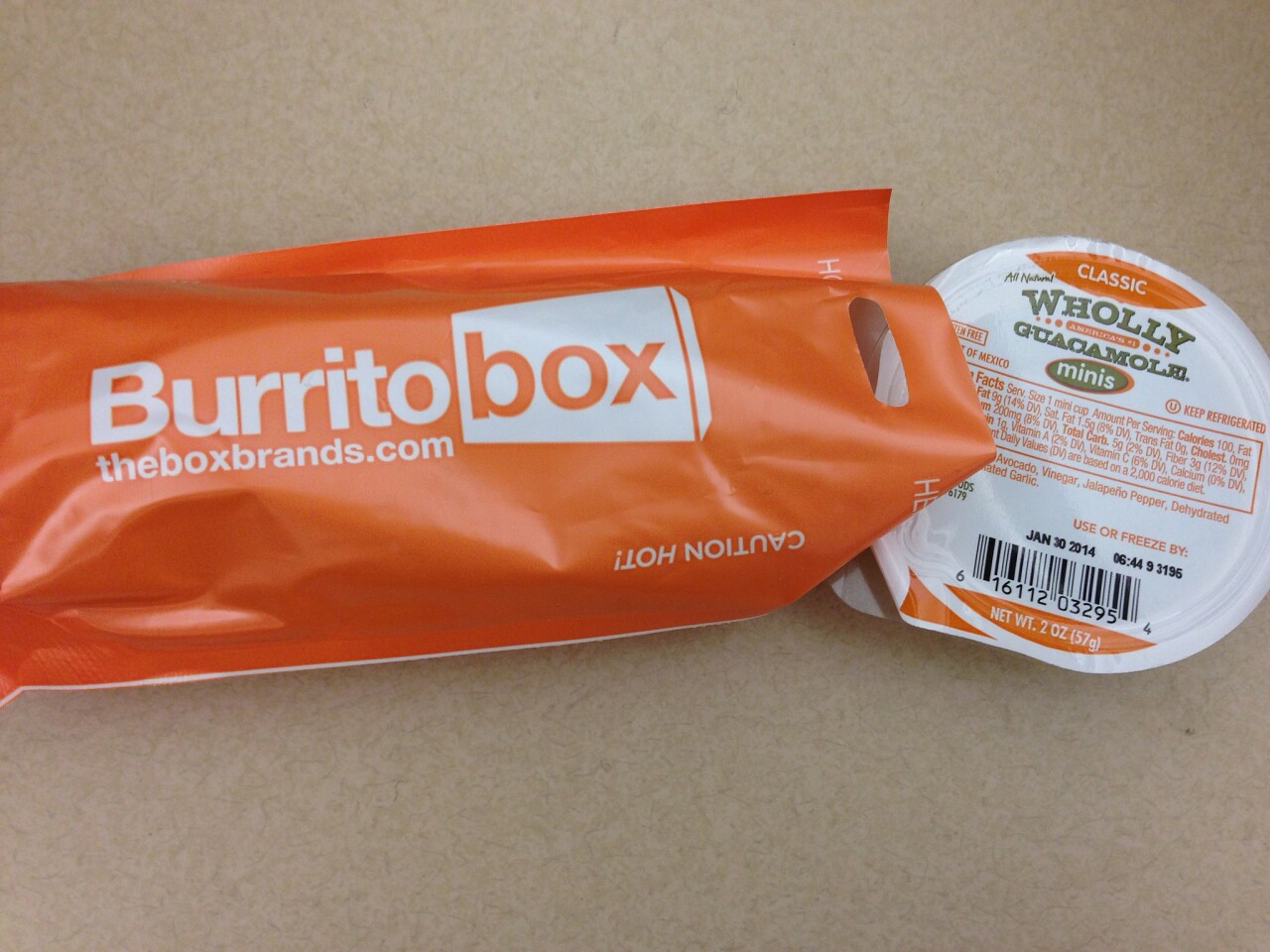 The $3 burritos come wrapped in paper inside orange bags. A side of guacamole costs extra.
(Jenn Harris / Los Angeles Times)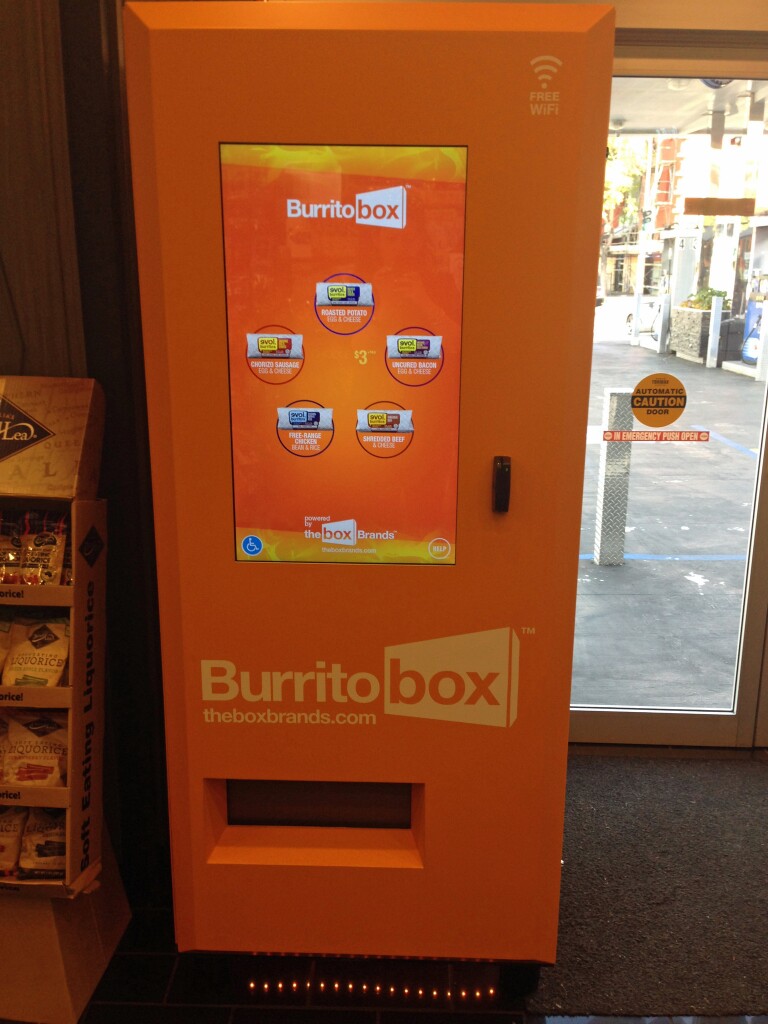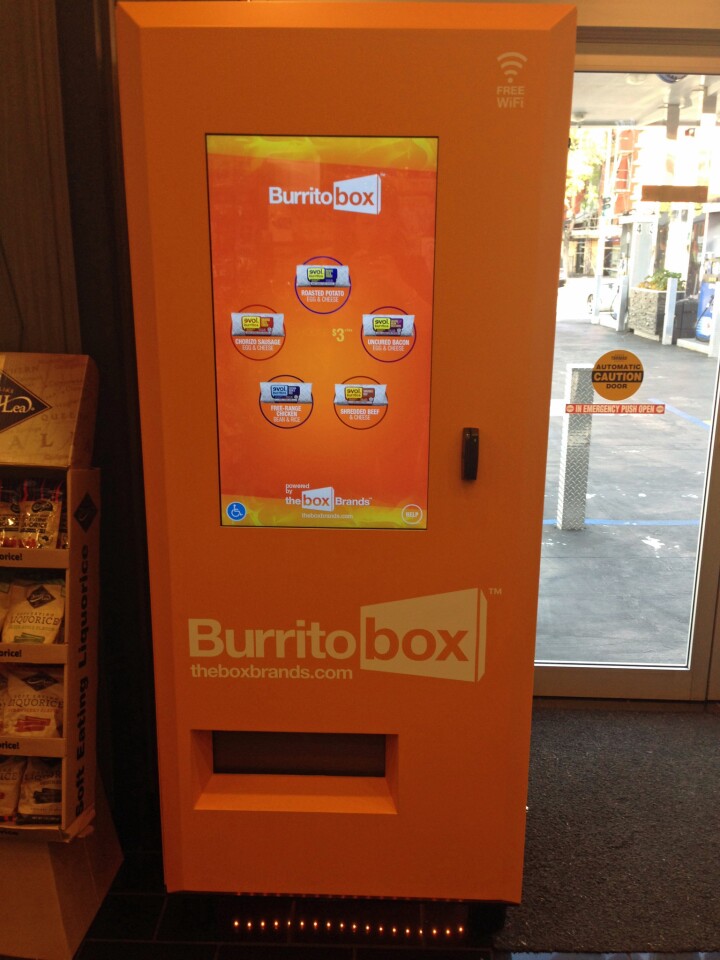 A Burrito Box has been installed at a West Hollywood gas station.
(Jenn Harris / Los Angeles Times)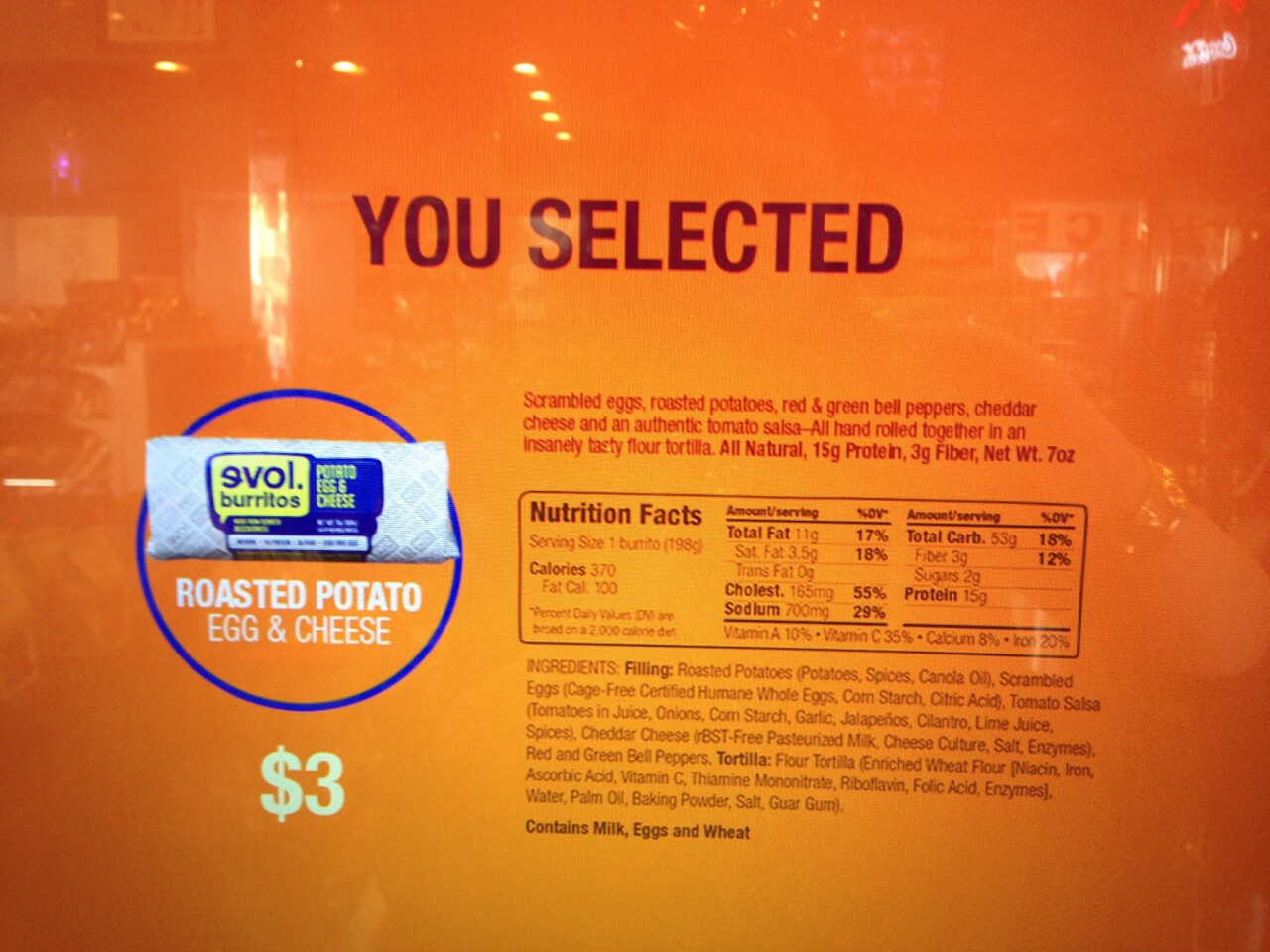 After a customer selects a burrito, a screen displays the ingredients and nutrition information for the item.
(Jenn Harris / Los Angeles Times)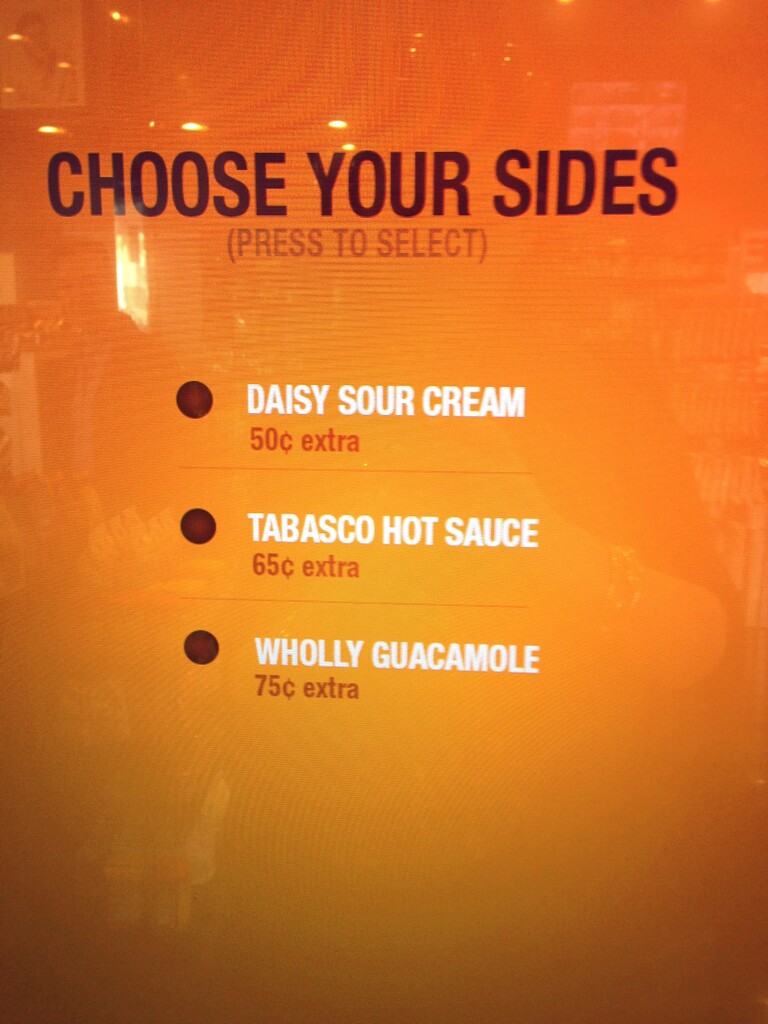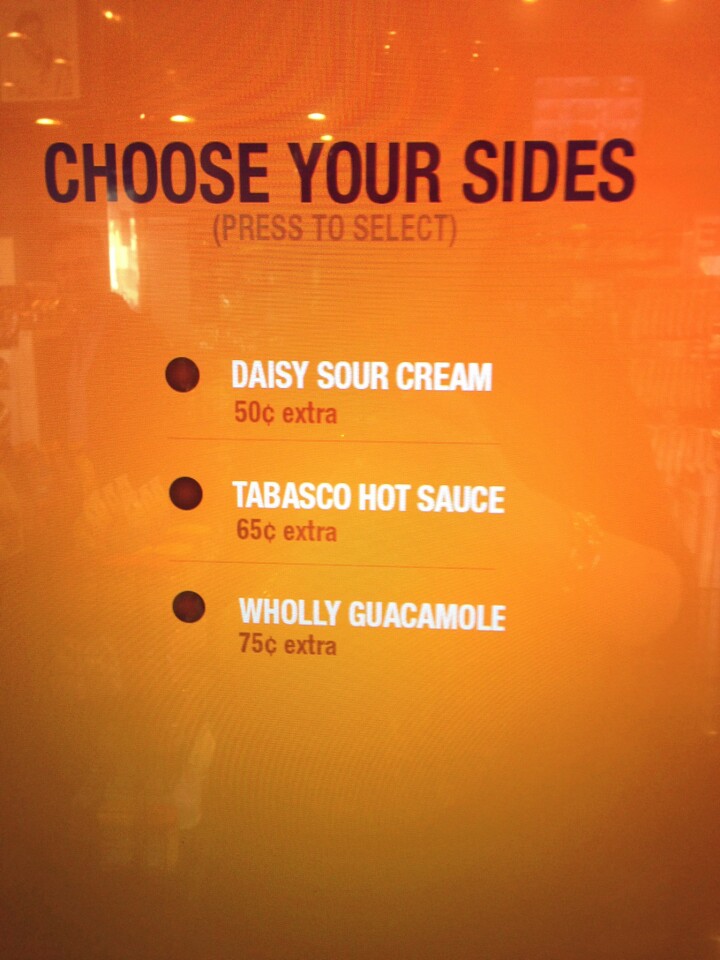 Sour cream, hot sauce and guacamole are available as sides.
(Jenn Harris / Los Angeles Times)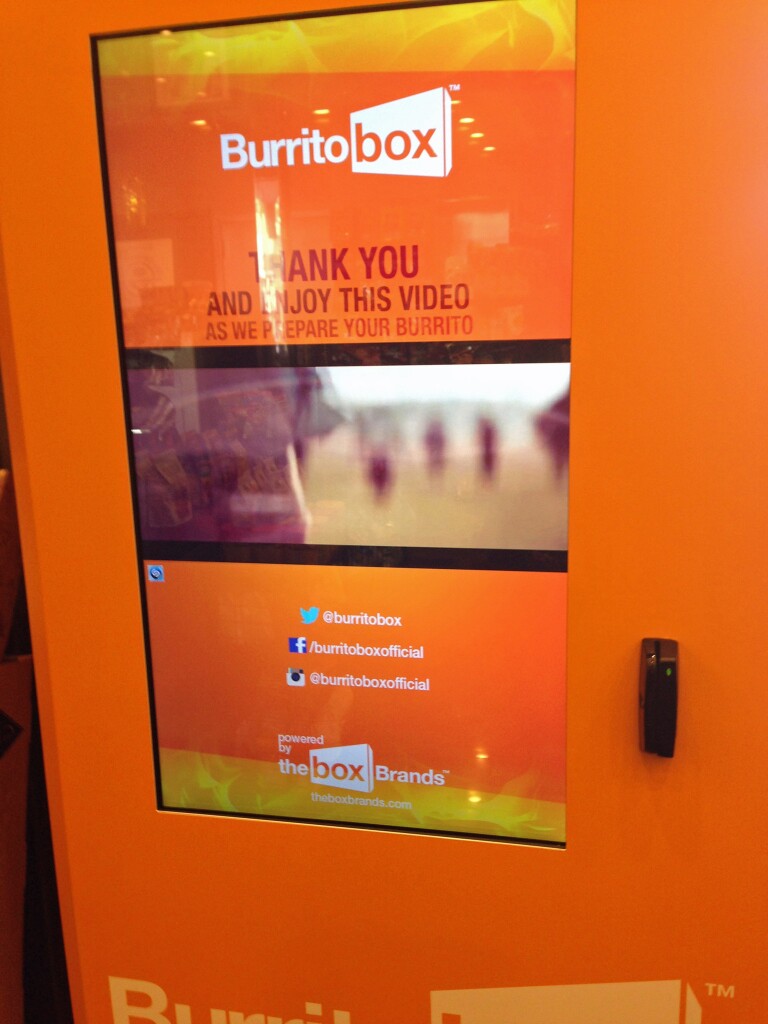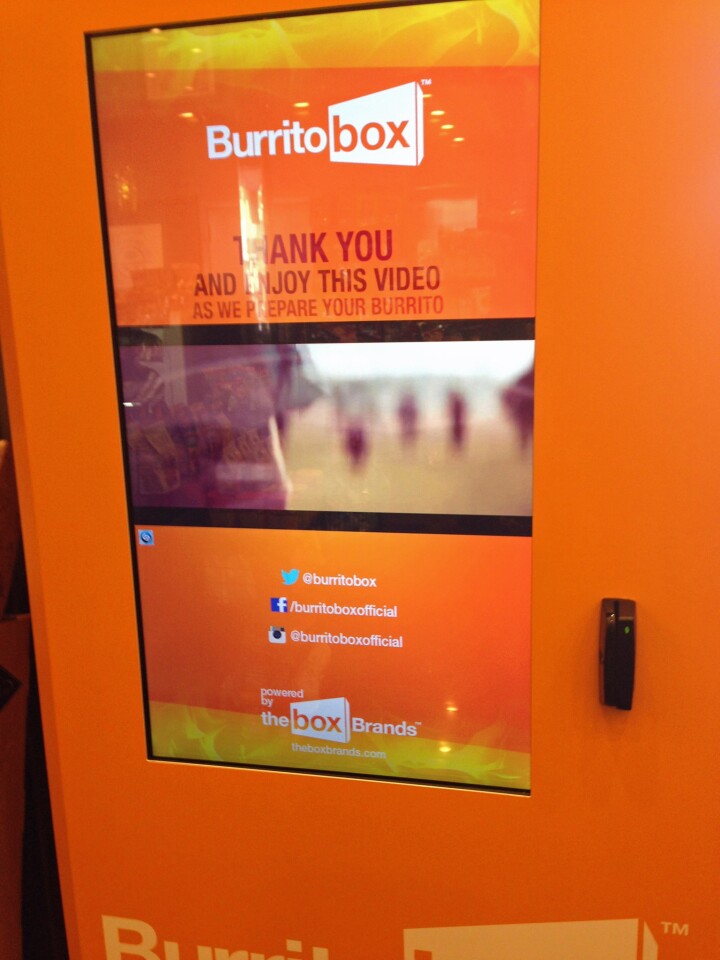 A music video plays while you wait.
(Jenn Harris / Los Angeles Times)
The burritos are delivered in a paper wrapper.
(Jenn Harris / Los Angeles Times)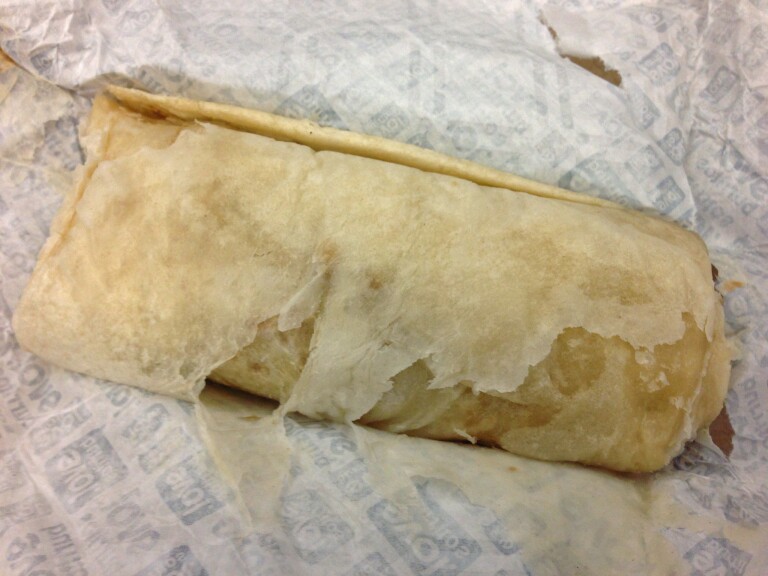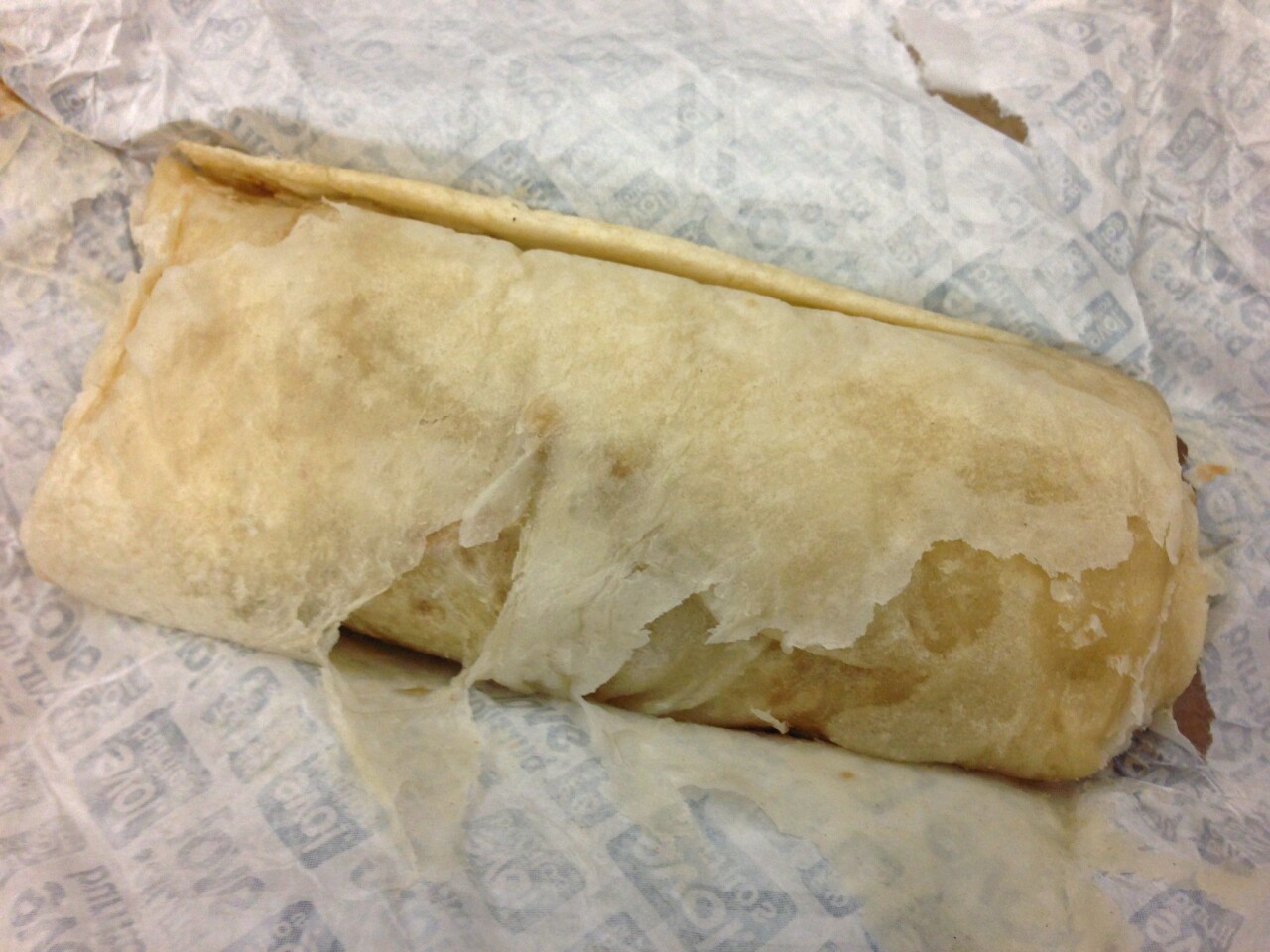 The finished product.
(Jenn Harris / Los Angeles Times)
The roasted potato, egg and cheese burrito.
(Jenn Harris / Los Angeles Times)
There is a vending machine at a Mobil gas station in West Hollywood that sells sustainable burritos. Next to the racks of shiny bags of chips and candy, just inside the sliding door, there's a large orange Burrito Box with a touch screen.
It's like a Red Box, with burritos. You can choose from six varieties, including roasted potato with egg and cheese, uncured bacon with egg and cheese, chorizo sausage with egg and cheese, free-range chicken with beans and rice, and shredded beef and cheese. The website boasts the burritos are made with hormone- and antibiotic-free ingredients.
If you're imagining robotic arms inside layering your potatoes, cheese and eggs into a burrito, then rolling the entire thing up, think again. You can pick a burrito, but it's not exactly Chipotle. You can't customize it. But you can add a side of Daisy sour cream for 50 cents, Tabasco hot sauce for 65 cents or Wholly Guacamole for 75 cents.
Once you make your selection, you're taken to a screen that discloses all of the burrito ingredients and nutrition facts and you pay with a credit card. Then you wait.
The machine has been at the Mobile at 8380 Santa Monica Blvd. for two weeks now. On Tuesday morning, customers passed in and out of the store without giving it a second look, until it started playing Ellie Goulding's "Burn." And even then, it got only a quick glance.
The machine plays a music video or video ad for the 60 seconds it takes to heat up your burrito and grab your chosen side.
"Not a lot of people, but quite a few people use it," said Kasey Kashani, who has owned the station for 30 years. Kashani does not own the box, and explained it's not affiliated with the gas station. He just lets the company use the small space by the door.
When the burrito is ready, it's deposited at the bottom of the machine with your chosen sides. The potato, egg and cheese was hot and melty, but it needed hot sauce. The burritos are $3 plus tax.
According to the Burrito Box website, a second burrito kiosk is slated to pop up at a 76 station in Century City on Jan. 18.
Want more quirky food news? Follow me on Twitter: @Jenn_Harris_
ALSO:
Man eats McDonald's for 90 days, loses 37 pounds
Wal-Mart China donkey meat scandal: You're really eating fox
Slider eating competition; Pork Belly's Hollywood opens; Chris Kobayashi at Jar

---
Get our weekly Tasting Notes newsletter for reviews, news and more.
You may occasionally receive promotional content from the Los Angeles Times.