Belcampo's burger is already driving them wild -- here's how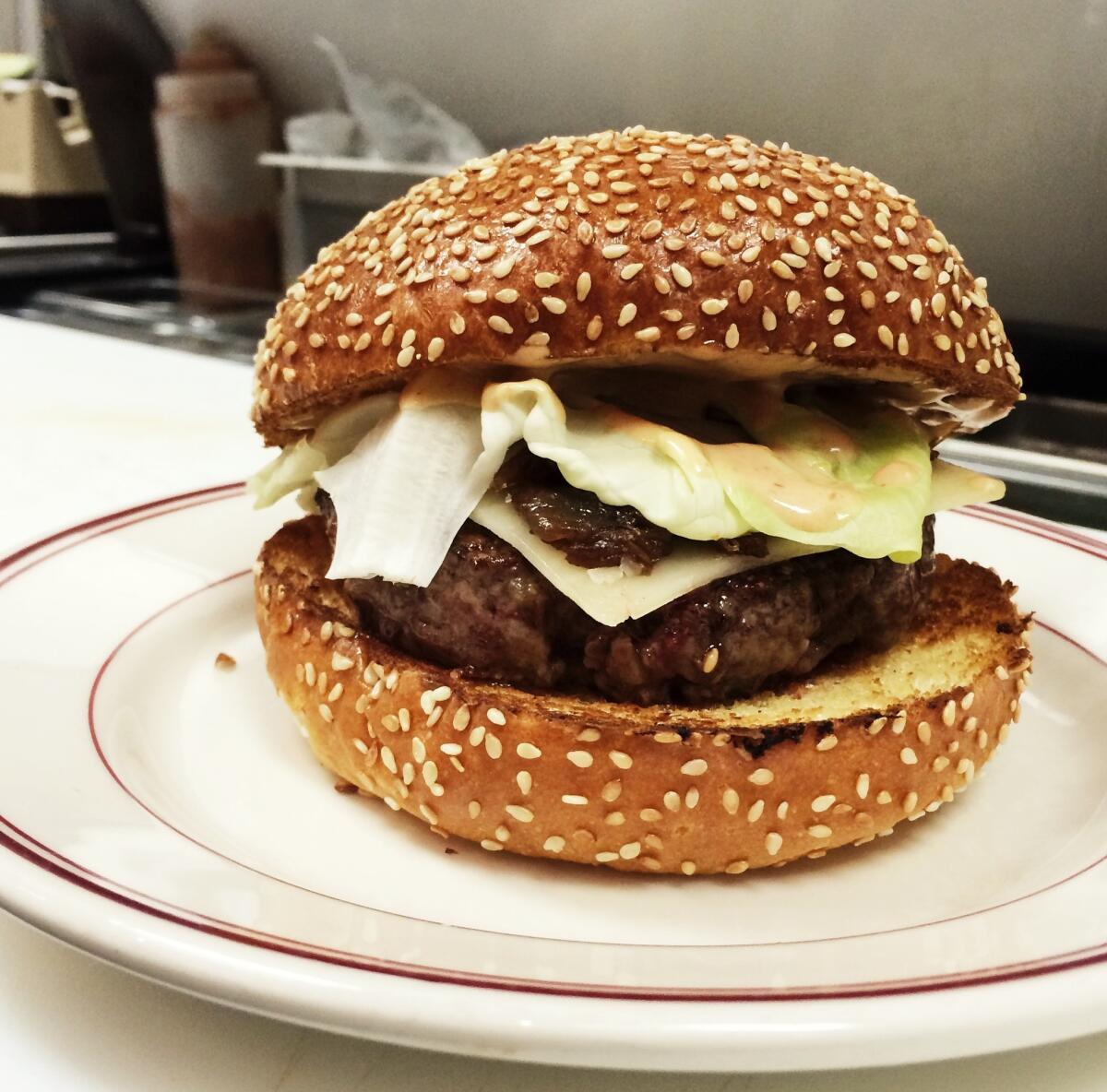 Just when you thought Los Angeles couldn't possibly get excited about yet another hamburger, along comes Belcampo. And eaters are going wild.
A thread on the burger on Chowhound has already gotten more than 125 comments – and the restaurant has only been open for a little more than a week.
"This burger is awesome," posted someone named "J.L." "It's airy (I know, a very strange word to describe the first impression on a burger, but … it's packed on the loose side), but DAMN! It retains all that burger-y goodness in its bite and taste. The caramelized onions and lettuce add nicely to the whole experience."
The estimable "Dommy" described the burger as "really, elemental. Well flavored meat, cooked properly to order (I ordered rate and it indeed was) and it had just enough spread and just enough cheese to add interest. The bun was PHENOMINAL. Just the ideal bun in so many ways.... Even the final bite with that bun and some meat was wonderful."
And already there's speculation about what culinary tricks they must be using to make it. Happy news: there is no trick. Unless you count starting with great meat.
Here's how Belcampo chef Robbie Arnold-Starr makes a burger:
He starts with a5 1/2-ounce mound of a pre-ground selection of chuck, sirloin and brisket that comes out to about 20% fat. Then he lightly pats into a ring form – the kind diners use for frying eggs. Then it goes onto the flat top to cook. The bun comes from Breadbar and is brushed with butter before browning on the cut sides. [An earlier version of this story said the bun came from Bread Lounge]. The burger is finished with a thin slice of Cheswick white Cheddar, a smear of caramelized onions, and a squirt of an aioli-ketchup mix. Out it goes.
As with anything so simple, the devil is in the details.
First, the meat, which comes from a Wagyu-Angus blend. It's normally hard to get that high a fat ratio with grass-fed beef such as Belcampo uses. But butcher Jered Standing says because of the breed, because Belcampo slaughters older than most, and because the cattle are raised in a place where it gets colder in the winter (Mount Shasta), the meat is naturally fattier.
The handling is key as well – the meat is patted lightly, not pressed. That accounts for the light texture and a lot of the flavor, as the fat that's rendered during cooking stays in the meat. "Don't beat it up," says Arnold-Starr. "Don't abuse the burger."
"That's all there is to it," says Arnold-Starr. "It's meat, fat and salt.
Belcampo Meat Co., 317 S. Broadway, Los Angeles, (213) 624-2378.
ALSO:
Honey Maid hits back at its critics
Instacart rolls out grocery service in LA
Greenspan's Grilled Cheese opening soon
Get our L.A. Goes Out newsletter, with the week's best events, to help you explore and experience our city.
You may occasionally receive promotional content from the Los Angeles Times.