Disease that helped cause lime shortage in Mexico could come to California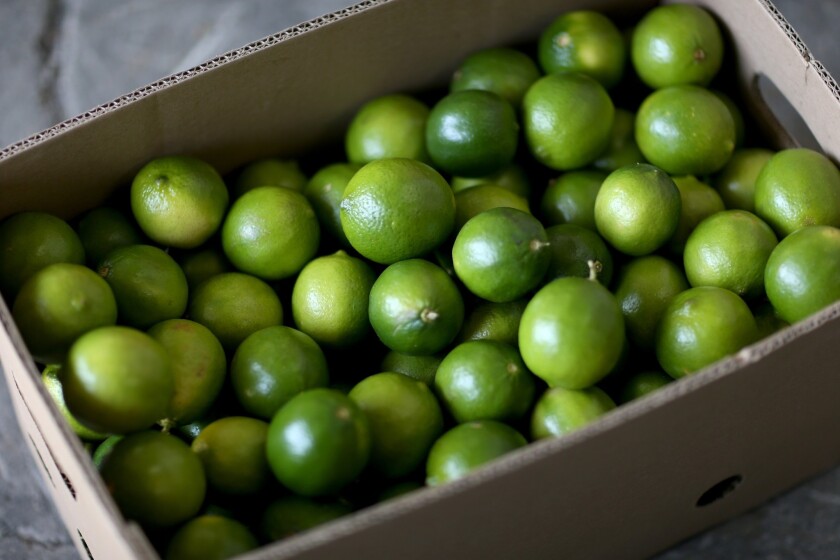 Today it's the limes, tomorrow what else?
A variety of factors have contributed to a shortage of limes in the United States that has more than doubled prices over this time last year. And one of the most important is an outbreak of a citrus disease in the prime lime-growing area of Colima, Mexico – and that's a problem that could affect California as well in the near future.
Huanglongbing, or citrus greening disease, has already devastated citrus production in Florida and now is affecting Mexico. And while the disease itself is scarce here, the bug that spreads it has been found all over Southern California.
Huanglongbing is a bacterial disease that is spread by a tiny flying insect, the Asian citrus psyllid. Trees stricken with the disease produce fruit that remains hard, bitter and misshapen, and they die within a few years. It is considered to be one of the most serious agricultural diseases in the world.
In addition to Florida, it has decimated citrus groves in Central and South America.
Huanglongbing was first reported in Florida in 2005 and has already cost the state more than $4.5 billion. In California, the citrus industry is valued at $2 billion a year.
The disease is not the only nemesis of suddenly precious limes. According to National Public Radio, heavy rains last year in the Mexican states of Michoacan, Guerrero and Veracruz also reduced the harvest.
As a result, according to Department of Agriculture statistics, the average retail price of limes this week is up to 53 cents apiece – almost a dime more than last week and far above the 21 cents of a year ago.
Furthermore, says Gustavo Arellano, a popular writer on Mexico and Mexican politics, the strife in central Mexico has also played a role.
"The lime-growing regions of Mexico just happen to be in the area where the Knights Templar drug cartel has been fighting scorched-earth battles against vigilante groups down there," he told Michel Martin of NPR's "Tell Me More" radio show.
Whatever the cause, one thing's for sure: The price of limes is higher than it's ever been, and it's not likely to go down anytime soon, at least not until the next harvest begins in May.
"This year, we are in uncharted waters with limes," Raul Millan of New Jersey-based Vision Import Group told NPR. "I've never seen limes at these prices."
ALSO:
PHOTOS: 11 recipes for grapefruit
PHOTOS: 10 recipes for navel oranges
---
Get our weekly Tasting Notes newsletter for reviews, news and more.
You may occasionally receive promotional content from the Los Angeles Times.