Slow cooking: The alchemy of caramelized onions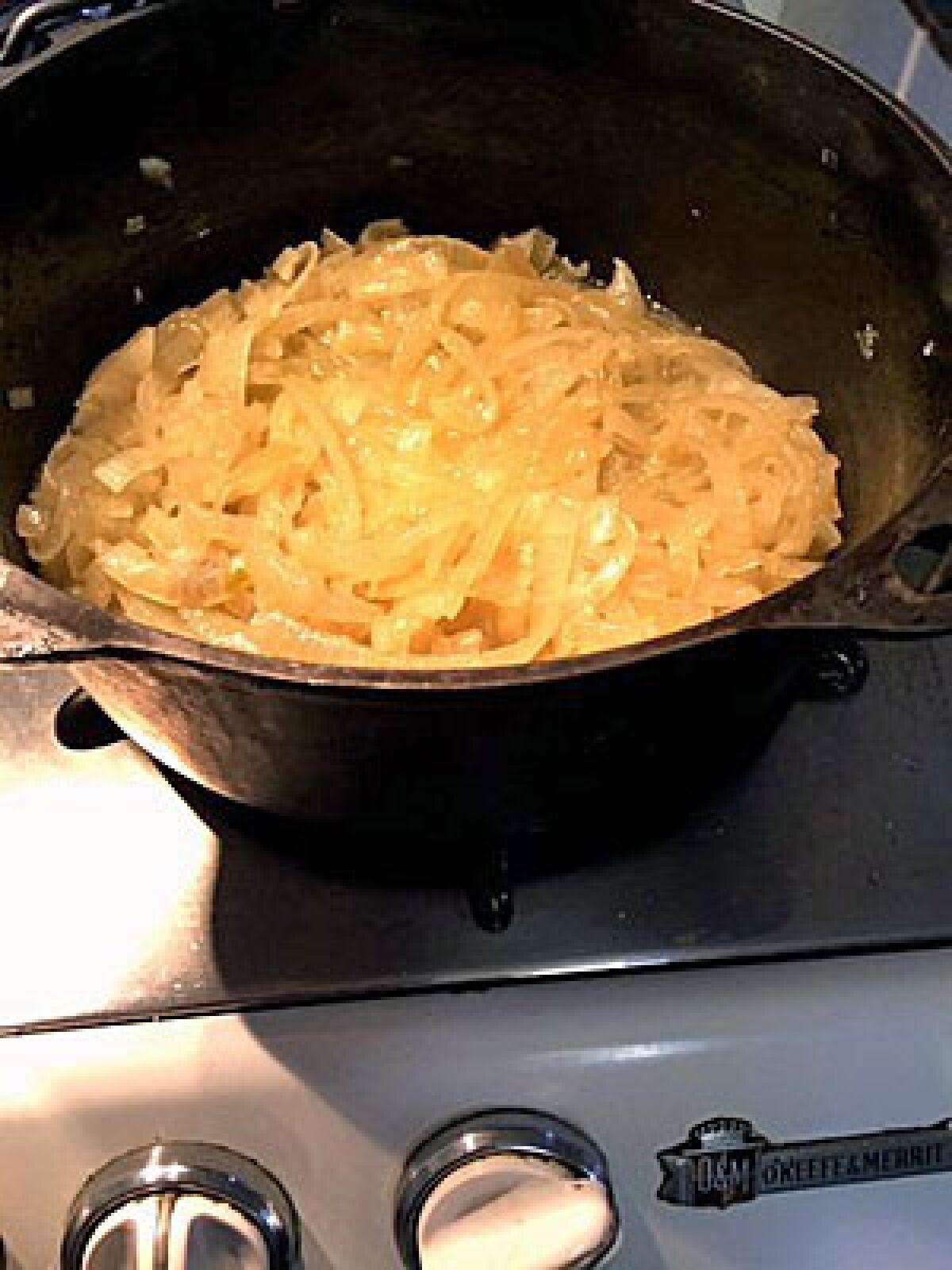 Is it January or is it football that seems inevitably to lead to my making caramelized onions? It's an open question, but at this point I'm leaning toward the latter. Despite years as a sportswriter, most football games inspire me toward nothing more than a good nap. And there is no task in cooking more nap-like than caramelizing onions.
The process is comforting, in that snug, well-provisioned way. You're turning one of the cheapest items in the grocery store into something approaching gold. And you can do most of the process in your sleep — literally.
I've written more fully about caramelized onions before, but here is the outline of how you make them. Cut plain old storage onions in half lengthwise and then slice them into half-moons roughly 1/4 inch thick. Place the onions in a large heavy pot with a couple of glugs of olive oil and a healthy sprinkling of salt.
CALIFORNIA COOKBOOK: Find hundreds of absolutely delicious recipes
Place the pot over medium heat, cover, and cook until the onions have wilted. This will take about half an hour. Turn the heat down to low and continue cooking until the onions are swimming in their own liquid. That'll take another 30 to 45 minutes. You may need to stir it once in a while. Probably not.
Remove the lid and continue cooking until the liquid has evaporated and the onions begin to turn golden, about an hour (if you're in a hurry, you can cut 15 minutes or so off that time by increasing the heat to medium during this period).
Let the onions continue cooking over the lowest possible heat until they are a deep walnut color, bordering on mahogany. You'll need to stir every 15 to 20 minutes during this period to make sure there's no sticking.
When the onions are done they'll be cooked down to a sweet, deeply savory jam. The shrinkage is nothing short of astonishing. I measured it once and 5 pounds of onions made only 2 1/2 cups.
But a little bit of this stuff goes a long way. It's good simply spread on bread — maybe a teaspoon per slice — but there's much more you can do with it. I sometimes fold it into potato gratins, or serve it with steaks or roasts.
Monday night, waiting for the BCS game to start (one football game that definitely proved the exception to the nap-time rule), I made pizzas spread with a teaspoon or two of tapenade, maybe a tablespoon of caramelized onions, mozzarella and walnuts. And man, what a game that was.
ALSO:
Sustainable burritos from a vending machine
Make your lunch! 4 recipes to get you started
McDonald's Diet? Man loses 37 pounds in 90 days
---
Get our weekly Tasting Notes newsletter for reviews, news and more.
You may occasionally receive promotional content from the Los Angeles Times.