At Cento, the pasta bar downtown, your carb dreams come true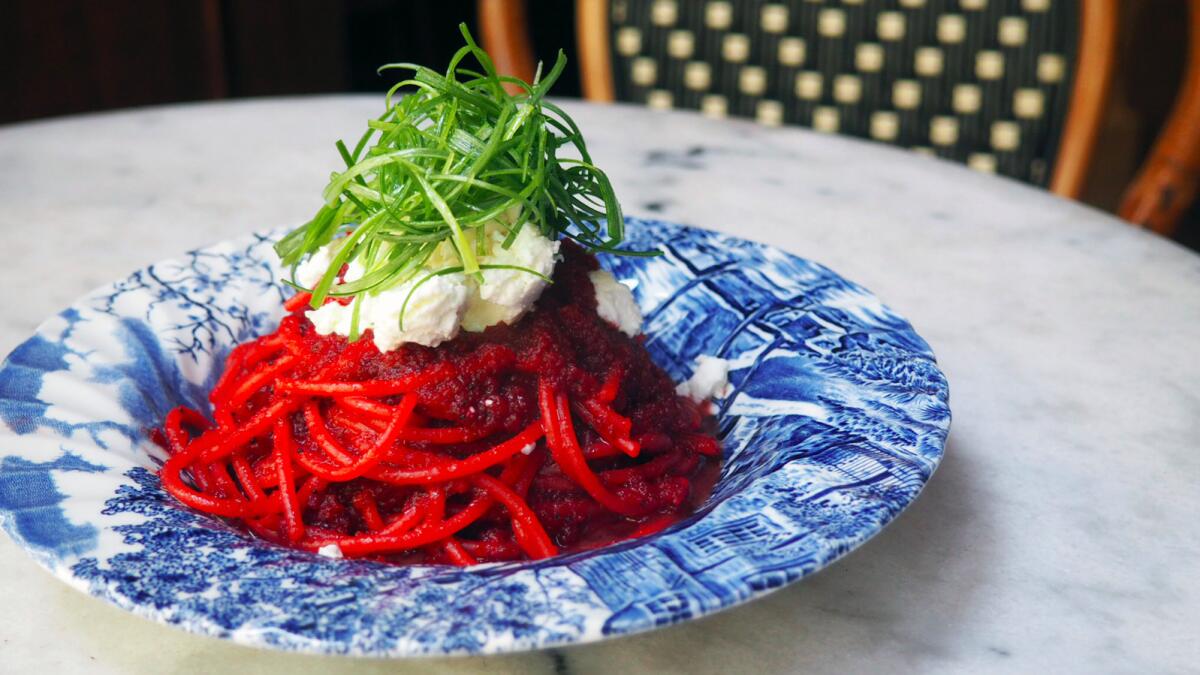 Down 6th Street in downtown L.A., past the aroma of French dip sandwiches at Cole's, inside the tiny French wine bar Mignon, Avner Lavi furiously stirs a pan of bright fuchsia sauce. The former Bestia and Sotto pasta cook turns from one pan to the next, each heating on portable cooktops. He adds a tong-full of spaghetti to one and tosses until a mound of deep pink pasta sits glowing in the pan. Then he twirls the pasta into a mountain and plates it in the center of a pretty blue and white plate, tops it with a dollop of goat cheese, then sprinkles chives. This is the beet pasta from Cento, an almost-only-pasta bar in downtown L.A.
Lavi has been twirling his pasta from behind the bar at Mignon since December. Four days a week, for four hours a day, Mignon becomes Cento pasta bar — and then, when the sun goes down, the space turns back into Mignon.
Pasta is the star of the limited menu (mostly a single starter, three to four pastas and something sweet), along with pieces of toasted Clark Street Bread, either topped with slices of avocado, or served alongside clouds of burrata drizzled with olive oil.
This is where you'll want to end up when you drop your Paleo diet.
On a recent visit, the spaghetti was tossed in that pink beet sauce — bright in flavor and in color, meant for Instagram. And the gnocchi, delicate pillows of dough, were served two ways: under a spicy 'nduja sauce or with a simpler tomato sauce.
Sometimes Lavi has spaghetti with uni, crab and heirloom tomato on the menu. Past items have included sage and brown butter ravioli filled with ricotta; orecchiette in a bolognese sauce; squid ink linguine; and bucatini carbonara. Sometimes there's dessert, sometimes there isn't.
All of the pasta is served on dinnerware the buyers at Anthropologie would be proud of. The lamps are made of coat hangers. And on the walls: Artwork that varies from naked figures to bouquets of flowers to an elderly man playing piano. That Parisienne apartment you dream of owning one day? This is how it will be decorated.
To drink, there is wine (red, white, maybe rose), Peroni and Aranciata soda.
The menu changes regularly, so if you want to know what's available, check the restaurant's social media accounts. There are no guarantees, other than plenty of pasta, burrata and wine.
128 E 6th St., Los Angeles, (213) 489-0131.
I rock the pasta party. Follow me on Twitter and Instagram @Jenn_Harris_
ALSO:
Get to know grisette — a saison-like beer built to quench a miner's thirst
More great coffee and the revitalization of a stretch of Hollywood Boulevard in Los Feliz
Learn how to hold a chef's knife the right way, then use your skills to make this vegetable salad
Get our L.A. Goes Out newsletter, with the week's best events, to help you explore and experience our city.
You may occasionally receive promotional content from the Los Angeles Times.