California chefs and cooks rejoice at lifting of foie gras ban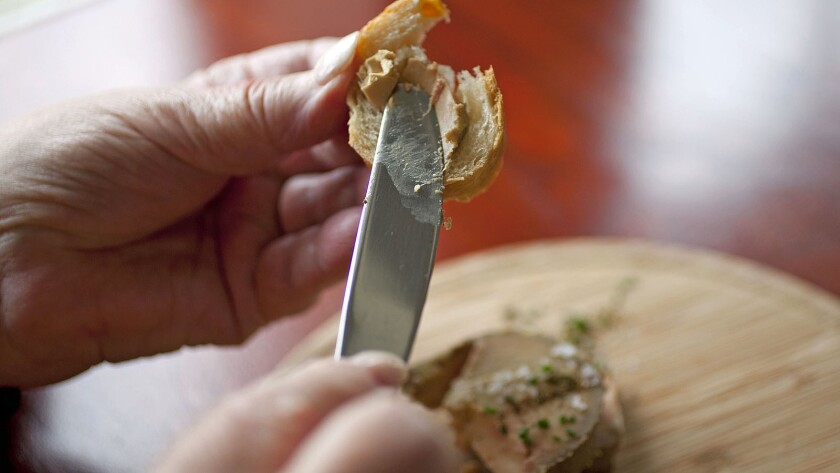 The judge's decision Wednesday to allow California restaurants to begin selling foie gras after a two-year layoff was greeted by a flood of tweets from Southern California chefs.
Seared, roasted or rolled into a torchon and poached, there's something about that richly flavored, unctuously textured duck's liver that makes good cooks salivate.
The ruling by U.S. District Judge Stephen V. Wilson overturned California's law banning the sale of the fatty goose liver. The judge ruled that the law was unconstitutional because it interferes with an existing federal law that regulates poultry products. The California law had been passed in 2004 and went into effect in 2012.
Animal rights groups immediately vowed to appeal the decision, but for now foie gras-loving chefs are dancing in the tweets. So to speak.
Looks like illegal stuff BUT it's not anymore. Contraband no more. #FoieGras #frenchfood @emilienemilien pic.twitter.com/gBnCGWwYpg

— Ludo Lefebvre (@chefludo) January 8, 2015
Banner Year! Foie Gras is back in California! https://t.co/B7fN6X5MDF

— Anne Willan (@AnneWillan) January 7, 2015
Looking forward to having this French goodness on the menu at petittroisla and Trois Mec. #foiegras… https://t.co/eXUFbe77oS

— Ludo Lefebvre (@chefludo) January 7, 2015
Excited to see pan-seared @HudsonValleyFG #foiegras in our future! https://t.co/LzU1tDKaCA

— Bouchon BH (@BouchonBH) January 7, 2015
#alrightalright #FoieGras is legal in California again! @GOURMETIMPORTS I'll be calling soon! #foie #tacos to come soon.

— guerrillatacos (@guerrillatacos) January 7, 2015
It feels a little like December of 1933.

— michael cimarusti (@cimarustila) January 7, 2015
A little birdie told me that as of 10 minutes ago Foie Gras is no longer illegal in the Golden State!!!

— michael cimarusti (@cimarustila) January 7, 2015
BREAKING NEWS CHEF: FOIE GRAS IS BACK & LEGAL FOR SALE IN CALIFORNIA as of 10 minutes ago!

— David LeFevre (@ChefDLeFevre) January 7, 2015
---
Get our weekly Tasting Notes newsletter for reviews, news and more from critics Bill Addison and Patricia Escárcega.
You may occasionally receive promotional content from the Los Angeles Times.