Your 2014 Christmas Eve restaurant dining guide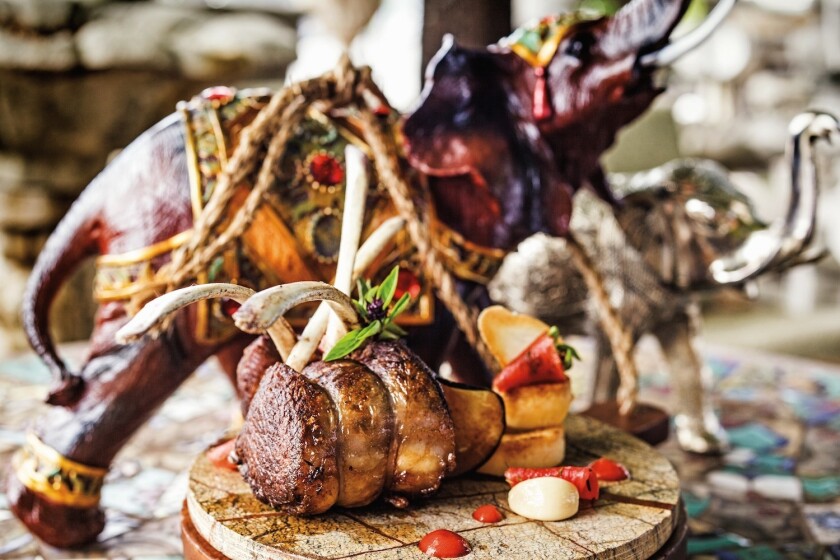 If staying home and cooking dinner while you watch the "Grinch" for the zillionth time — or ordering pizza — isn't your idea of a good time on Christmas Eve, there are options. Many of this town's excellent restaurants are not only open on Christmas Eve, they're serving special holiday dinners. So instead of making a sandwich, how about letting a professional kitchen do the work. Also, many of the restaurants are not only open, they've decorated. So sit down to a plate of roasted squab or prime rib with Yorkshire pudding and listen to carolers, or try one of the many great seafood dishes at restaurants celebrating the Feast of the Seven Fishes. Happy holidays indeed.
Barton G.
The so-called theatrical restaurant (the original is in Miami) is offering lots of over-the-top holiday specials. The "Mother Clucker," a whole roasted chicken, is deboned and served for guests to carve and eat with acorn squash; Colorado rack of lamb with root vegetable fondant; veal chops and apple fritters are served to look like an orchard harvest. Specials are $38-$68. Reservations are required. N. La Cienega Blvd., Los Angeles, (310) 388-1888, bartongtherestaurantla.com.
Blue Plate Oysterette
Both locations of BPO will be offering a Feast of the Seven Fishes dinner on Christmas Eve. Dishes include: oysters with cocktail sauce; lobster bisque; and ceviche. The Santa Monica restaurant will be serving whole roasted branzino, Maine lobster rolls, ahi crudo and a butter lettuce salad. The Third Street restaurant will be offering octopus with chorizo, sea scallops with lentils, lobster tagliatelle, and Arctic char with Swiss chard. The dinner is $89 per person. 1355 Ocean Ave., Santa Monica, (310) 576-3474, blueplatesantamonica.com/bpo/santa-monica; 8048 W. Third St., Los Angeles, (323) 656-5474, blueplatesantamonica.com/bpo/los-angeles.
Cafe del Rey
If you want to spend Christmas Eve at the marina, Cafe del Rey is offering a $60 three-course prix-fixe meal from 11:30 a.m. to 7:30 p.m. Black truffle pasta with confit turkey; braised short ribs with cabbage; crispy octopus with fennel; and a selection of festive desserts, including eggnog crème brûlée with gingerbread cookies and pumpkin bread pudding. 4451 Admiralty Way, Marina del Rey, (310) 823-6395, cafedelreymarina.com.
Cafe Pinot
Joachim Splichal's downtown restaurant (outdoor patio, Central Library-adjacent) is celebrating the holiday with both three- and four-course prix-fixe dinners. Dishes include: chestnut velouté with sweet potato ravioli; venison carpaccio; Brussels sprouts and beet salad; roasted squab with butternut squash bread pudding; wild mushroom risotto (optional black truffles); sturgeon with kohlrabi and lardo; smoked duck breast with parsnip purée; filet mignon with Raclette and beer fondue; Christmas ham with braised kale; apple tart or two Buche de Noels, one Meyer lemon and the other chocolate. The three-course is $55; the four-course is $65, and kids 12 and under at $19. 700 W. 5th Street, Los Angeles, (213) 239-6500, patinagroup.com.
Delphine Eatery + Bar
The Hollywood Boulevard restaurant will be offering a $67 menu for Christmas Eve with dishes including blood orange, persimmon and burrata salad; apple and fennel soup with black truffles and crab beignets; Dungeness crab ravioli; egg custard with uni; grilled prime sirloin cap; tagliatelle with Brussels sprouts; and pan-roasted white bass with roasted squash and pork belly. There will also be a special dessert course. 6250 Hollywood Blvd., Hollywood, (323) 798-1355, innovativedining.com/restaurants/delphine.
FIG
The Santa Monica restaurant will be serving a market-driven holiday à la carte menu, with dishes such as grilled half Jidori chicken with saffron couscous; celery root and grain mustard jus; Eastern fluke with saffron chowder, heirloom carrots and sunchokes. 101 Wilshire Blvd., Santa Monica, (310) 319-3111, figsantamonica.com.
Five Crowns
The almost-50-year-old restaurant, done in the manner of an English country inn, will be celebrating Christmas Eve with a prime rib dinner with Yorkshire pudding, whipped cream horseradish and sides. Options include Scottish salmon, Australian lamb, kale linguini and a traditional Christmas goose. With 48 hours' notice, you can even get the prime rib dinner to go. 3801 East Coast Highway, Corona del Mar, (949) 760-0331, lawrysonline.com/five-crowns

Hatfield's
As Quinn and Karen Hatfield's fine-dining restaurant will be closing soon, making reservations for Christmas Eve dinner might be a great way to celebrate not only your holiday but their lovely cooking. On Christmas Eve, they'll be serving a prix-fixe four-course dinner — the dishes are still being decided — for $75 per person. There will be a vegetarian menu available, and children under 10 can order à la carte. 6703 Melrose Ave., Los Angeles, (323) 935-2977, hatfieldsrestaurant.com.
Il Grano
Chef-owner Sal Marino is celebrating the Feast of the Seven Fishes at his swank Italian restaurant. The dinner has two seatings and is $65 per person, which includes wine pairings. Dishes include: seared scallops, celery root and shaved black truffles; cod cakes with wild baby arugula salad; baby clams and spaghetti; tagliolini with Maine lobster; grouper with tomatoes and olives; and for dessert, struffoli, or soufflé of panettone. 11359 Santa Monica Blvd., (310) 477-7886, ilgrano.com.
Melisse
Have chef Josiah Citrin and his crew cook your Christmas Eve dinner this year. The swank Santa Monica restaurant is offering a prix-fixe five-course dinner, including Hokkaido scallops with cauliflower mousse, parsley and black truffles; Maine lobster with artichokes, black olives, almonds and yogurt; and a Buche de Noel glacé with pineapple, passion fruit, coconut and lime. Dinner is $165 per person. (Melisse will be closed on Christmas Day.) 1104 Wilshire Blvd., Santa Monica, (310) 395-0881, melisse.com.
Park Grill
Christmas Eve dinner here is a four-course menu featuring candied yam bisque; prime rib with sautéed escarole and Yukon Gold potato and roasted garlic mash; and candy cane mousse with peppermint schnapps. There are two seatings, from 5:30 to 9 p.m. Dinner is $68 per person, with children under 12 for $34. 2151 Avenue of the Stars, Century City, (310) 284-6536, intercontinentallosangeles.com.
The Pikey
The Hollywood English pub is all decked out for the holidays (stockings on the mantel, elves in hats), and will be serving specials on Christmas Eve as well. Dishes include pig's head in a blanket; scallops wrapped in bacon and dates; gooseneck pie; honey-glazed ham for two with grits; and minced pie ice cream. The regular menu will also be available, as well as a menu of holiday cocktails. 7617 W Sunset Blvd., (323) 850-5400, thepikeyla.com.
Providence
Michael Cimarusti's Melrose Avenue seafood palace will be having its customary Feast of the Seven Fishes meal — a southern Italian tradition -- on Christmas Eve. Dishes this year include squid carbonara with pancetta and pepe nero; lobster raviolo; risottino all'onda with vongole, gamberetti, lemon and celery; and struffolini, a Neapolitan dessert of deep-fried balls of dough. The eight-course option is $130, $190 or $290, depending on the wine pairing. 5955 Melrose Ave., Los Angeles, (323) 460-4170, providencela.com.
The Raymond 1886
The Pasadena restaurant is offering a holiday feast, served family-style. Dishes include Mexican Christmas soup, with chocolate, pumpkin, chile and shrimp; lemon and herb-roasted chicken; artichoke ravioli with marjoram pesto; New York steak with smoked potato purée; cod with couscous; and a gingerbread house and a yule log for dessert. Christmas decorations. Dickens-style Christmas carolers. Dinner is $90 per person; reservations required. 1250 S. Fair Oaks Ave., Pasadena, (626) 441-3136, theraymond.com.
Spago
Wolfgang Puck and executive chef Lee Hefter are offering a three-course prix-fixe holiday dinner for $145 per person. Dishes include celery root and apple soup with black truffles; Emmental cheese soufflé with truffle coulis; chestnut agnolotti with mascarpone, black truffles and Parmigiano Reggiano; and rack of veal with Brussels sprouts and yellow turnip purée. Dinner also includes a live choir singing holiday carols. Reservations with a credit card are required. 176 N. Canon Drive, Beverly Hills, (310) 385-0880, wolfgangpuck.com.
Union
Bruce Kalman's Old Town Pasadena restaurant is having a Feast of the Seven Fishes Christmas Eve dinner. Dishes include escabeche of sardines with stewed beans and crostini; squid ink maccheroni alla chitarra with uni; olive oil-poached albacore; baby octopus with Tuscan potatoes and romesco sauce; ricotta cavatelli with prawns; farro-crusted sea scallops; branzino with artichokes and olives; and struffoli and biscotti for dessert. Reservations are available from 4 p.m.-10 p.m. $125 per person, with an additional $40 with wine pairing. 37 E. Union Street, Pasadena, (626) 795-5841, unionpasadena.com.
Valentino
Piero Selvaggio's upscale Italian restaurant is celebrating Christmas Eve with a traditional Italian dinner. The seasonal tasting menu, which they'll have in addition to the regular menu, includes: crab meat and orange salad; lobster, faro and beet salad; porcini mushrooms and polenta with Parmigiano fonduta; squid ink penne with seppia and peas; grilled John Dory with purple potatoes and green asparagus; and zabaione with berries. The dinner is $85 per person. 3115 Pico Blvd., Santa Monica, (310) 829-4313, valentinosantamonica.com.
Wolfgang Puck at Hotel Bel-Air
Puck's restaurant at the elegant Hotel Bel-Air will be open from 5 p.m.-9 p.m. on Christmas Eve, with a four-course prix-fixe dinner available. Dinner will include an amuse and roasted Italian chestnut soup; steamed Rhode Island striped bass; and a Buche de Noel. $160 per person; $65 for children 12 and under. 701 Stone Canyon Road, Los Angeles, (310) 909-1644, dorchestercollection.com/en/los-angeles/hotel-bel-air/restaurant-bars.
Since there are many, many restaurants around town serving special Christmas Eve menus, this post will be updated. Let us know!
Too many pictures of holiday food at Instagram @ascattergood
---
Get our weekly Tasting Notes newsletter for reviews, news and more.
You may occasionally receive promotional content from the Los Angeles Times.