The exquisitely natural food art of David Kinch's 'Manresa'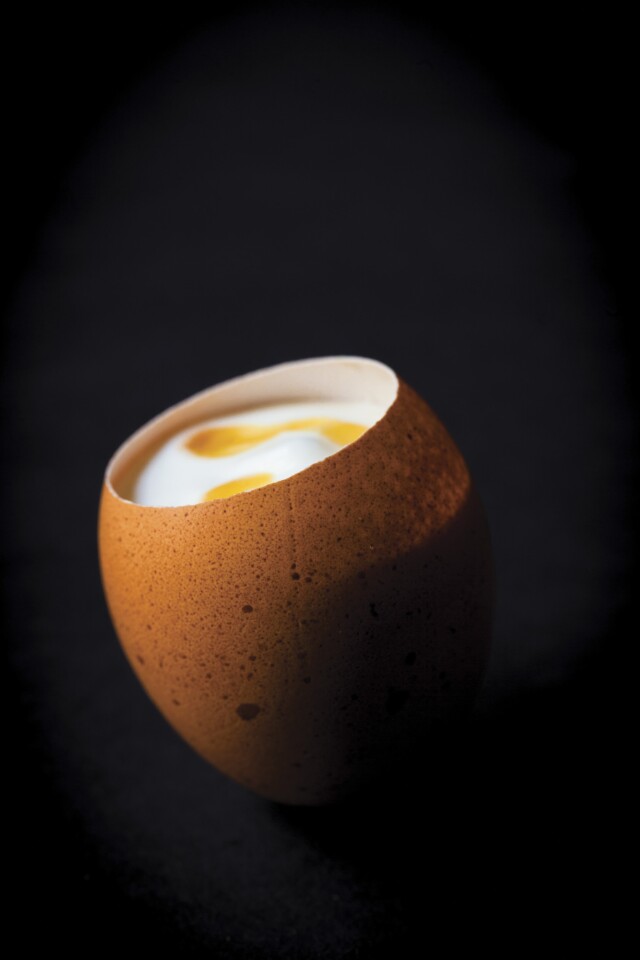 Arpege farm egg
(Eric Wolfinger)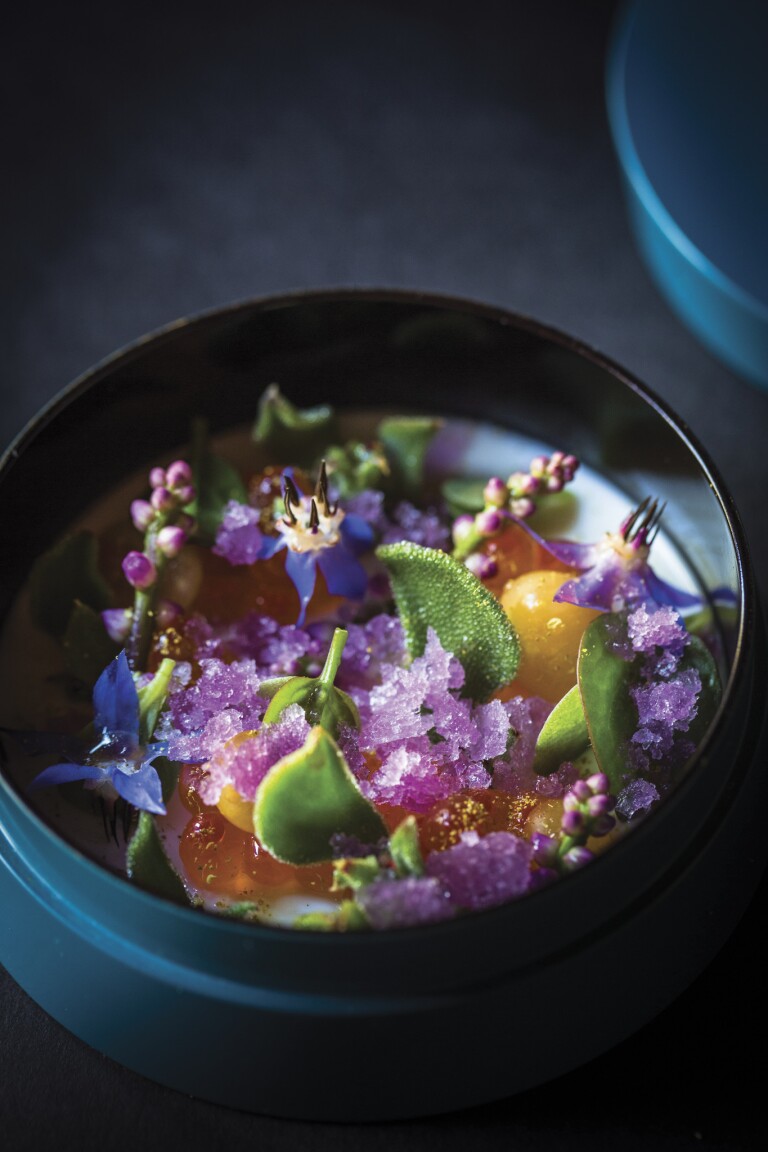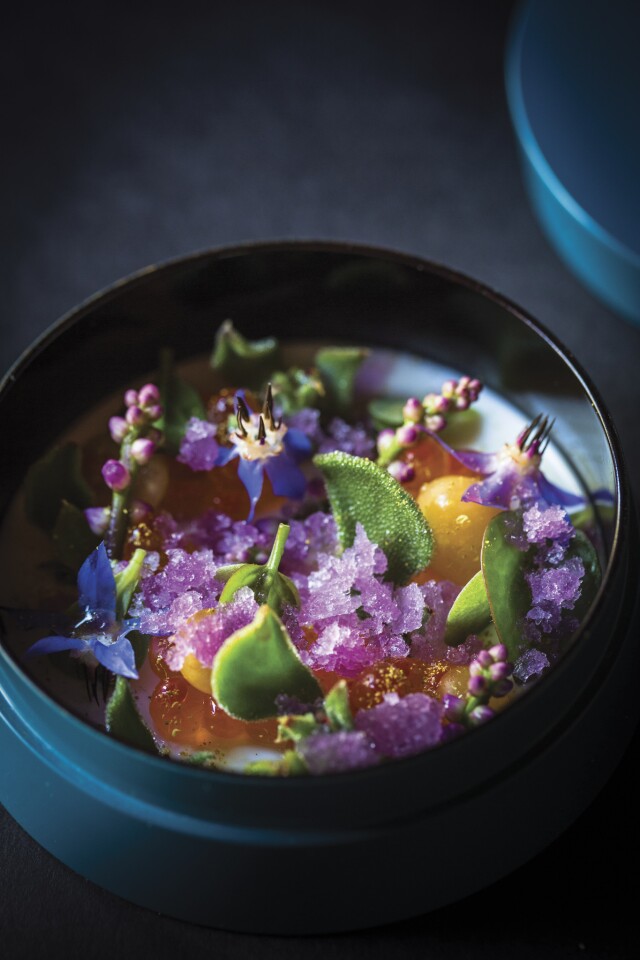 Tomatillo panna cotta
(Eric Wolfinger)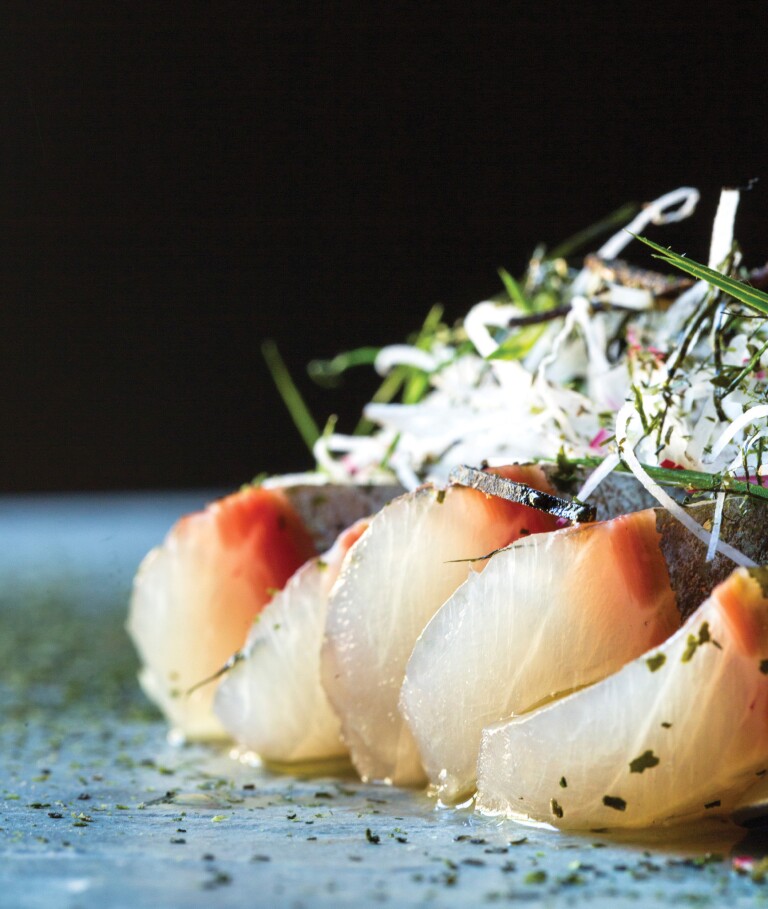 Striped jack sashimi-style
(Eric Wolfinger)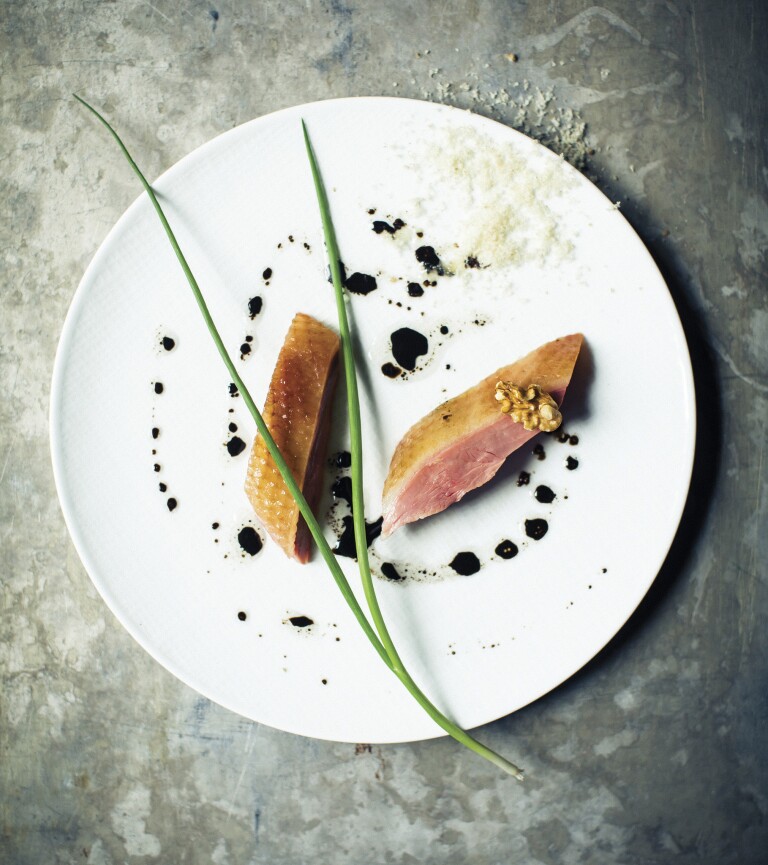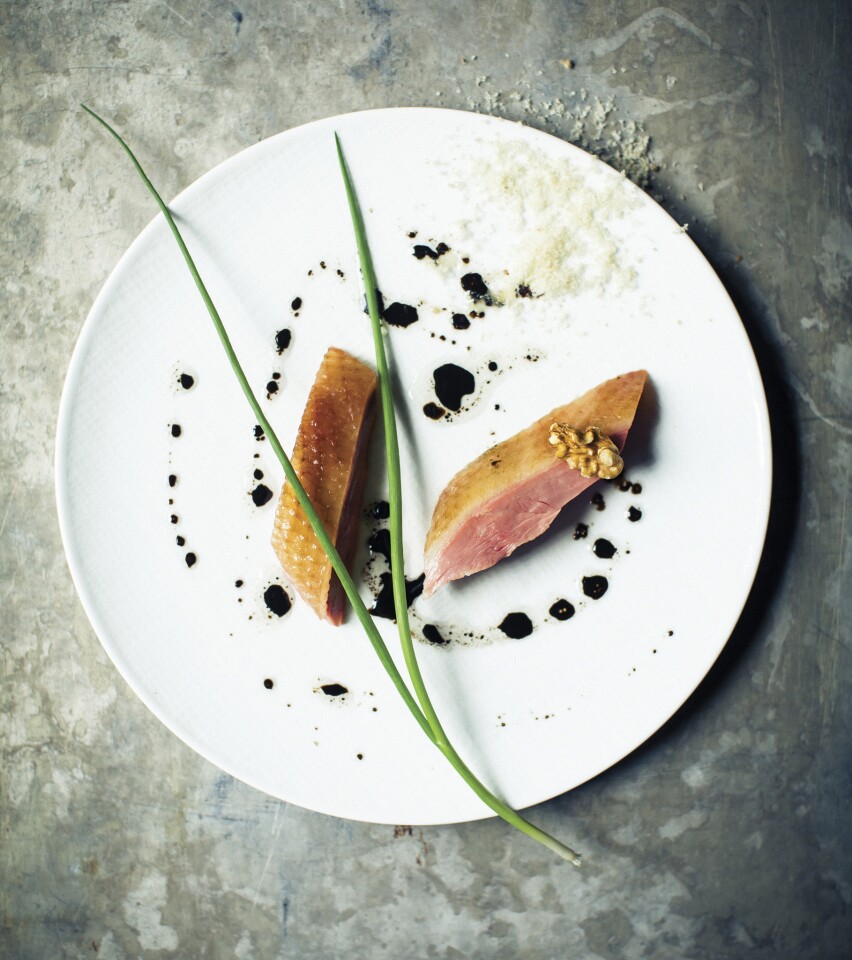 Duck with walnut wine
(Eric Wolfinger)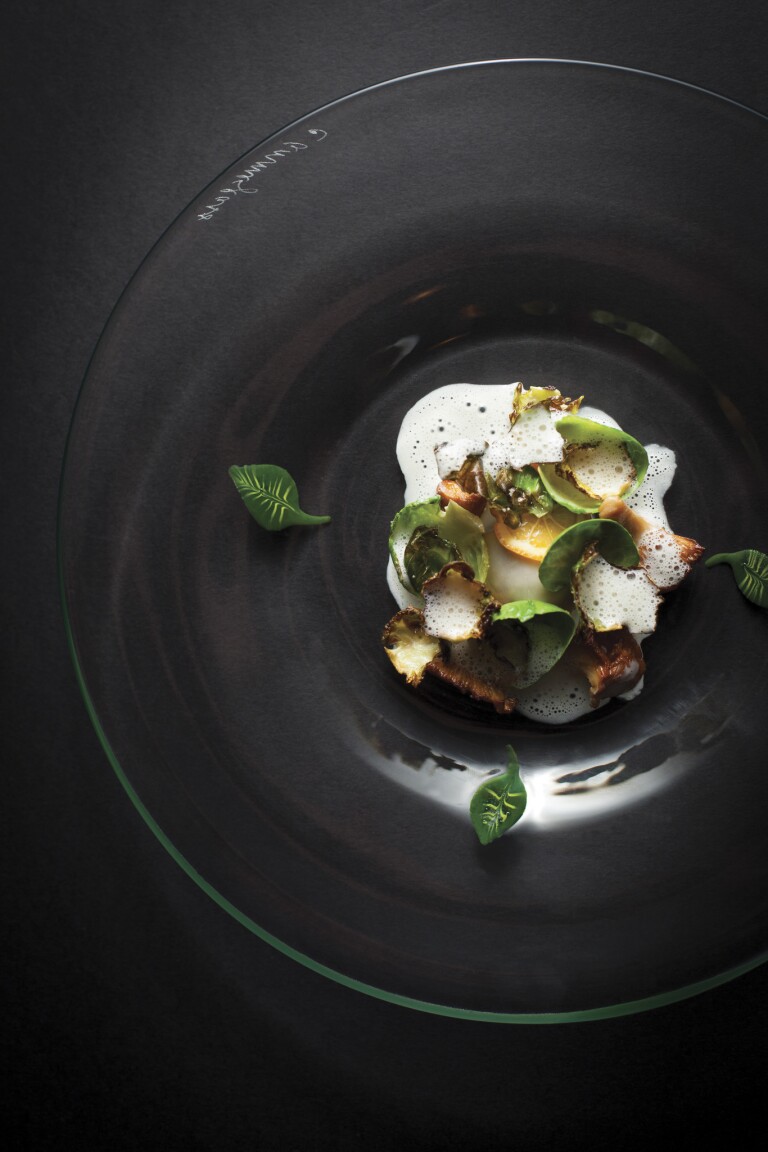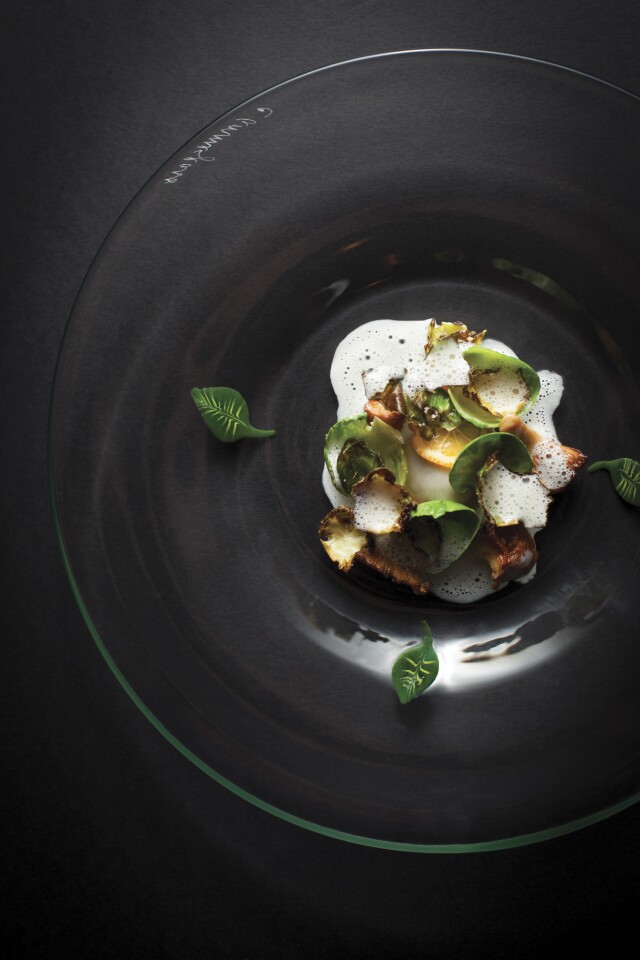 Chanterelles with Brussels sprouts and oysters
(Eric Wolfinger)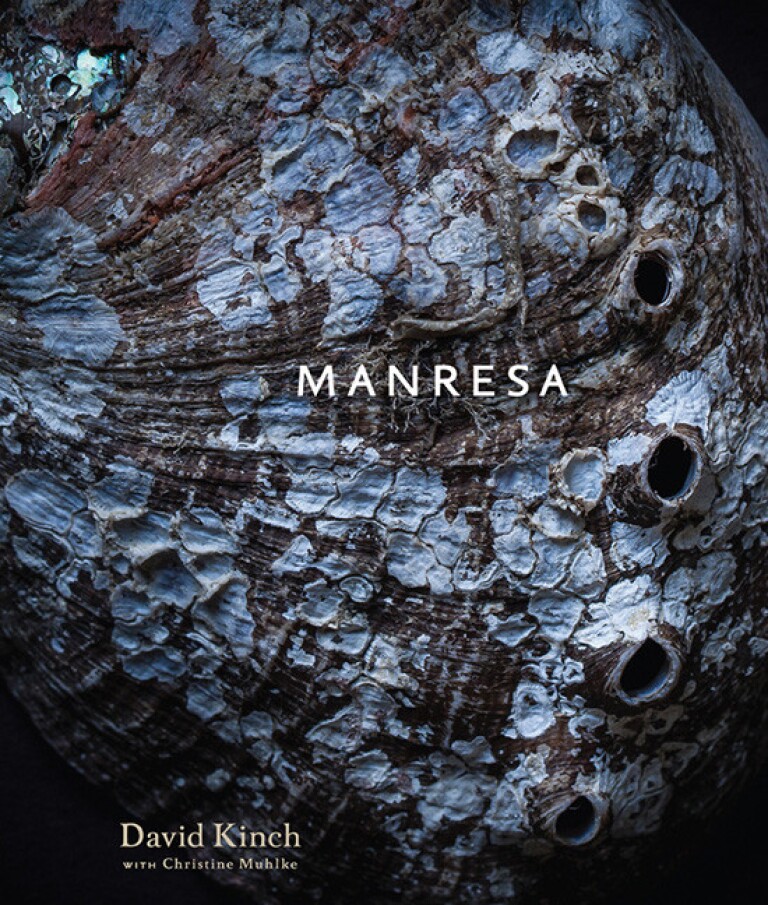 'Manresa: An Edible Reflection'
(10-Speed Press)
David Kinch's cooking at Manresa restaurant in Los Gatos looks like it comes from another world, yet it is definitively Californian, rooted in nature, whether it's the soil of Love Apple Farm or the Pacific Ocean.
Leafing through the pages of his new cookbook, "Manresa: An Edible Reflection," written with Christine Muhlke, that becomes utterly clear. Eric Wolfinger's photos of Kinch's plates, utterly abstract yet perfect, alternate with his equally gorgeous shots of land and sea (the cover is the exterior of an abalone shell shot so close it looks like Japanese raku pottery).
It's some trick, plating food so that it looks absolutely perfect, but almost accidental, but it's one Kinch has mastered. It's the artifice of cooking carried to an extreme that the hand of the cook almost disappears. Call it exquisitely natural.
The cooking is conceptual, using ingredients in ways you might never expect. Who, for example, has served braised abalone with panna cotta? And it is not uncomplicated. Manresa's dish of "rice and peas" consists of wild rice and sushi rice, cooked separately, along with arugula puree, lemon balm curd, pea shell bouillon, English peas in the pod, savory granola, pea shoots and pea flowers.
As with so many restaurant cookbooks, though the recipes are exact, they are not intended for common use. This is not a cookbook you cook from, but it's one that will make you look at food in a different way.
ALSO:
Wines of Patagonia featured at dinner at Rivera
Bryant Ng opening a new restaurant in Santa Monica
David Kinch, Jeremy Fox Team up for dinner at Rustic Canyon
---
Get our weekly Tasting Notes newsletter for reviews, news and more.
You may occasionally receive promotional content from the Los Angeles Times.