'Drip' film follows L.A. baristas competing for world domination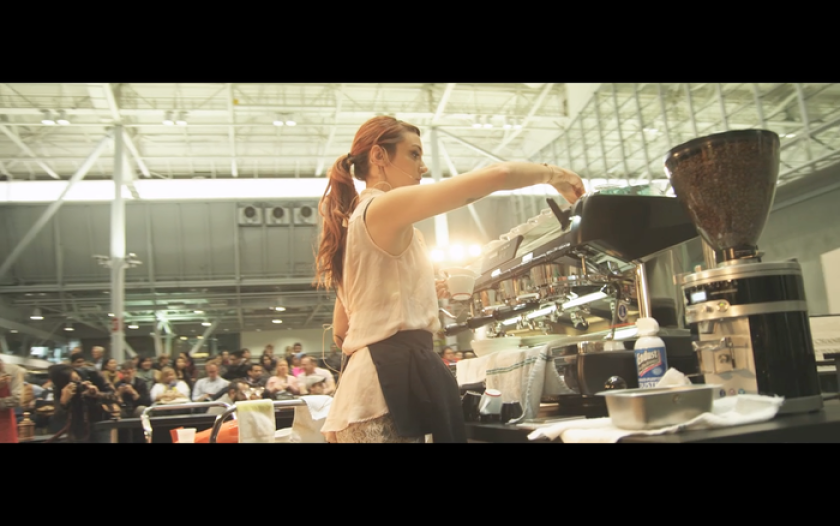 Described as "Jiro Dreams of Sushi"-meets-"Spellbound" (but with coffee!), "Drip" is an in-the-works documentary currently seeking Kickstarter funding that follows Los Angeles baristas as they compete to make it to the World Barista Championship, the ultimate achievement for serious espresso-making pros.
The documentary features L.A. baristas Charles Babinski of Go Get Em Tiger and G&B, Truman Severson and Ryan Redden of Portola Coffee Lab and Eden-Marie Abramowicz of Intelligentsia.
Still shooting footage and preparing for post-production, director Rock Baijnuth answered a few questions about the crema and the drama of "Drip."
Why a documentary about coffee?
I love coffee. There aren't a lot of things that improve your day. It's one of maybe a handful of things that make my day better. I'm always at different coffee shops writing films. We set out to do for coffee what "Sideways" did for wine. Maybe people will have espresso parties at their houses and watch the movie.
What did you find most surprising or compelling about barista competitions?
How good you have to be is the thing that surprises me, how detailed the scoring can get. It gets down to the minutiae, really specific technical things and the amount they have to balance while performing, being able to give a performance as well as being great at making coffee. How captivated the audiences are by this stuff. It's a cool niche world that I don't think a lot of people know about.
When did you first get into specialty coffee?
I grew up in Toronto and there's a great coffee bar there called Mercurio. I had an espresso, and I thought, "Now I'm a coffee guy. Man, this is great." I came out here and all my friends are way, way into coffee, maybe way too much. We're always trying to find a new spot and get as much coffee into our systems as possible.
How much coffee do you drink a day?
I only average about two cups right now. While working on "Drip," the first day we shot I think I had about eight cups. We had filmed a couple guys here -- Frank La and Tommy Kim at Café Dulce -- and they were making drinks they were going to do for a competition. I don't think I slept for three days after that first day.
What are some of your favorite coffee places in L.A.?I have diff faves for different reasons. Portola, Intelligentsia, G&B Coffee, there are so many. Republic of Pie. I just kind of got into Caffe Luxxe as well. A friend of mine introduced me to Caffe Luxxe. Portola .... Those guys' styles are different from anyone. They take this mad scientist approach to coffee over there. Like El Bulli but with coffee.
For more information about "Drip," go to www.dripthefilm.com.
ALSO:
Craft distillers to gather at first L.A. Spirits Expo
Belcampo Meat Co. is now open at Grand Central Market
Norwegian teen's tattoo of McDonald's receipt confirms Big Mac Index
---
Get our new Cooking newsletter.
You may occasionally receive promotional content from the Los Angeles Times.