6 easy shrimp recipes, including peel 'n' eat and shrimp tacos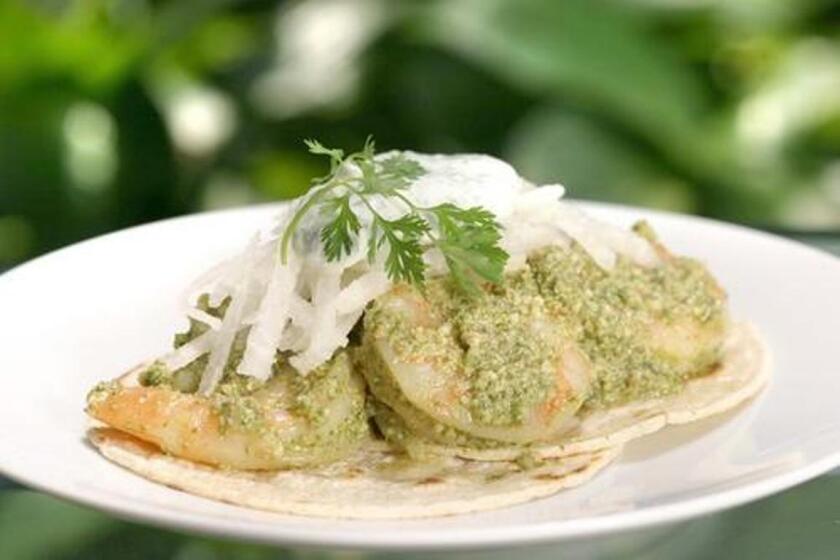 Love shrimp? You're not alone. If you can't get enough of America's favorite shellfish, here are six easy ways to cook them for dinner. Click on the photos for recipes.
The Hungry Cat's peel 'n' eat shrimp
If you don't mind getting your hands dirty at dinner, try the peel 'n' eat shrimp recipe chef David Lentz of the Hungry Cat shared with us a few years back -- large Mexican white shrimp steamed in a spicy beer reduction. They take an hour or two to marinate, so you'll need to plan ahead, but once you get the dish cooking, it will only take you about half an hour -- plenty of time to spread the newspaper out over the table and ready a stack of napkins.
Napoli's capellini al gamberetti
With large shrimp, tomatoes, mushrooms, garlic and a sprinkling of fresh parsley, dinner doesn't get much easier than this pasta dish -- capellini al gamberetti -- from Napoli restaurant in Loma Linda.
Slow-poached shrimp
Only a handful of ingredients are used in this simple recipe. The shrimp and all the flavorings are combined in a resealable bag and slow-poached for maximum flavor, while keeping the shrimp tender and moist. Serve it over a bed of rice.
Black and red peppered shrimp
As great as the simply spiced shrimp are in this dish, don't forget the buttery sauce. Serve this simple dinner with plenty of crusty bread — and a big stack of napkins.
Grilled shrimp skewers with charmoula
Whip up a quick batch of charmoula (a North African sauce), then marinate some jumbo shrimp to infuse the flavor — the recipe calls for a couple of hours of marinating time, but you can get the flavor you need in about 30 minutes. Skewer the shrimp, grill them a couple of minutes on each side and you're good to go. Serve the rest of the charmoula tableside.
Shrimp tacos with pumpkin seed sauce
Plump shrimp are cooked in a sauce flavored with toasted pumpkin seeds, olive oil, garlic, jalapeno chiles and fresh cilantro. Serve the shrimp over tacos, with shredded jicama and some cilantro sour cream.
Love cooking as much as I do? Follow me on Twitter: @noellecarter.
ALSO
6 ideas for the ultimate breakfast
From one rotisserie chicken, 25 ideas for dinner
---
Get our weekly Tasting Notes newsletter for reviews, news and more.
You may occasionally receive promotional content from the Los Angeles Times.