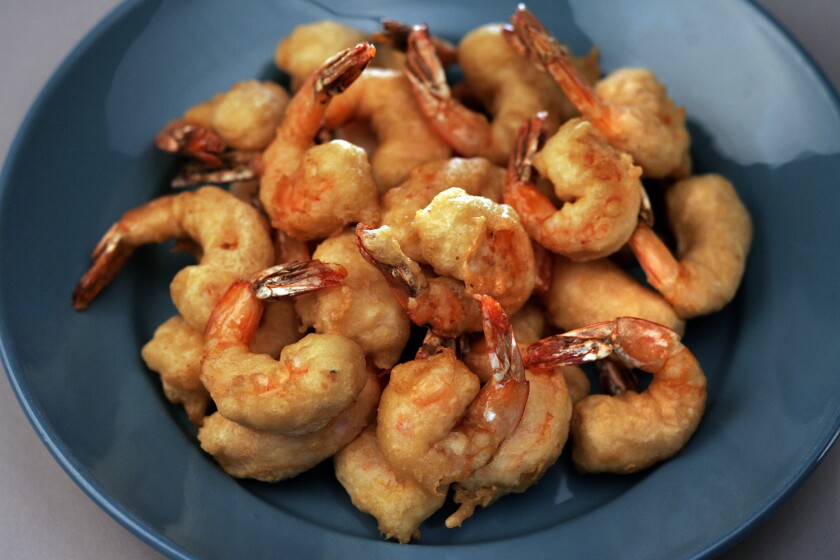 It's Friday. You've made it. Have fun with these recipe suggestions.
Beer-battered shrimp with classic tartar sauce: Light, crunchy shrimp with a quick homemade tartar sauce. Could it possibly be any better? I'd argue not.
Beer ice cream: It's the best of beer and ice cream, all in one bowl. This dessert can't get any easier to make, as it uses only four ingredients and makes a base that comes together in minutes. Have a little patience and give this treat time to chill -- you will be rewarded.
Chile con queso: If you're thinking about skipping dinner and going for a great snack, give this rich queso a dip. Yeah, it's that good. You can find the recipe below.
CHILE CON QUESO
Total time: 50 minutes | Serves 8 to 10
3 jalapenos, or to taste
2 tablespoons oil
1/2 onion, chopped
2 cloves garlic, finely chopped

1 (14.5-ounce) can diced tomatoes, preferably fire-roasted
1 teaspoon ground cumin
1/3 cup beer, preferably pale lager
2 batches (26 ounces) homemade processed cheese, cut into roughly 1-inch cubes (see related recipe)
1/2 to 1 cup milk, or as desired
Salt
1. Roast the jalapenos: Place the chiles on a rack set over a gas stove-top burner heated over high heat. Roast until the skin on all sides of each chile is charred, about 5 minutes, turning frequently. (If you have an electric or ceramic stove top, roast the chiles in the oven using the broiler setting until charred on all sides.) Wrap each pepper in plastic wrap and set aside until the peppers are cool enough to handle. Rub the plastic wrap against the skin to loosen and remove it. Do not rinse the peppers to remove the skin, as rinsing will remove flavor. Stem and seed each pepper, then dice the peppers into approximately one-fourth-inch pieces. Set aside.
2. In a large, heavy-bottomed saucepan, heat the oil over medium-high heat. Add the onion and cook, stirring frequently, until the onion is softened and lightly browned, 12 to 15 minutes. Stir in the garlic, then add the diced tomatoes and jalapenos. Cook until most of the liquid is evaporated, about 5 minutes, stirring frequently. Stir in the cumin.
3. Stir in the beer, scraping any flavorings from the base of the pan, then reduce the heat to medium-low and begin to stir in the cheese, a few cubes at a time. Continue to add more cubes as the cheese melts, stirring constantly.
4. Stir in one-half cup milk when most of the cheese has been added, then continue to stir until all of the cheese is melted to form the queso. Adjust the consistency of the queso with additional milk as desired. Taste and adjust the seasoning with three-fourths teaspoon salt, or as desired. This makes about 6 cups queso.
Each of 10 servings: Calories 310; Protein 14 grams; Carbohydrates 10 grams; Fiber 1 gram; Fat 23 grams; Saturated fat 13 grams; Cholesterol 62 mg; Sugar 5 grams; Sodium 753 mg.
---