Easy dinner recipes: Tempting fish ideas in 45 minutes or less for Gluten-free Wednesday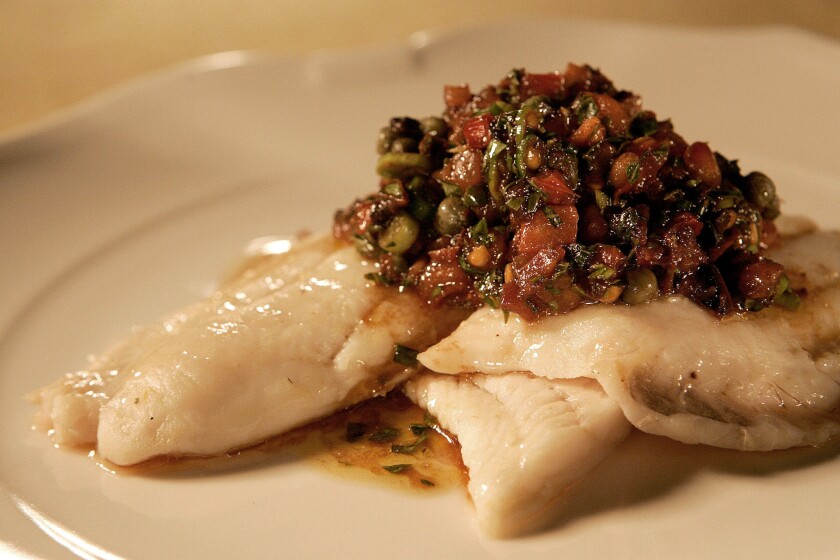 It's Gluten-Free Wednesday. From Provencal-style sole to tender mahi-mahi and roasted salmon, here are three tempting gluten-free options you can make in 45 minutes or less.
Fillets of sole Provencal: There's a simplicity to this fresh and colorful dish -- tender, light fillets baked quickly in a hot oven, then topped with a warmed Provencal-style salsa of Moroccan olives, capers, tomatoes and fresh basil. "It's a fresh and light summer fish dish," notes chef-owner Jean-Pierre Bosc, with "a sauce that can be used for any kind of fish."
Grilled fresh mahi-mahi with jalapeno cilantro sauce: You'll love the pairing of fresh cilantro and jalapeno in this very rich, bright and gently spiced cream sauce, which works well served with the simply seasoned and grilled mahi-mahi.
Roasted salmon with red pepper-hazelnut pesto: Roasted red peppers are a perfect smoky base for this rustic sauce, brightened with a little lemon and dotted with fresh chopped chives. But it's the toasted hazelnuts that take this pesto to another level. Enticingly fragrant, they lend a wonderfully rich depth to the finished sauce. We loved this pesto served over roasted salmon, though it would pair equally well with other fish, poultry or roasted vegetables. You can find the recipe below.
If you are sensitive to gluten, check all ingredients to make sure they are gluten-free before using, as many may contain trace gluten (such as spices, a number of which include flour as an anti-caking agent), and/or are produced in facilities that also process gluten-based products. Others, such as certain vinegars, mushrooms and various cheeses, may affect certain individuals with extreme gluten sensitivity.
THYME CAFE & MARKET'S ROASTED SALMON WITH RED PEPPER HAZELNUT PESTO
Total time: 1 hour / Servings: 4
Note: Adapted from Thyme Cafe & Market
3 red bell peppers, roasted, peeled and seeded (about 2 cups)
2/3 cup toasted hazelnuts, chopped
1 clove garlic, chopped, more to taste
Zest and juice of 1 lemon, or to taste
1 teaspoon apple cider vinegar
1/4 teaspoon salt, more to taste
Freshly ground black pepper
1/2 cup olive oil, more or less to taste, plus more for drizzling over the salmon
1/4 to 1/3 cup chopped chives
4 (6-ounce) salmon fillets
1. In a blender, combine the bell peppers, hazelnuts, garlic, lemon zest and juice, cider vinegar, one-fourth teaspoon salt and several grinds of black pepper. Pulse to combine. With the blender running, drizzle in the olive oil to emulsify and form the pesto. Taste, adjusting seasoning and flavoring as desired, and adjusting the thickness of the pesto with additional olive oil. This makes a generous 2 cups pesto, more than is needed for the remainder of the recipe; any leftover pesto can be covered and refrigerated for up to 3 days.
2. Remove the pesto to a bowl and stir in the chopped chives.
3. Heat the oven to 425 degrees.
4. Place the salmon fillets on a parchment-paper-lined baking sheet and drizzle the top of each fillet with a little oil. Sprinkle a pinch of salt and a few grinds of pepper over each fillet.
5. Place the fillets in the oven and roast until the salmon is cooked through, 15 to 20 minutes.
6. Plate the salmon and drizzle a little pesto over each fillet. Serve immediately.
Each of 4 servings: 560 calories; 37 grams protein; 6 grams carbohydrates; 2 grams fiber; 43 grams fat; 8 grams saturated fat; 94 mg cholesterol; 3 grams sugar; 321 mg sodium.
Love cooking as much as I do? Follow me @noellecarter
---
Get our weekly Tasting Notes newsletter for reviews, news and more.
You may occasionally receive promotional content from the Los Angeles Times.