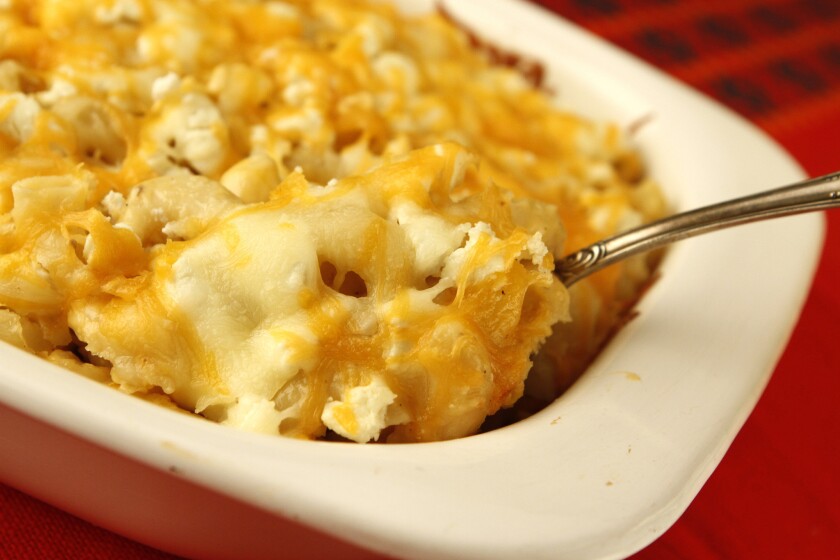 Ooey-gooey mac 'n' cheese and an extra-rich grilled cheese sandwich -- oh, and did I mention fondue? These recipe ideas are bound to send you to cheese lover's heaven. Happy Friday. And you're welcome.
Queen and Diva's mac 'n' cheese: With no fewer than four types of cheese, mac 'n' cheese couldn't possibly get better than this ooey-gooey version. Extra rich and creamy, the secret ingredients include a can of mushroom soup and sour cream for tang. Assemble it ahead of time, if you'd like, then refrigerate until ready to bake.
Fondue Savoyarde: The ultimate cheese lover's experience, this classic fondue combines no fewer than five kinds of cheese in the ultimate rich and creamy experience. Perfect for dipping baguettes, vegetables or anything else you might have in mind.
Grilled cheese with sweet onions: Wedge some thinly sliced sweet onions between thick slices of bread along with a rich semi-soft cheese and grill away. Hungry yet? You can find the recipe below.
GRILLED CHEESE SANDWICHES WITH SWEET ONIONS
Total time: 45 minutes | Serves 6 to 8
1 loaf firm, fine-grained white bread, such as a Pullman loaf, unsliced
1 pound semisoft cheese, such as Brie, Taleggio or Teleme
1 (3/4-pound) sweet onion, sliced (2 cups sliced)
1 teaspoon Champagne vinegar

2 teaspoons minced parsley
Salt
Butter
1. Trim the crusts from the loaf of bread, leaving a solid, evenly shaped rectangle. Using a serrated knife, carefully cut the bread in lengthwise slices just as thin as you can, one-fourth- to one-half-inch thick. You should get 6 to 8 slices.
2. Trim the rinds from the cheese and cut it into thin slices. Cut the onion in half and then slice it as thinly as possible, using a mandoline or a very sharp chef's knife. Put the onion in a bowl and season it with vinegar, parsley and salt to taste.
3. Spread one-fourth to one-third of the cheese over 1 long slice of bread, being careful not to come too close to the edges -- you don't want it oozing into the pan when it melts. Scatter one-fourth to one-third of the onion over that. Cover with another slice of bread and press together firmly. Repeat with remaining bread, cheese and onions.
4. Heat 1 tablespoon butter in a large skillet over low heat. Fry 1 sandwich at a time, gently but firmly pressing down with a spatula or a heavy pan. Cook about 5 to 6 minutes on the first side, about 4 on the second. Repeat with remaining sandwiches, adding more butter as necessary.
5. Neatly trim the edges of the cooked sandwiches with a serrated knife and then cut each sandwich into thin crosswise strips, about three-fourths-inch wide. Serve hot.
Each serving: 362 calories; 16 grams protein; 29 grams carbohydrates; 3 grams fiber; 21 grams fat; 13 grams saturated fat; 68 mg. cholesterol; 607 mg. sodium.

Love cooking as much as I do? Follow me @noellecarter
---