Farmers market report: Cucumbers are in season. We have recipes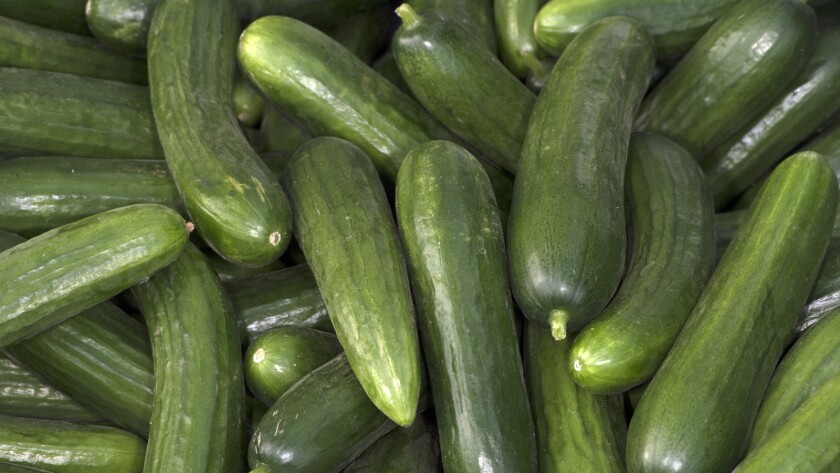 What's in season: Although you can easily find cucumbers year-round at the supermarket, locally grown cucumbers typically begin showing up in early May, with the season running through late August and into September. A member of the gourd family, cucumbers come in a number of varieties far beyond those dark, thick-skinned ones you typically find in the produce aisle, with varieties ranging from Persian cucumbers, which look like smaller versions of the almost seedless English cucumber, to long and curvy Armenian cucumbers, which taste like cucumbers but are actually part of the melon family.
What to cook: Though we mostly think of eating them raw or pickled, cucumbers can be prepared in a variety of ways, from fried to grilled, sautéed or frozen. Finely dice cucumbers and add to a batch of gazpacho, or dredge them in flour and deep-fry cucumber slices, then pair them with a dipping sauce. You also can puree cucumbers, then add them to a cocktail or paleta recipe. If the cucumber has a bitter edge, seed them before using, and remove thick skins with a vegetable peeler.
What's on the horizon: Mulberries are showing up at select stands.
CUCUMBER VICHYSSOISE
Total time: 1 hour, 10 minutes, plus chilling time for the soup | Makes a scant 2 quarts soup
Note: This recipe calls for the use of a chinois, a very fine strainer; chinois are available at cooking and restaurant supply stores, as well as online. This recipe also calls for a juicer; juicers are generally available at home and kitchen supply stores, as well as online (the Test Kitchen tested the recipe using a blender instead of a juicer, and passed the puree through a strainer). Keller suggests serving the soup garnished with basil crème fraîche or cherry tomato confit.
1/2 cup chopped shallots, cut into large dice
1/2 cup chopped leeks, cut into large dice
1 cup chopped onions, cut into large dice
1 tablespoon butter
2 1/2 cups peeled, chopped baking potatoes, cut into large dice
1 quart water, or as needed
1 1/2 cups heavy cream
3 tablespoons crème fraîche
2 cucumbers
3 tablespoons mint leaves
Salt
1. In a large pot, sweat the shallots, leeks and onions in butter until completely soft. Add the diced potatoes and enough water to cover. Bring the water to a simmer and cook until the potatoes are tender. Add the cream and simmer an additional 20 minutes.
2. Transfer the soup in three batches to a blender and purée, adding one tablespoon of crème fraîche to each batch. Once puréed, pass the soup base through a fine chinois into a bowl, then cover and refrigerate until chilled.
3. Taste each cucumber to ensure that there is no bitter flavor. Cut the cucumbers into chunks, combine with mint leaves and then pass through a juicer; you should have at least 1 1/2 cups juice (save any extra for another use). When the soup base is completely chilled, combine it with the 1 1/2 cups cucumber juice and season to taste.
Each of 8 servings: 233 calories; 3 grams protein; 14 grams carbohydrates; 2 grams fiber; 19 grams fat; 12 grams saturated fat; 68 mg cholesterol; 2 grams sugar; 27 mg sodium.
Love cooking as much as I do? Follow me @noellecarter
ALSO:
This pasta recipe could be the easiest dinner ever
The Savoy hotel in London's scones, plus buttermilk substitution tips
Farmers market report: Squash blossoms are in season. Here are 6 great recipes
---
Get our weekly Tasting Notes newsletter for reviews, news and more.
You may occasionally receive promotional content from the Los Angeles Times.