For the wine lover, sunglasses made from recycled Mondavi oak barrels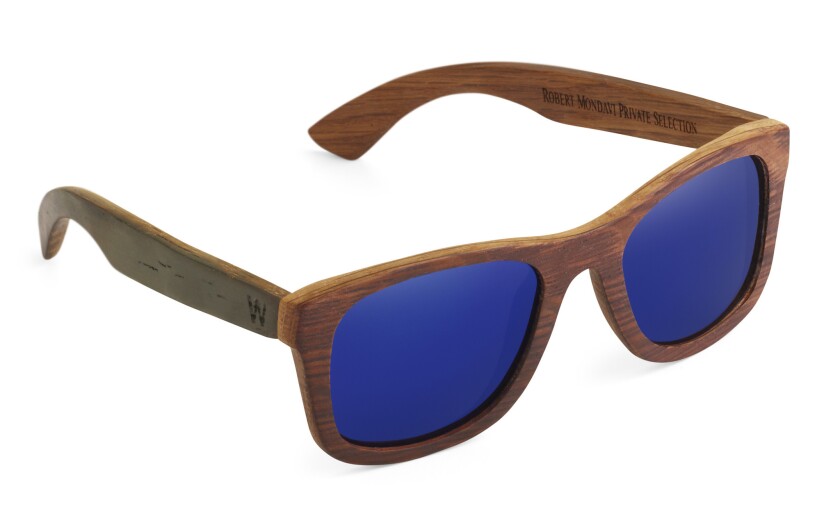 For the oenophile who snatches up everything made from reclaimed barrels — light fixtures, chandeliers, tables, outdoor lounge chairs, platters, candelabras, key chains, rocking horses, lazy susans, bottle holders, bread boards, coat hooks — here's something he or she probably doesn't have yet.
Sunglasses made from reclaimed oak wine barrels.
And not just any wine barrels, but those once used for Robert Mondavi Private Selection wines. Talk about provenance. Actually, the barrels under discussion were used to age the Coastal Crush Red blend. And that wine sells for under $10.
Designed and made by Woodzee, a Chico, Calif., company that specializes in wooden sunglasses, Robert Mondavi Private Selection X Woodzee Sierra Sunglasses are unisex wayfarer-style with polarized lenses (choose from blue-green or blue) and spring hinging.
At $120, they come in a microfiber pouch inside a 50%-recycled-paper box printed with soy ink (just to get specific).
Got any skateboarders on your gift list? They've got sunglasses made from recycled skateboards too.
To order, go to www.woodzee.com or call (877) 370-1777. Shipping is a flat $5, but can take three to 10 business days.
ALSO:
12 cookbooks from chefs who can make us better cooks
What you don't know about Sriracha: 11 fun facts from a documentary
For $10, a beautiful bag of secret salt with Sicilian roots and Kickstarter funding
Twitter: @sirenevirbila
---
Get our weekly Tasting Notes newsletter for reviews, news and more.
You may occasionally receive promotional content from the Los Angeles Times.