In a 180, California proposes repealing food safety law requiring chefs to wear gloves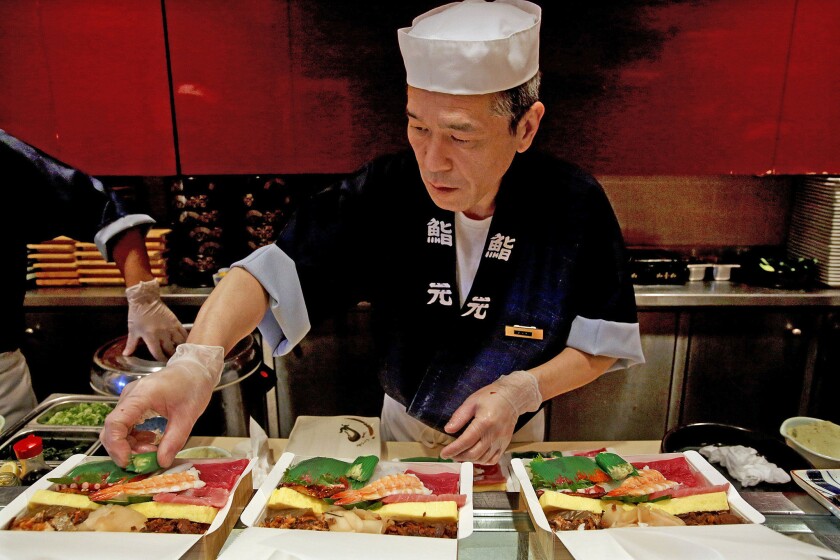 The chair of California's Assembly Health Committee has proposed legislation to repeal the controversial new food safety law that requires chefs and bartenders to wear gloves while preparing food and drinks.
According to a law that went into effect Jan. 1, cooks and bartenders must wear disposable gloves or use scoops, tongs or other utensils when handling "ready-to-eat" food such as fresh fruit and vegetables, bread, deli meats — anything that won't be cooked or reheated before it goes out to customers.
The law infuriated many chefs who considered it ineffective, costly and bad for the environment, saying that gloves could encourage a false sense of security and risky behaviors. Two petitions in Northern California to repeal the glove law collected more than 18,000 signatures.
Dr. Richard Pan (D-Sacramento) on Monday announced the emergency legislation to repeal the new health code. The legislation is a U-turn for the Health Committee, which proposed the original legislation that Gov. Jerry Brown signed into law.
"It's not about whether there are gloves or not, it should be about whether the local business and the health inspector have worked together to create a safe environment for the customer," Pan said in a statement.
Pan said that there was variation in how health departments across the state were implementing the new rule and that there had been difficulties developing an exemption process. The Los Angeles County Department of Public Health said it would start enforcing the law in January 2015 to give restaurants time to comply, but also said that exemptions would be rare.
Pan's bill is co-authored by Sen. Leland Yee (D-San Francisco), Assemblyman Richard Bloom (D-Santa Monica), Assemblyman Brian Maeinschein (R-San Diego) and Assemblyman Bob Wieckowski (D-Fremont) and requires a two-thirds-majority vote to pass. A vote date is not yet set, but if the bill passes, the repeal would go into effect this year.
ALSO:Glove law has many chefs steamed
Bartenders suffocated by gloves law
Republique owners defend 3% surcharge
---
Get our weekly Tasting Notes newsletter for reviews, news and more.
You may occasionally receive promotional content from the Los Angeles Times.