Falafel! 6 great places to get your fried-garbanzo fix
The falafel from Joe's falafel could be the fluffiest of them all.
(Jenn Harris / Los Angeles Times )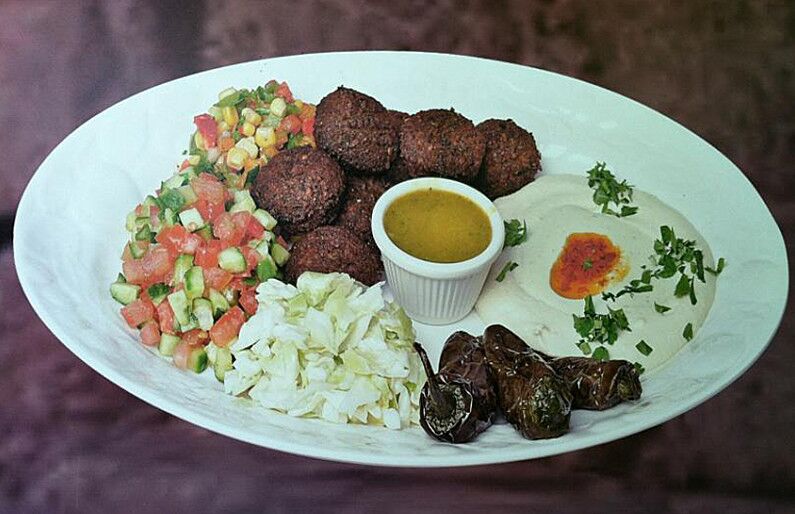 The falafel plate at Ta-Eem Grill.
(Jenn Harris / Los Angeles Times)
The falafel plate at Sahara Falafel.
(Jenn Harris / Los Angeles Times)
The falafel from Kareem's Restaurant.
(Jenn Harris / Los Angeles Times)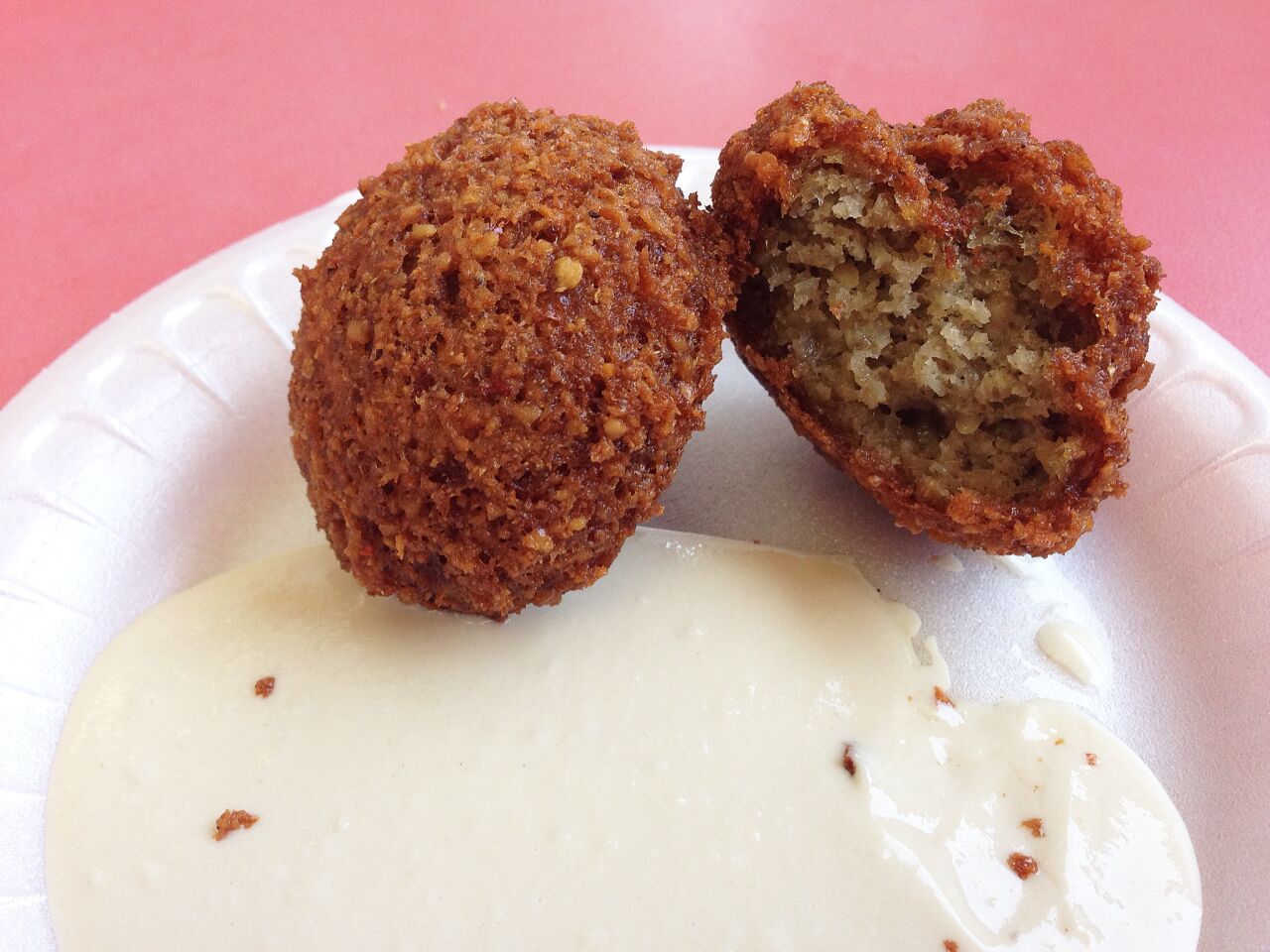 The falafel from Falafel Arax.
(Jenn Harris / Los Angeles Times)
There's an art to making falafel so that the ground garbanzo beans are perfectly light and fluffy, the exterior crisp but not greasy, the mix of textures and spices habit-forming.
Falafel's exact origins are unknown, but it's believed to have started in Egypt, then made its way through the Middle East and beyond. (McDonald's even has a McFalafel in certain countries.)
There are more than a few places to get your hands on the little fried balls all over Southern California, but here are six places, in no particular order, that do falafel the right way.
PHOTOS: 6 great places to get falafel
1. Kareem's Restaurant
Kareem's is located in a small shopping center just off Brookhurst in the heart of Anaheim. Floral print vinyl tablecloths provide a small amount of color against the bare beige walls. But it's not about the scenery here, it's all about the falafel -- and they take it seriously. The little balls are a dark, dark brown color. If you bite into a hot one, you'll make it through the crispy exterior easily, just don't burn your mouth on the dense, spiced green filling inside. You can order a side, a plate or the sandwich ($4.65), which is its own special concoction. The woman behind the counter mashes the freshly fried falafel balls into the pita then wraps it all up with some fresh lettuce, cucumber, tomato and tahini, ensuring a little bit of everything in each bite. If you're into heat, she can make it spicy with hot sauce.
1208 S. Brookhurst St., Anaheim, (714) 778-6829.

2. Sahara Falafel
Just north of Kareem's, located in an even smaller shopping center, is Sahara Falafel. When you walk up to the counter to order, it's easy to get side-tracked by the beef and chicken shawarma turning on spits behind the cash register. The grease glistening on the curves of meat is mesmerizing, but then you spot the falafel. The misshapen disks beckon with their golden brown color and the scent of deep fried spices. They come as a side, on a plate ($9.99) or in a sandwich ($3.99). When you break one open, there's a light green center and a spice aroma that lingers. Their spice mix is what gives these little guys an edge above the rest.
590 S. Brookhurst St., Anaheim, (714) 491-0400.
3. Falafel Arax
Falafel Arax has become a staple in the Little Armenia area of Hollywood. With only a couple of tables inside and not much room to move around, you'll often see people picking up takeout or sitting on their car hoods outside, chowing down in the parking lot. The falafel at Arax is a lighter brown color than most and the exterior coating is super crisp. On the inside, you'll also find a light brown mix of garbanzo beans, fava beans and spices without the normal green color you get from the addition of parsley. They are also greasier than other falafel, but in a good, comforting, stick-to-your-ribs way. Once you take that first bite, little pieces of the thick coating will inevitably go flying. Make sure to nab each one of the runaways. They make for nuggets of joy when you finish your sandwich ($5).
5101 Santa Monica Blvd., Los Angeles, (323) 663-9687, falafelarax.menutoeat.com.
PHOTOS: 6 great places to get falafel

4. Amir's falafel
Amir's falafel is tucked away in one of a thousand unassuming shopping centers along Ventura Boulevard in Studio City, only this one happens to be special. The falafel at Amir's are actually shaped like small balls, golden brown in color and flecked with tiny, pale sesame seeds. The balls are smaller than most, and the light, crisp texture of each one is addictive. They are perfect with a plate full of Amir's signature side dishes or stuffed in a sandwich with plenty of pickles. The Moroccan carrots at this place are also a must. The falafel plate comes with falafel and five different salads ($9.99).
11711 Ventura Blvd., Studio City, (818) 509-8641, www.facebook.com/pages/Amirs-Falafel.
5. Ta-Eem Grill
Eating at this Israeli restaurant on Melrose in Hollywood is like transporting yourself to one of the hundreds of falafel and shawarma stands in Jerusalem. And the falafel is just as good. While you're waiting in line you can look at all the available sides. The men working at the counter are friendly and ready to explain what something is or to give samples, so don't be shy. If you get the falafel sandwich, they stuff -- and when we say stuff, think bulging -- your choice of pita ($6.50), baguette ($8.95) or the king of all breads, laffa, ($8.95) with the falafel. Having it on the hot, chewy laffa with tahini, all the fixin's (lettuce, tomato, cucumber, hummus) and the house-made hot sauces is always a win.
7422 Melrose Ave., Los Angeles, (323) 944-0013, https://www.ta-eemgrillinc.com/
6. Joe's Falafel
At Joe's Falafel, located a short walk from Universal Studios, gyro, kebab and a long list of Mediterranean classics are on the menu, but you'd be hard-pressed to find a diner eating anything but the falafel. The golden brown exterior acts as a protective shell for the ultra-fluffy, cloud-like interior. In fact, these falafel could be considered the fluffiest of them all. This is due to a coarser falafel mix, where larger chunks of garbanzo beans are left in with ground ones. When you go, make sure you can handle a little bit of a wait for your plate ($8.95). You'll use all your self control to not drool and stare down the man behind the counter while he packs, meticulously shapes and fries each ball to order.
3535 Cahuenga Blvd. W., Suite 105, Los Angeles, (323) 512-444, joesfalafel.net.
ALSO:
The 11 most useless kitchen gadgets in the entire world
Can I have your leftovers? There's an app for that called LeftoverSwap
13 'I can't believe you said that out loud' moments from "Eat Drink Love"
---
Get our L.A. Goes Out newsletter, with the week's best events, to help you explore and experience our city.
You may occasionally receive promotional content from the Los Angeles Times.