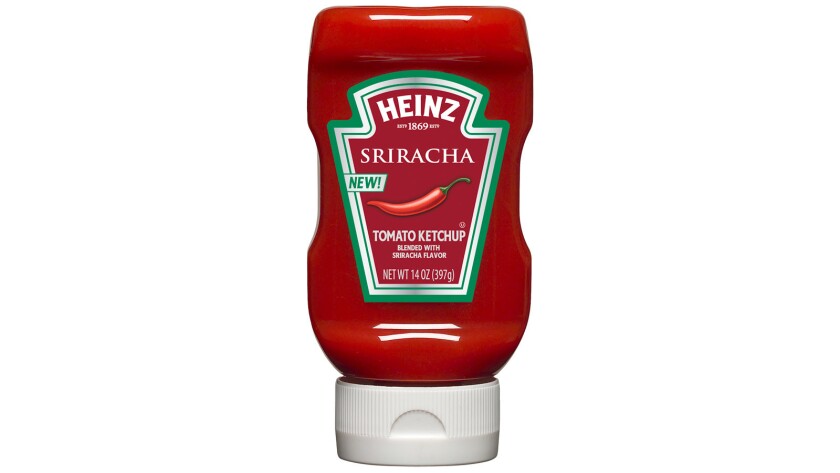 If you're a Sriracha fanatic, chances are you add the fiery chile sauce to your ketchup, to Ranch dressing, to mayonnaise, even chocolate bars (thank you, Roy Choi). And now, Heinz is doing the work for you.
The Pittsburgh condiment company has released its own Sriracha ketchup. So the next time you dig into an order of fries, you're only required to squeeze one bottle to reach maximum dipping pleasure.
The company says the new product is a mix of Heinz ketchup blended with Sriracha "flavor." For those unfamiliar with Sriracha (#dobetter), it's a chile sauce typically made with chiles, vineger, sugar and salt. The most well known variety is produced by Huy Fong Foods in Irwindale, and features a rooster on the bottle with a bright green cap.
"The new offering adds a new kick to your favorite foods and recipes, pairing well with cheeseburgers, French fries and hot dogs, and is the perfect flavor boost for chicken and eggs," Heinz tomato ketchup brand manager Joseph Giallanella in a statement.
The Sriracha ketchup comes in a 14-ounce plastic squeeze bottle that features a green and red label. It's now available at select retailers, including Wal-Mart and Target, for around $3.
Heinz also has other spicy ketchup flavors, including ketchup with jalapeño, and ketchup blended with Tabasco sauce.
I like mustard on my hot dogs. Follow me on Twitter @Jenn_Harris_
---