Holiday Cookie Bake-Off: Enter now; submissions cut-off is midnight Tuesday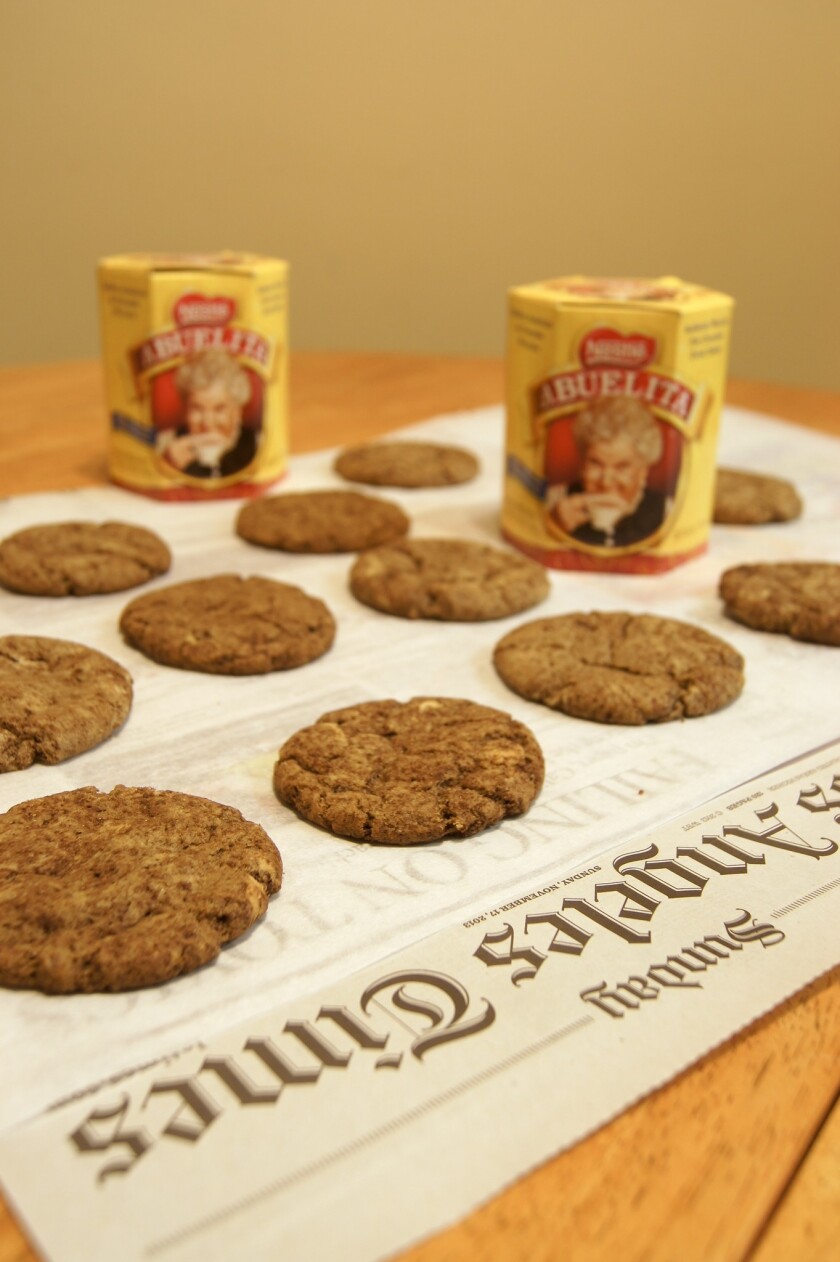 Have you submitted your recipe yet? You only have until Tuesday midnight to enter our fourth annual Los Angeles Times Holiday Cookie Bake-Off. Think you've got the best holiday cookies ever?
We have more than 200 entries so far! If you're curious about the competition, check out Abuelita's Chocolate Sugar Cookies from Jon-Michael Hice of Northridge. He writes:
"Celebrating Christmas and the various traditions vary from family to family. Growing up in a Latino family, it was tradition to attend midnight Mass on Christmas Eve, then return home to open Christmas presents and enjoy the festivities. Most family gatherings involved a wonderful array of family recipes, but on this night we ate sweet breads, cakes and cookies and drank Abuelita hot chocolate. One of the staples during the holiday season was chocolate sugar cookies made with ground Abuelita chocolate. The taste was amazing! The mixture of chocolate and cinnamon in a warm sweet cookie was almost better than the presents. I hope you have a moment to experience these cookies and share them with your families during the holiday season. Feliz Navidad!!"
RECIPES: Check out our past Holiday Bake-Off finalists and more in our new California Cookbook
Think you can do better? Well, don't just sit there. Show us. Through our Facebook page, enter our fourth annual Los Angeles Times Holiday Cookie Bake-off. Entries must be submitted by Tuesday midnight.
Go to our Facebook page and submit your cookie recipe, along with a short essay about why your cookie is such a holiday favorite. Include a photo if you can; voters will want to see proof.
Every year, we get hundreds of entries and thousands of votes cast, so get your recipes up quickly.
You, the readers, will vote online for your favorites. Voting ends at midnight Dec. 2, then we'll test and taste the top 50 vote-getters at Le Cordon Bleu cooking school in Pasadena to come up with the 10 we like best.
We'll take top vote-getters and try out the cookies in the L.A. Times Test Kitchen. The finalists will be invited to the Los Angeles Times for a tour of the Test Kitchen, and will be photographed and featured in a Saturday section article during the holidays.
ALSO:
Mac 'n' cheese recipes galore!
---
Get our weekly Tasting Notes newsletter for reviews, news and more.
You may occasionally receive promotional content from the Los Angeles Times.