'L.A. Heat': Finally, an art exhibit devoted to Sriracha and Tapatio sauces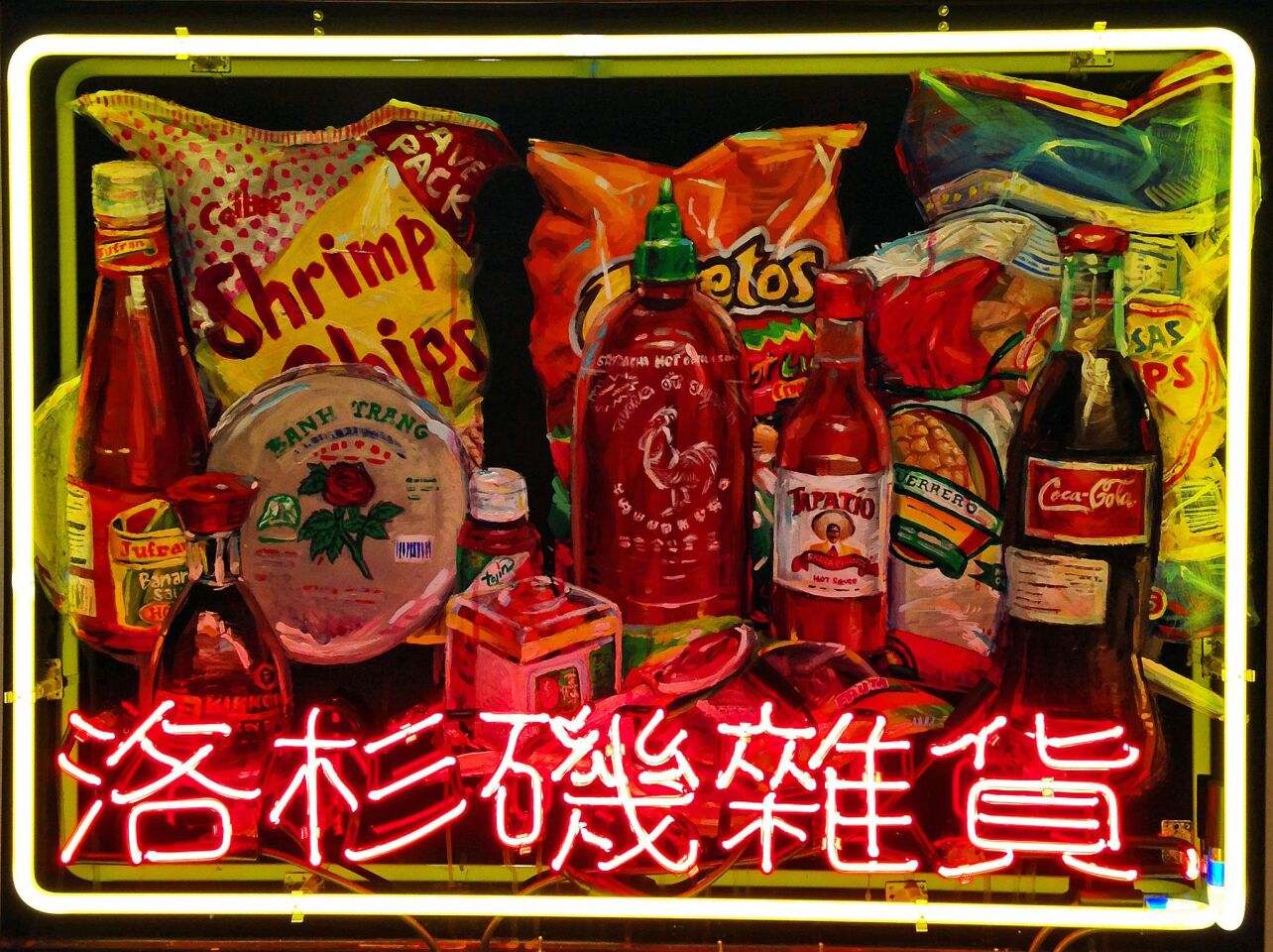 "Los Angeles Grocery" by Patrick Martinez
(Javier Cabral / For The Times)
"L.A. heat" by Daniel González
(Javier Cabral / For The Times)
"Proposal for a mural dedicated to David Tran" by Audrea Chan
(Javier Cabral / For The Times)
"On the topic of how various sauces can make pizza better" by Michael C. Hsiung
(Javier Cabral / For The Times)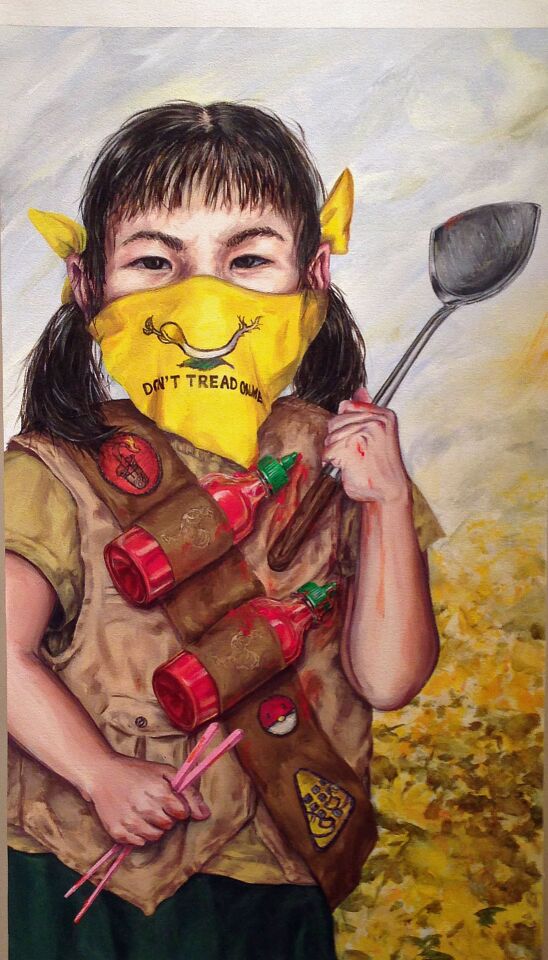 "Bean Sprout Uprising: Troop 626" by Sandra Low
(Javier Cabral / For The Times)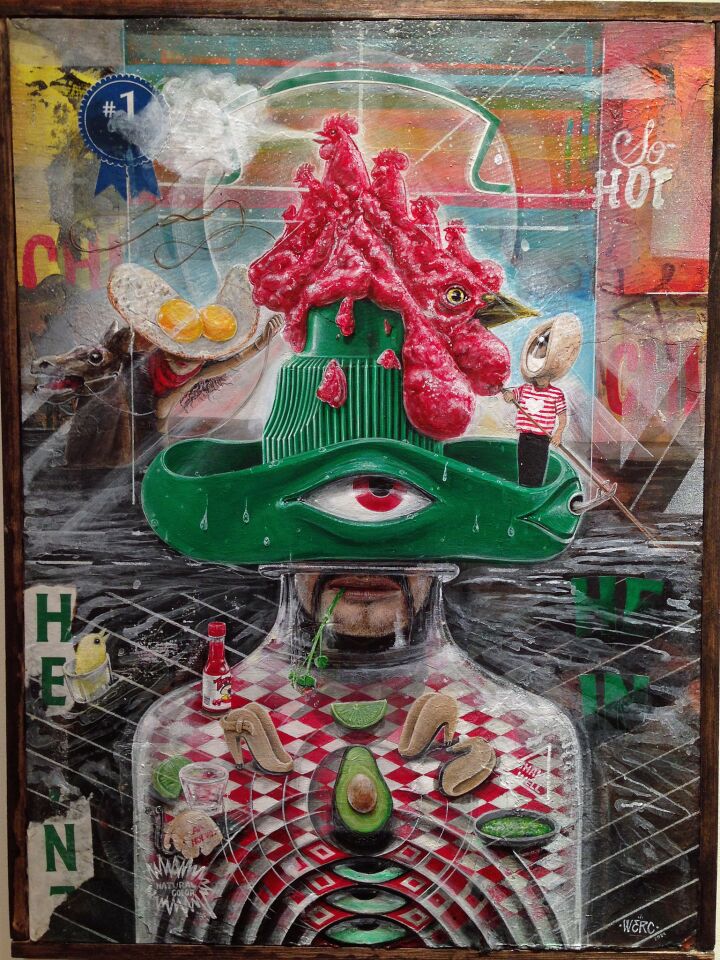 "Message in a Bottle" by Jari Werc Alvarez.
(Javier Cabral / For The Times)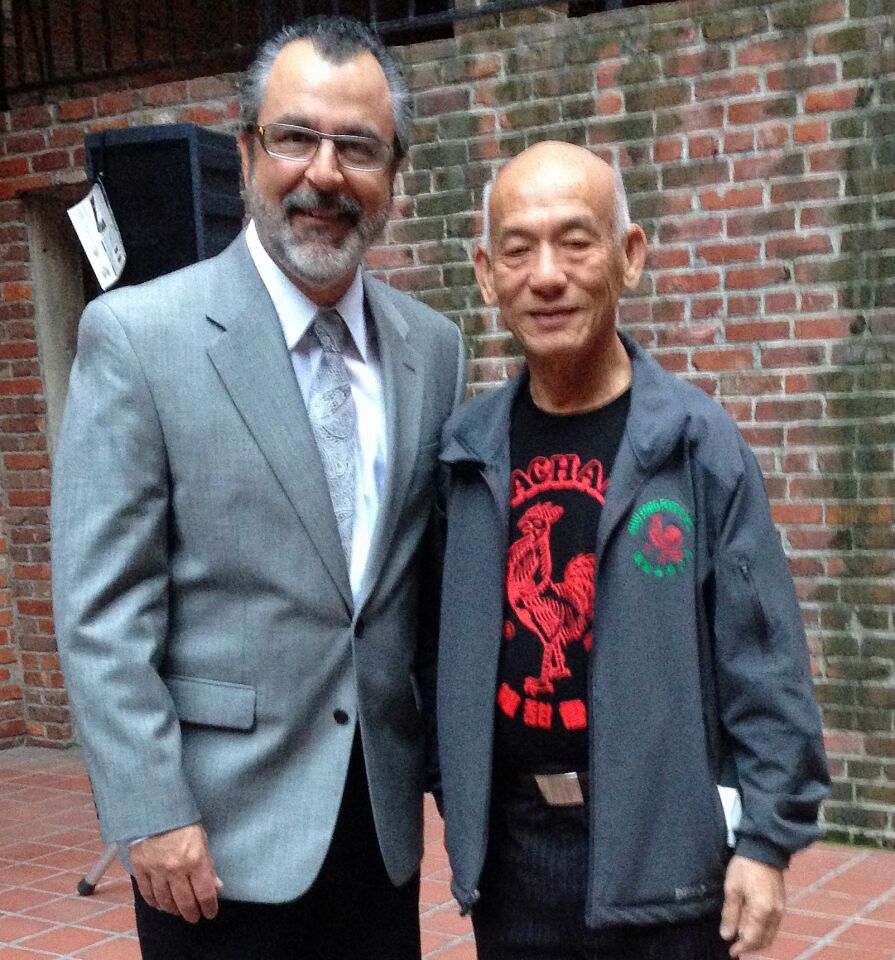 Tapatio founder Jose-Luis Saavedra and David Tran of Sriracha fame
(Javier Cabral / For The Times)
Behold hot sauce pop culture art. What took so long?
California's two defining hot sauces - Sriracha and Tapatio - are the focus of "L.A. Heat: Taste-Changing Condiments," a collection of mixed-media pieces by 30 local artists at the Chinese American Museum. Go and you will leave hungry.
The idea for the show came from Steve Wong, the museum's interim executive director.
PHOTOS: "L.A. Heat: Taste-Changing Condiments"
"Condiments are taste enhancers, there's this carnal part of me that just loves hot sauces, the staff here loves hot sauces as well. It's L.A.," he said.
(The reception on opening night included food from Mexicali Taco & Co., Starry Kitchen, The Grids, Panda Express, Chego and Xoia Vietnamese Eats. David Tran, creator of wildly popular Sriracha, enjoyed fast-food Panda Express with abandon.)
Jose-Luis Saavedra, who hung out with Tran at the opening reception, created the spicy tangy Tapatio sauce 40 years ago in his garage. He named it after the nickname used to describe someone that is from Guadalajara, his home town.
"Our hot sauce crosses cultures," Saavedra said.
A few highlights from the exhibit:
"Bean Sprout Uprising: troop 626" by Sandra Low - Her female subject is part of a guerrilla army of Girl Scouts battling social ills and absurdities. "I remember bringing dried pork floss in my lunch and everyone sitting around me thought it was absolutely disgusting."
"Los Angeles Grocery" by Patrick Martinez - Martinez illustrates the similarities in the food and condiments commonly found in all Asian and Latino markets by placing them side by side. The aesthetic is inspired by liquor store neon signs.
"Message in a Bottle" by Jari Werc Alvarez - This piece illustrates cultural idioms by reinterpreting slang and subcultural language into surreal landscapes that are made up of ephemera, words and symbols.
"On the topic of how various sauces can make pizza better" by Michael C. Hsiung - Illustrates the effect of both Sriracha and Tapatio on Los Angeles food and culture and suggests the sauces have evolved some of our most familiar cuisines.
"Proposal for a mural dedicated to David Tran" by Audrey Chan - Inspired by community murals that chronicle and glorify immigrants' pursuit of the American Dream. This freighter carried Tran to the U.S. in 1978 after the Vietnam War.
"L.A. heat" by Daniel González - His work highlights two fundamental sauces created in Los Angeles that are entangled in a popularity contest fought in food trucks, restaurants and kitchens across the city.
"L.A. Heat" will run through July 12 at the Chinese American Museum, 425 North Los Angeles St., Los Angeles. For additional information, visit the museum's website at camla.org. Suggested admission is $3 for adults, $2 for seniors 60 and over, and students with ID.
ALSO:
More research on the five-second food rule
Photos: "L.A. Heat: Taste-Changing Condiments"
More art: Creating countries from food (noodles for China)
---
Get our L.A. Goes Out newsletter, with the week's best events, to help you explore and experience our city.
You may occasionally receive promotional content from the Los Angeles Times.