Jonathan Gold: Where to ring in the Chinese New Year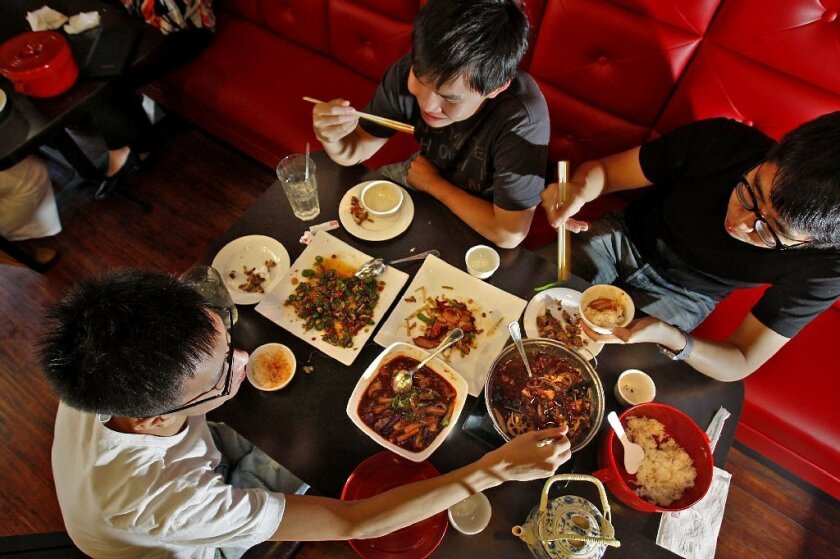 Happy Chinese New Year! Red envelopes and lion dances for all! If you want to celebrate at a Chinese restaurant tonight, and I can't see why you wouldn't, here are a few places to ring in the Year of the Horse.
Chengdu Taste. What could be more fun than standing in a two-hour line for a shot at the boiled fish with green chile, beef with tofu pudding and numb-taste dumplings at this Alhambra Sichuan restaurant? Not much, as it turns out. Good things come to those who wait, and wait, and wait. 828 W. Valley Blvd., Alhambra, (626) 588-2284.
Newport Seafood. I'm sure there must be a more celebratory Chinese dish in Los Angeles than the five-pound house special lobster, which is fried with great handfuls of chopped chiles and aromatics, and can feed any number of ravenous, nutcracker-armed souls. I'm just not sure what it might be. 518 W. Las Tunas Dr., San Gabriel, (626) 289-5998, newportseafood.com.
Sea Harbour. Often thought of as the best place to go for dim sum in the San Gabriel Valley because it is the best place to go for dim sum in the San Gabriel Valley, Sea Harbour should probably be better known for its prodigious feasts of prawns and fish and other sea creatures plucked from its aquarium-size tanks. 3939 Rosemead Blvd., Rosemead, (626) 288-3939.
Feng Mao. Is all of the great Chinese food in the area stuck in the San Gabriel Valley? No, just most of it. The freeway averse could, for example, feast on cumin-crusted mutton kebabs in this Koreatown Xinxiang-style restaurant, grilled over charcoal right at table, just as they do in Beijing. 3901 W. Olympic Blvd., Los Angeles, (323) 935-1099.
Hunan Mao. There are nearly a dozen Hunan restaurants in the greater San Gabriel Valley, and the best of them, including this one, concentrate on the oily, fearsomely hot dishes that make Hunan a paradise of peasant cuisine. What that means here may include gargantuan steamed fish heads, cucumber stir-fried with purple basil, lamb ribs fried with cumin, or the fearsome dish called "Hot Over Spicy."' Try anything made with the awesomely smoky Hunan ham. 8728 Valley Blvd., Rosemead, (626) 280-0855.
Seafood Village. And then there is the typhoon shelter crab, dipped in a gauzy batter, deep-fried, and showered with chopped scallions and handfuls of fried garlic. Good fortune on a really big plate. 9669 Las Tunas Ave., Temple City, (626) 286-2299.
Shanghai No. 1 Seafood Village. It's big. It is a gangsta's paradise of tufted velvet, enamel and cut glass. The menu is as large and as lavishly illustrated as a stack of German fashion magazines. But if you want that lucky new year's steamed chicken, you aren't likely to find a better one. The smoked fish, braised chicken feet with abalone, and Old Alley pork are worth any adjective you can summon. But you're really here for the pan-fried soup dumplings called sheng jian bao. It's okay. Everybody else here is eating sheng jian bao too. 250 W. Valley Blvd., San Gabriel | (626) 282-1777.
Haidilao. Hot pot is the quintessential Chinese New Year's feast, a banquet consummated around a seething communal pot of broth. Or two broths, one spicy and the other intensely herbal, if you're doing it right. When I dream of local hot pot, it is usually the funky version at Mon Land or the slickly orchestrated hot pot at Little Sheep, but this year's hot model is the over-the-top hot pot at Arcadia's newish Hidilao, the first U.S. outlet of an insanely popular China-based chain, which features a long sauce bar and a whirling noodle dervish in addition to the usual simmering delights. 400 S. Baldwin Ave., Arcadia, (626) 445-7232.
ALSO:
12 recipes to celebrate the Chinese New Year
Super Bowl 2014: 61 recipes to score big on Sunday
Super Bowl: 10 great beer bars where you can watch the game
---
Get our weekly Tasting Notes newsletter for reviews, news and more.
You may occasionally receive promotional content from the Los Angeles Times.