KFC parent company testing new chicken restaurant; banh mi shop may follow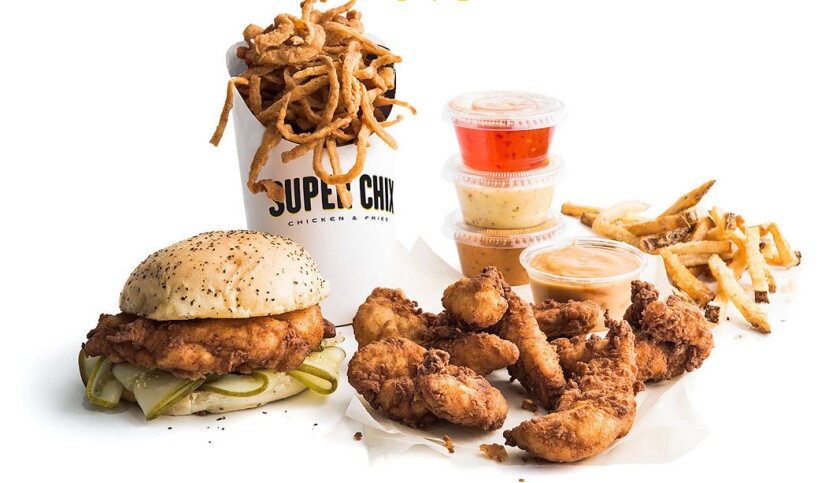 KFC owner Yum Brands is testing a new concept called Super Chix in Texas that claims to serve "the last true chicken sandwich." It looks a lot like a fancier version of a Chick-Fil-A sandwich. Another concept in the works in the Dallas area is Banh Shop, an Asian sub shop selling banh mi sandwiches.
The Super Chix menu includes chicken sandwiches with pickles, chicken tenders, fries, salads and frozen custards. The website says the chicken is marinated daily in-house, hand-breaded then cooked in 100% refined peanut oil.
The selection is similar to Chick-Fil-A's limited menu, built around the simple chicken sandwich (also hand-breaded then cooked in 100% peanut oil) and pickles, chicken tenders and fries.
There are three kinds of pickle toppings on the Super Chix menu, each brined for 38 days, including kosher, hot and sweet. Other toppings include lettuce, tomato, jalapeños and haystack onions. You can also add honey mustard, smoky honey pepper sauce and Sriracha sweet and sour sauce. And they say they're "fry snobs" too.
"We get our vegetables delivered whole every day and we slice them up daily by hand," reads the Super Chix website.
For dessert: frozen custards, made with a Super Chix blend of Madagascar Bourbon vanilla beans and Indonesian vanilla beans.
Super Chix is noticeably attempting to distance itself from KFC and the other Yum Brands, which include Taco Bell and Pizza Hut. There's no mention of Yum Brands on Super Chix's website, and it's marketing itself as a fancier chicken sandwich restaurant with an emphasis on premium ingredients. They claim their chicken contains no MSG, no high-fructose corn syrup and no phosphates.
"It's a one-off new concept store developed by our New Concept team out of Dallas," Yum Brands spokeswoman Virginia Ferguson said in a statement. "As a large global restaurant company, we periodically have new concepts like this."
According to Ferguson, there are no plans to expand Super Chix or Banh Shop at this time.
Want more food news? Follow me on Twitter: @Jenn_Harris_
ALSO:
A $40,000 machine to brew tea?
Blue Bottle Coffee scoops up Handsome Coffee Roasters and Tonx
In new ad, Taco Bell wants you to ditch your old McDonald's breakfast
---
Get our weekly Tasting Notes newsletter for reviews, news and more.
You may occasionally receive promotional content from the Los Angeles Times.