Best gyoza? The King of Gyoza at Nikuman-ya (but only on weekends)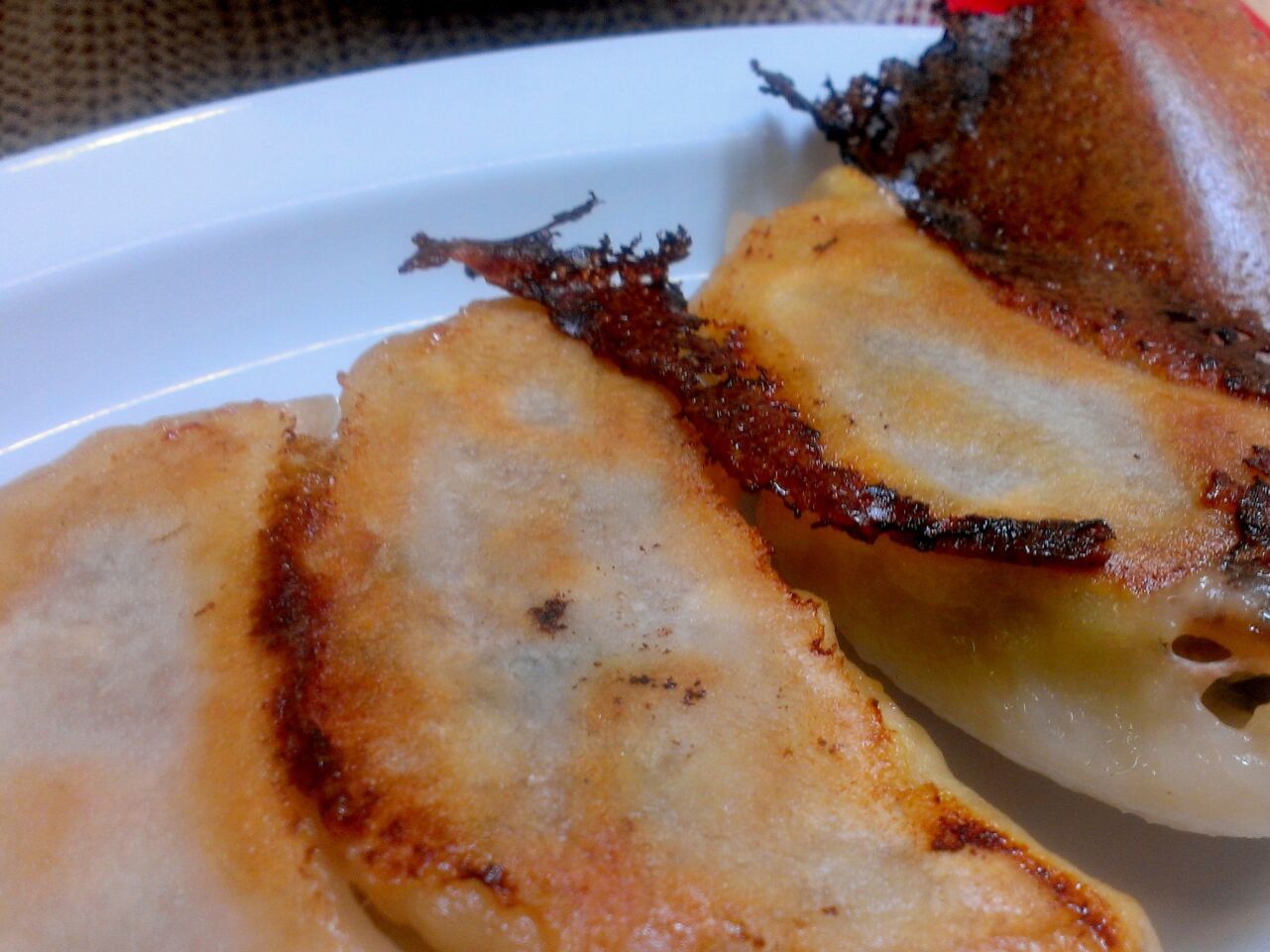 Chef Kenichi Usui's gyoza at Nikuman-ya in the Marukai Market in Gardena is shown.
(Betty Hallock / Los Angeles Times)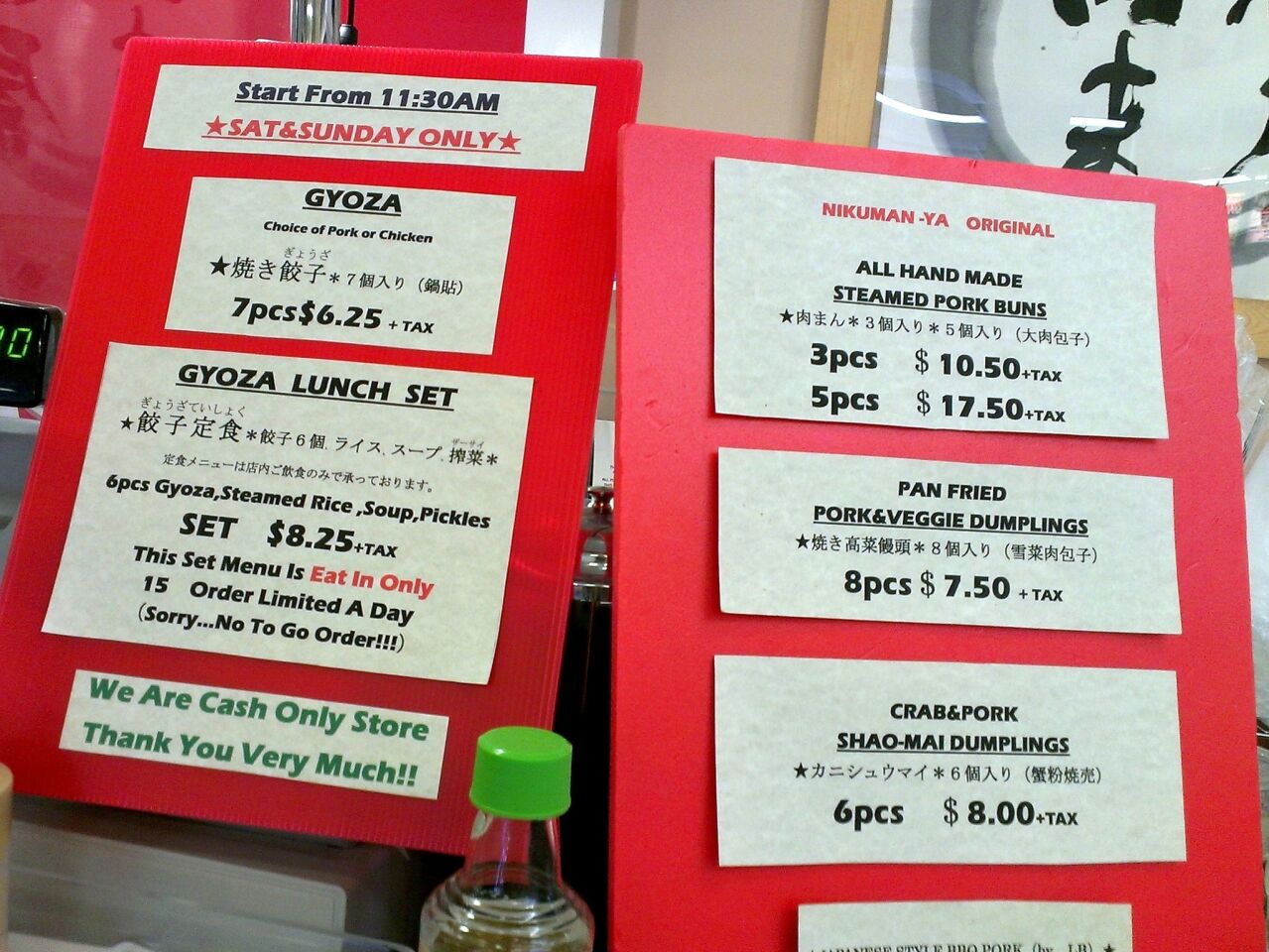 Gyoza is available at the King of Gyoza on Saturdays and Sundays, starting at 11:30 a.m. Cash only.
(Betty Hallock / Los Angeles Times)
The King of Gyoza runs weekends only at Nikuman-ya in Gardena.
(Betty Hallock / Los Angeles Times)
Chef Kenichi Usui makes dumplings at Nikuman-ya.
(Betty Hallock / Los Angeles Times)
Pan-fried pork and vegetable dumplings at Nikuman-ya are shown.
(Betty Hallock / Los Angeles Times)
Name of restaurant: Nikuman-ya (but on weekends, the King of Gyoza)
What dish represents the restaurant, and why? The weekends-only gyoza is the best in Southern California: juicy pan-fried pork dumplings made with from-scratch skins and filled with juicy meat. They're seven to an order, cooked and served in a nestled row, their bottoms burnished and crispy. Connecting the dumplings is a fine, shattery brown lace of flour that gets cooked with the water that's added to the pan to simultaneously steam the gyoza as they're frying.
Runner-ups: Big Chinese-style fluffy steamed pork buns filled with char siu pork and pan-fried pork and vegetable dumplings. But especially the Japanese cha shu, marinated braised pork loin (the kind you get on top of a bowl of ramen), which you can order in advance by the pound -- and you should because it's pretty glorious.
Concept: Steamed pork buns all the time, gyoza on the weekends, at a stand in the food court of Marukai Market in Gardena. Nikuman is the Japanese word for Chinese baozi, fluffy, slightly sweet steamed buns usually filled with pork. Chef-owner Kenichi Usui worked in a Chinese restaurant in Tokyo for several years, so he describes his food as "more Japanese-Chinese." He works by himself at Nikuman-ya except for on the weekends when he has one employee, which allows him to take the extra time to cook gyoza, 700 to 1,000 every weekend.
Who's at the next table: You're sitting next to the Gundam toy display inside Marukai Market. One table over are a couple of wizened Japanese American construction workers, one sporting a T-shirt that reads "I [Heart] to Fart."
Appropriate for ... : A snack or meal of gyoza, dumplings and cha shu, maybe with a side of potato salad. There's also a set menu of gyoza that comes with dipping sauce, rice, pickles and miso soup. Or if you're just shopping at Marukai and want to take gyoza home to cook yourself, see if any frozen gyoza are available for purchase. They'll come with cooking instructions, at the bottom of which reads: "Please call Ken if you have any questions!"
Uh-oh ... : Gyoza are not available every day.
Service: Friendly and fast counter service; Usui or his one employee will be manning the cash register and cooking.
What are you drinking? Iced green tea. For dessert, there's a Beard Papa stand nearby.
Info: 1620 W. Redondo Beach Blvd., Gardena, (310) 538-2929, www.facebook.com/nikuman-ya. Open daily 10:30 a.m. to 7 p.m. Gyoza on Saturdays and Sundays starting at 11:30 a.m.
ALSO:
Four great vegetarian Chinese restaurants
New avocado and cheese Doritos -- but only in Japan
New steakhouse Chianina to open in Long Beach, raise its own beef
---
Get our weekly Tasting Notes newsletter for reviews, news and more.
You may occasionally receive promotional content from the Los Angeles Times.