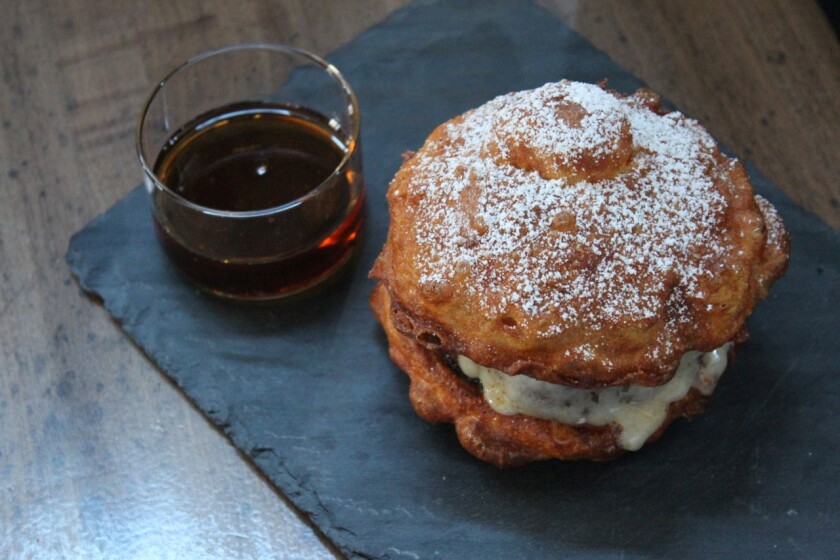 Michael Voltaggio is lending his culinary imagination to Umami Burger for a burger collaboration later this month. The "Top Chef" alum, known for his Los Angeles restaurants Ink and Ink.Sack, created something called the Monte Cristo burger.
It's a version of the popular French-inspired fried-ham-and-cheese sandwich -- on steroids. The burger includes the Umami Burger signature beef patty smothered in Gruyere cheese fondue and prosciutto. It all comes layered on a custard-soaked fried bun and topped with powdered sugar. Oh, and there's a side of maple syrup.
"I wanted to make a burger that would hit the spot no matter if you're craving something sweet or savory," Voltaggio said in a release.
The new burger will launch at all Umami Burger locations on Jan. 28. The burgers are $15 while supplies last. A dollar of every burger sold will be donated to the Los Angeles Mission, which provides support to homeless people in Los Angeles.
See www.umami.com for locations.
Want more quirky food news? Follow me on Twitter: @Jenn_Harris_
ALSO:
First look at OHM Lab, a secret speakeasy at Hollywood & Highland
Snorting Smarties: Eat. Don't snort. Unless you want nasal maggots
Jelly Belly debuts draft beer flavor jelly bean; tastes wheaty, smells yeasty
---