Dominos launches fried-chicken-nugget pizzas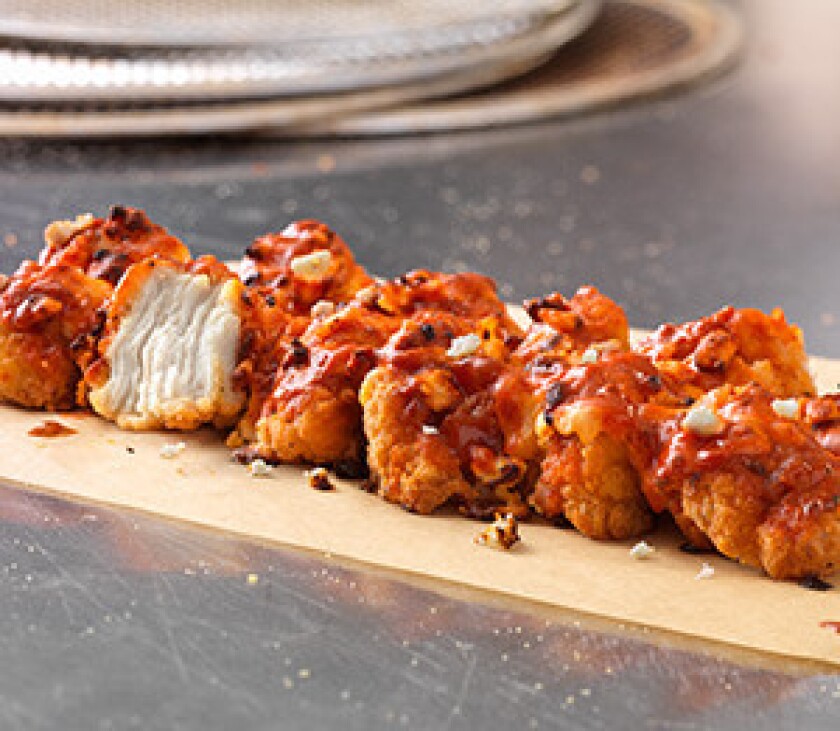 Dominos may be bored with simple pizza crust. The fast-food chain is taking the whole sauce, cheese and toppings on dough idea and turning it on its head, with a new line of fried-chicken-nugget pizzas.
It's calling the fried chicken/pizza hybrid Specialty Chicken and describing it on the Dominos website as "our boneless chicken covered in toppings, sauce and cheeses." We're thinking fried-chicken-nugget pizza sounds more appropriate.
The new Specialty Chicken is basically 12 chicken nuggets, clumped together in a crust-like row, then smothered in sauce and cheese. It's half pizza, half pre-sauced chicken nuggets.
Flavors include sweet BBQ bacon, crispy bacon and tomato, spicy jalapeno and pineapple, and classic hot buffalo.
They're priced at $5.99.
Want more quirky food news? Follow me on Twitter: @Jenn_Harris_
ALSO:
Look! New blue raspberry Peeps, just in time for Easter
Do you need a bierfilzl? Maybe not, but you'll surely love these felt coasters
A new pot vending machine with marijuana-laced treats could be coming to California
---
Get our new Cooking newsletter.
You may occasionally receive promotional content from the Los Angeles Times.