Shout smartphone app can put coveted dinner reservations up for sale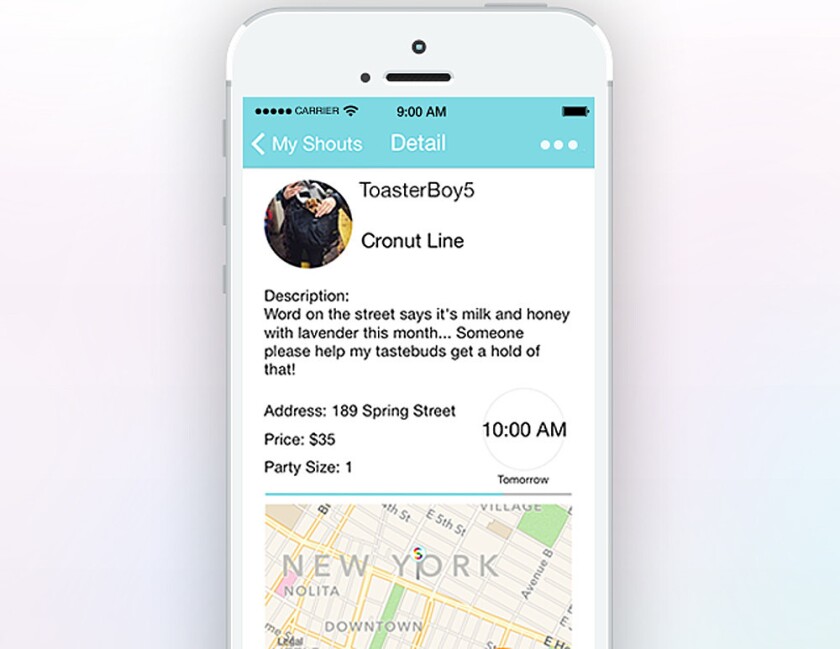 How much would you be willing to pay for the hottest dinner reservation in the city? That's a question foodies may find themselves asking when a new smartphone app called Shout expands to L.A. this summer.
Shout, currently in a testing phase in New York, takes a coveted dinner reservation, a spot in the cronut line at Dominique Ansel Bakery or an unused concert ticket and puts it up for sale to those around you.
"It's a safe, mobile Craigslist, focused on art and entertainment," said Shout co-owner Zachariah Reitano. "A trusted peer to peer marketplace where people can either make a request or offer up something they have for sale."
The app works by connecting people who have something with people close by who want it. A user creates an offer or requests something such as a spot in the cronut line. A fixed price is attached to the spot (it can also be free), and another user can claim the spot. The app allows the two to chat with each other and arrange for the virtual exchange.
For a restaurant reservation, once payment is received by a seller, the name the reservation is under is released to the buyer.
Reitano estimates there are currently 4,500 to 5,000 test users on Shout. A quick browse of the app shows that there's a user with a spot in the cronut line for sale for $70.
The team is working on a public version of the app that will include user reviews, social verification and the ability to hold money "in escrow" for a certain commodity.
Shout is processing all of the payments itself, using Braintree Payment Solutions, which Reitano notes is the same service that Uber, the popular ride sharing/for hire service, uses. No bank account numbers are exchanged. There is currently no transaction fee for Shout, but Reitano says the company plans to introduce a transaction fee in the future.
Reitano and his partner Henri Stern, both recent Columbia grads, came up with the idea while waiting on standby for a plane at an airport. The two wondered how much they would have to pay someone to vacate their seat on the plane.
Reitano says the two most popular uses for the app currently are concert tickets and reservations but says some have used it to sell a Wall Street Journal subscription, a photography tour, a Soul Cycle reservation and a lifetime coupon to a bar.
"Shout embodies the community it's being used in," Reitano said. "When it's used by college campuses, people are exchanging very different things than if they are in the Upper West Side, where there are a lot of families."
After the app is released publicly, it will be available to iPhone users. Shout is currently testing usage for Android users. And Reitano says the app will be "free to download till the end of time."
Shout is slated to be available in San Francisco and Los Angeles this summer.
---
Get our weekly Tasting Notes newsletter for reviews, news and more.
You may occasionally receive promotional content from the Los Angeles Times.