626 Night Market is back: Grilled skewers, spiraling potatoes and dragon whiskers
626 Night Market attendees take on the potatotornado.
(Clarissa Wei / For The Times)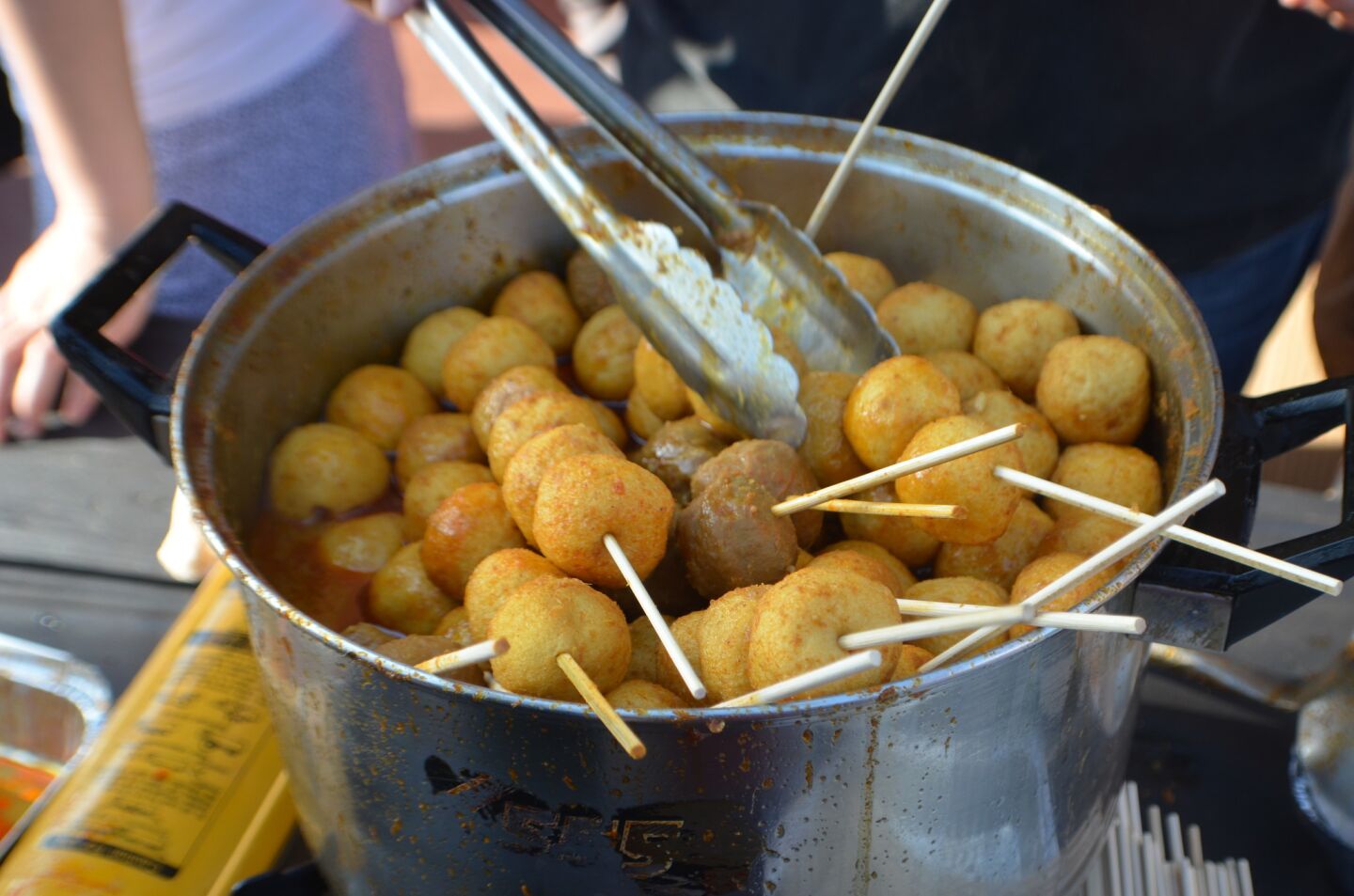 Fish balls seasoned with a curry sauce from King Kong cafe.
(Clarissa Wei / For The Times)
Character-shaped red bean cakes from Yeh's Food.
(Clarissa Wei / For The Times)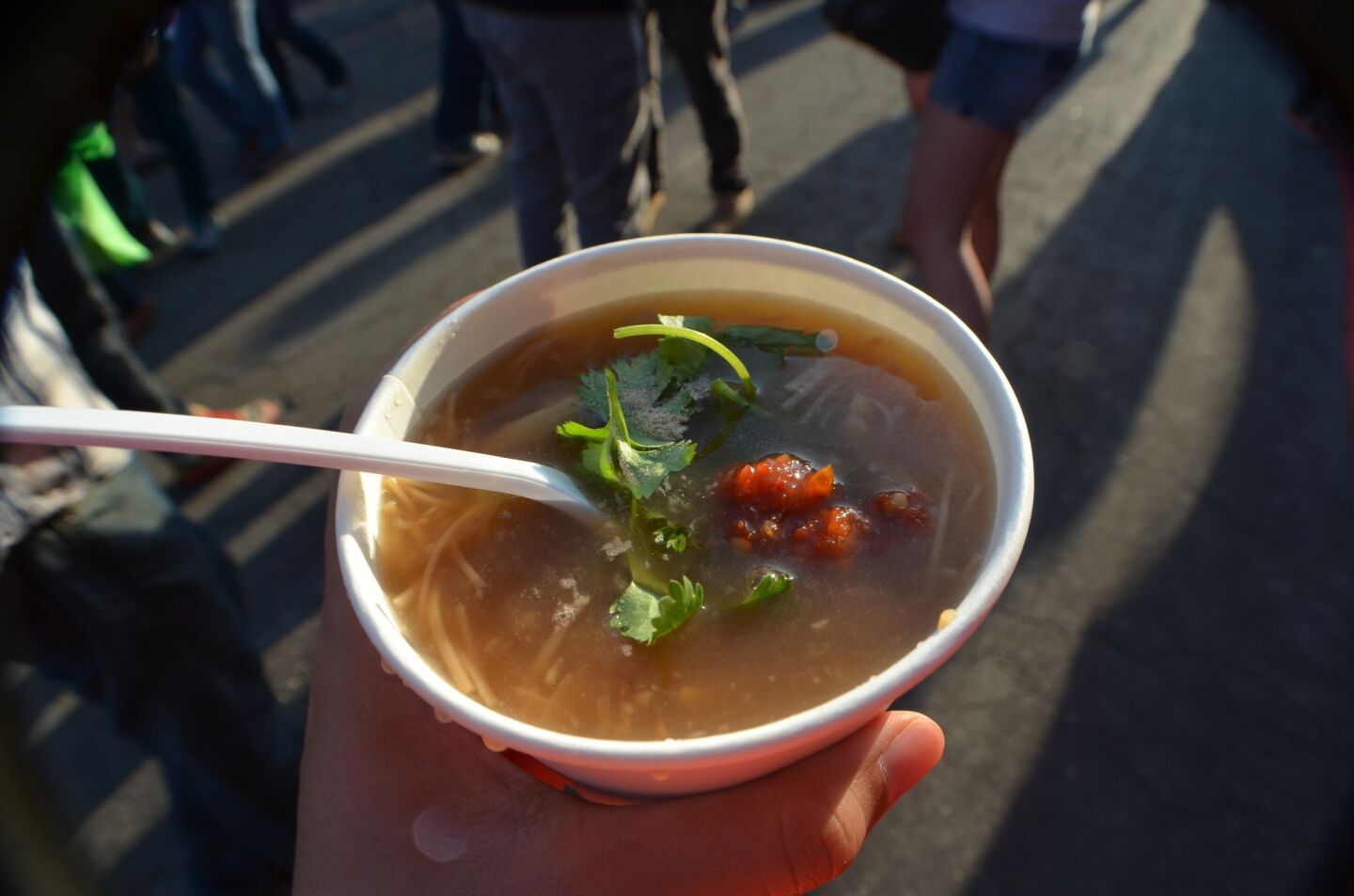 Pig intestine soup from Cafe 18.
(Clarissa Wei / For The Times)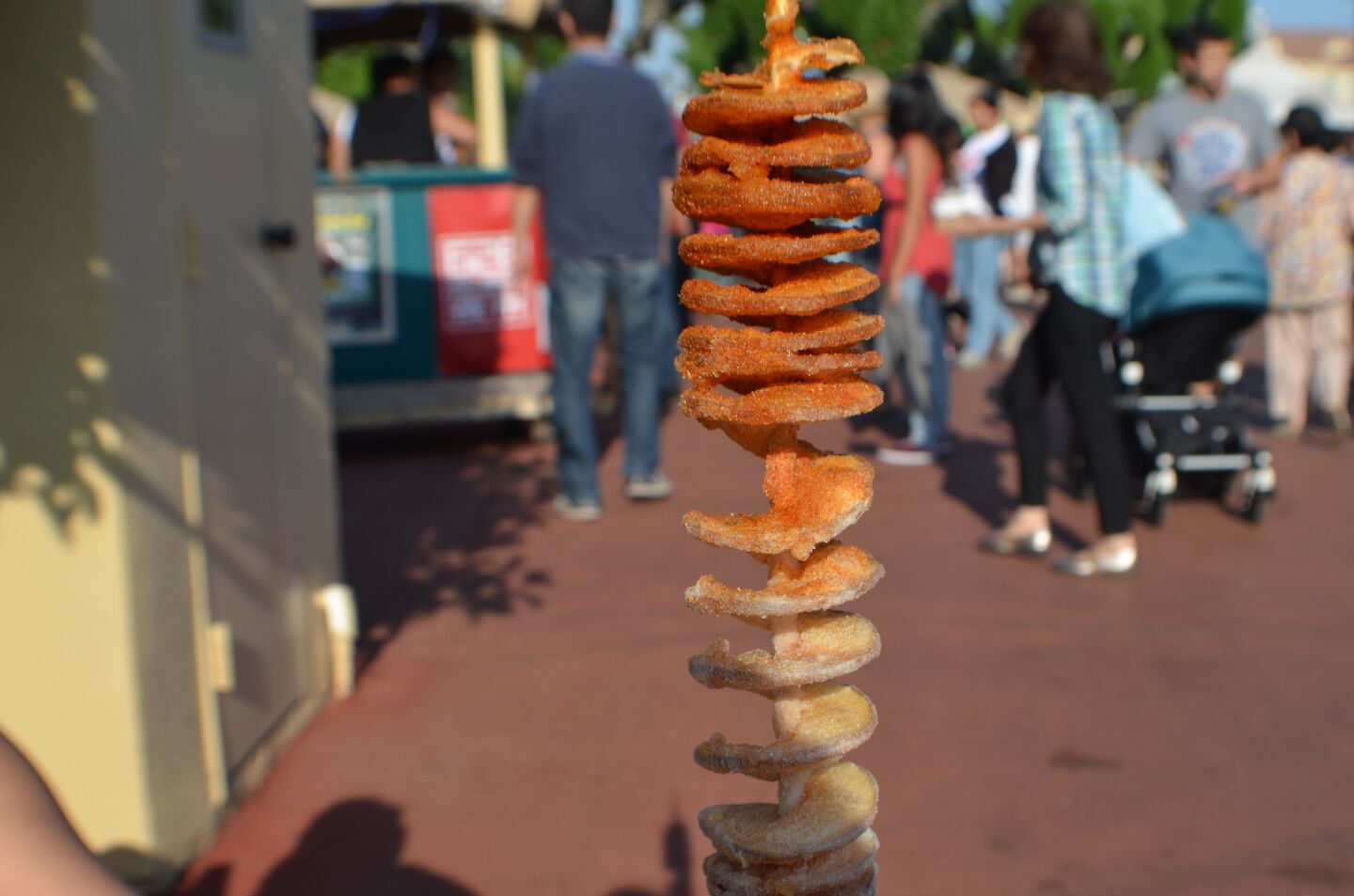 Barbecue tornado potato skewer.
(Clarissa Wei / For The Times)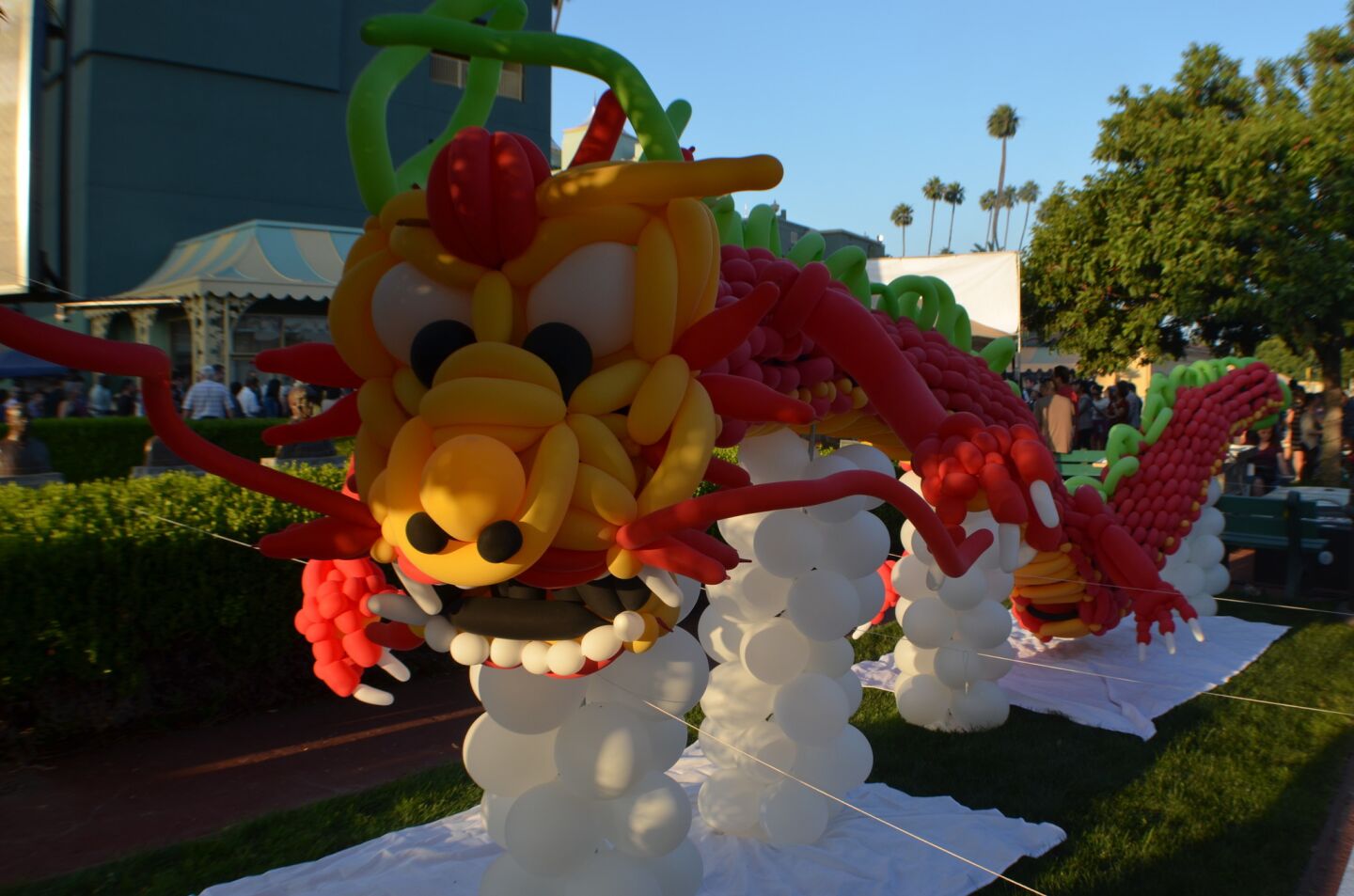 Dragon made from balloons.
(Clarissa Wei / For The Times)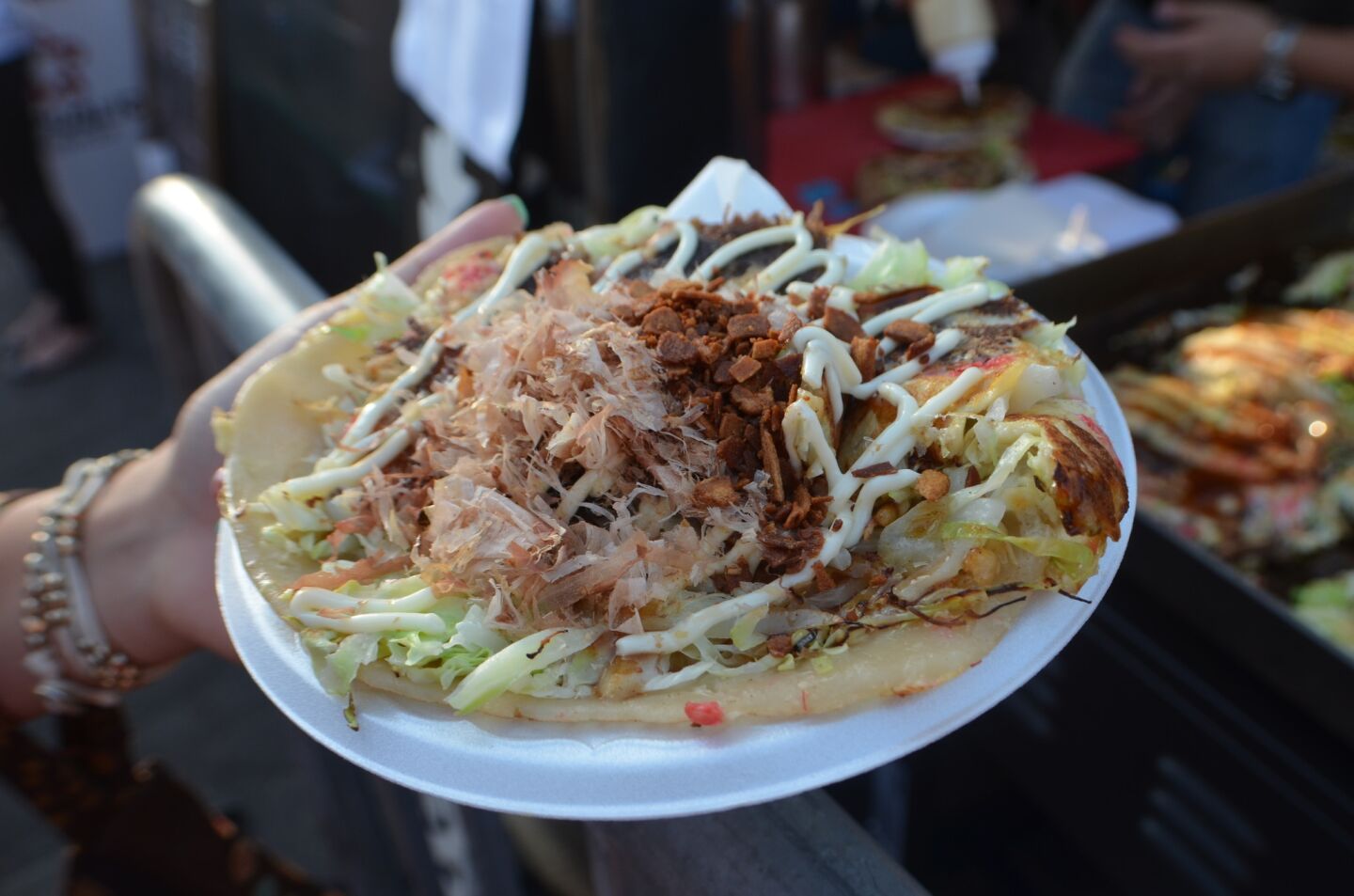 Angus beef okonomiyaki from Gottsui.It's a grilled pancake with your choice of toppings.
(Clarissa Wei / For The Times)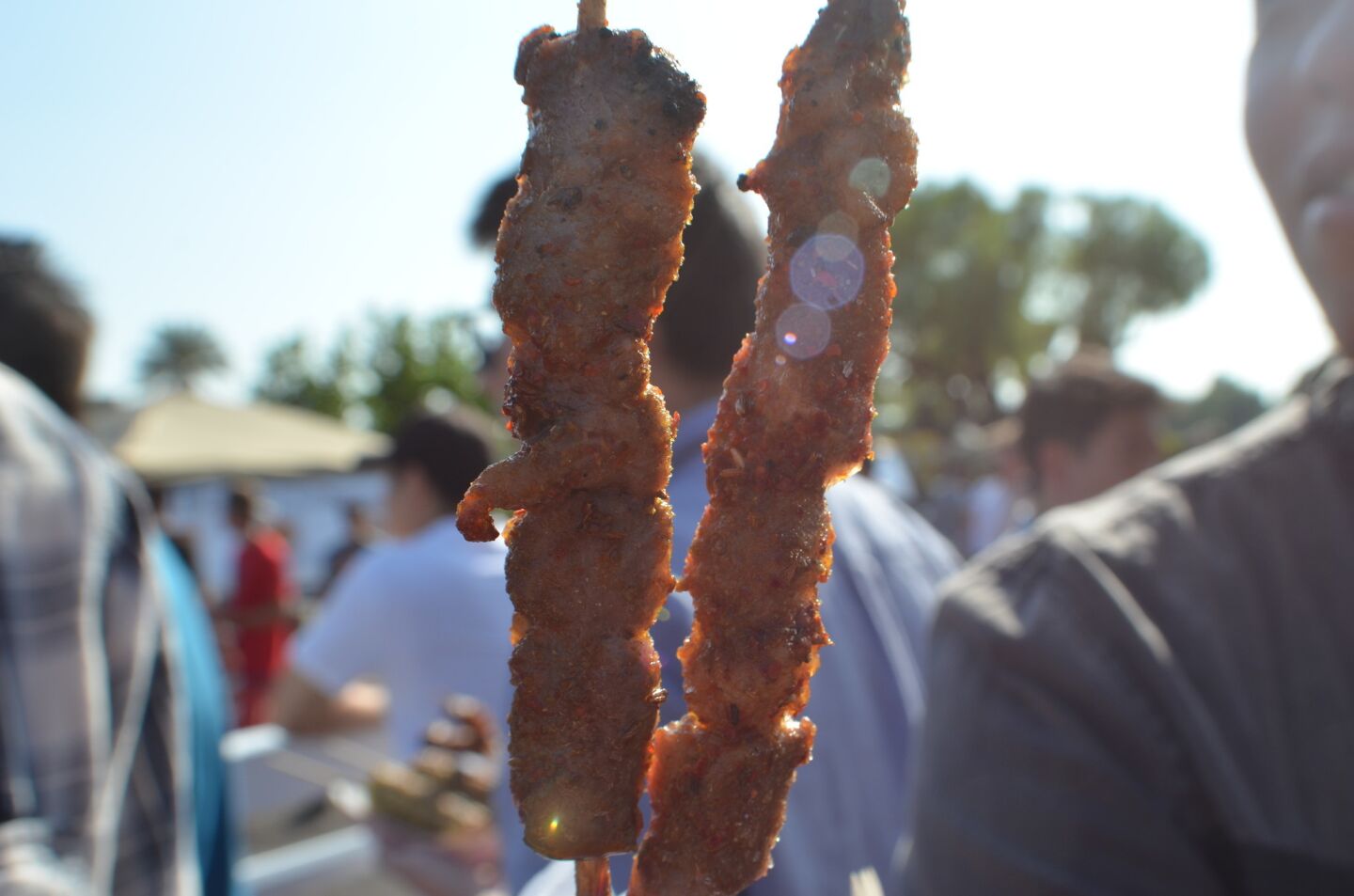 Lamb kebabs seasoned with cumin by the Kebab Brothers.
(Clarissa Wei / For The Times)
A long day of grilling corn for the Kebab Brothers.
(Clarissa Wei / For The Times)
Sesame-stuffed dragon whisker candy by Alex Goh. It's a fading art - the hand-pulling of sugar until it becomes soft, thin strands. The sesame seeds are inside.
(Clarissa Wei / For The Times)
The crowds make their way through the busy market.
(Clarissa Wei / For The Times)
The 626 Night Market kicked off its summer season Saturday at Santa Anita Park in Arcadia. Some 160 food vendors were selling skewers of beef, lamb, shrimp, squid and spiraled potatoes, while others offered curry-dusted fish balls and stinky tofu. A flurry of performances and retail booths completed the evening bazaar — the biggest food event in the San Gabriel Valley.
The evening festival is modeled after the bustling night markets in Asia and was founded by San Gabriel Valley resident Jonny Hwang last year after he realized there was a demand for an Asian-themed food event. The first event drew over 40,000 people.
Four more night-market festivals are cued up for summer. Here's what you won't want to miss.
Kebab Brothers
The Brothers have been a 626 Night Market purveyor since the beginning. Meat portions are relatively generous compared with nearby competitors, and the lamb skewers, two for $3, are served seasoned with a sprinkling of cumin and black pepper. They also have stinky-tofu skewers served with a side of Chinese pickled vegetables.
Photos: 626 Night Market highlights
Calvin's Bar-B-Q
The line ended up being an hour long during some parts of the night, but the wait did not deter customers from getting their hands on the barbecue-smothered squid. They serve it two ways: Korean-style and Sichuan mala flavored.
Café 18
This spot does pork, blood and Taiwanese sausages, but the main take-away is the pork intestine vermicelli, or dachang mianxian. It's silky noodles served in a pottage with pork intestines topped with cilantro, black vinegar and a dollop of hot sauce.
Cold Cane Labs
CCL specializes in sugar cane juice made-to-order. Sugar canes are ground up on-site. You can get them in a cup or, like they do in Asia, served in a bag with a straw.
Photos: 626 Night Market highlights
Dragon Whiskers
Alex Goh has been creating these cotton candy-like confections for over two decades now. The "dragon whisker" is simply sugar and honey, pulled and twisted to a web-like consistency. The candy is stuffed with peanuts, sesame or coconut.
Hotato Stand
A night-market favorite, the wait is jaw-dropping at this stand. They specialize in spiraled fried potatoes on a skewer. It's French fry meets potato chip, with fantastic seasoning options.
Ferment Tofu
Ferment Tofu is a stinky tofu distributor for various restaurants in the San Gabriel Valley. There are two versions: deep-fried or drenched in a mala, spicy sauce. Stinky tofu is the cheese of Taiwanese cuisine. The tofu is drenched in a brine of meat and milk for days before it's cooked. Be warned that the stench of the stinky tofu can be off-putting to first-timers, but bear with it, take a bite and you'll see why so many people consider this putrid dish a delicacy.
Yeh's Food
It's a Taiwanese-specialty joint that hits home in terms of authenticity. Mango shaved ice and red bean-filled cakes are popular here, but the fruit skewers are the real draw. They're strawberries that have been crystallized in a sugar-and-honey mixture.
Next: July 6-7, Aug. 3-4. 626 Night Market at Santa Anita Park, 285 W Huntington Dr, Arcadia. www.626nightmarket.com/
---
Get our L.A. Goes Out newsletter, with the week's best events, to help you explore and experience our city.
You may occasionally receive promotional content from the Los Angeles Times.