Fancy new Lunchables for adults: Oscar Mayer's P3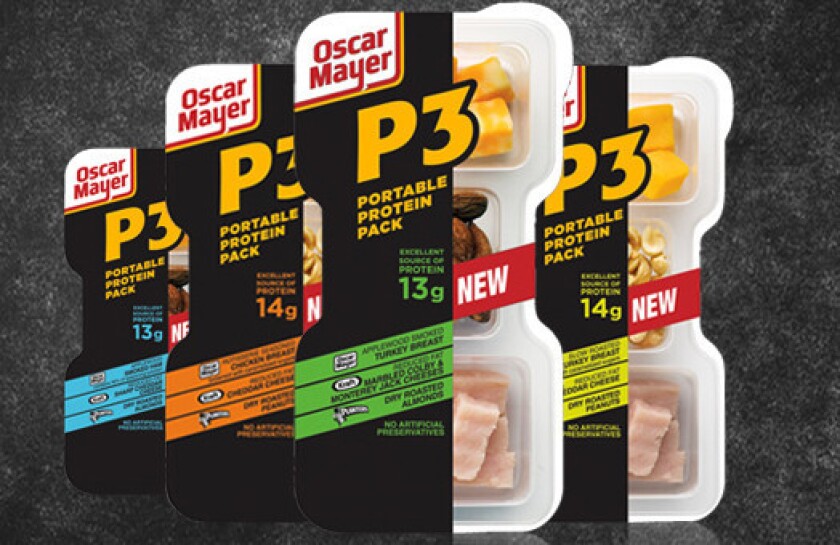 Remember Lunchables? Those packs of Oscar Mayer meat, cheese and crackers you'd eat on the playground for lunch? Bonus points if your mom bought the one that came with a Capri Sun drink. Well, now Oscar Mayer is making a version for adults.
It's called P3. Yes, that's the actual name. It stands for "portable protein pack."
According to a release for the product, it is "designed for active consumers looking for a snack to help keep them going throughout the day."
"Before there were powders, bars and goos, there was meat, cheese and nuts," reads promotional material for the product.
The P3 packs come with Kraft cheese, Oscar Mayer meat and Planters nuts. Varieties include applewood smoked turkey with marbled Colby and Monterey jack cheese and dry roasted almonds; applewood smoked ham with reduced-fat sharp cheddar cheese and dry roasted almonds; rotisserie seasoned chicken with reduced-fat cheddar cheese and dry roasted peanuts; and slow-roasted turkey breast with reduced-fat cheddar cheese and dry roasted peanuts.
"Consumers snack three times a day on average, and 75% of adults are looking to add more protein to their diets," said Joe Fragnito, Oscar Mayer vice president of marketing, in a release.
Oscar Mayer boasts each pack contains no artificial preservatives, little to no sugar and at least 13 grams of protein.
The snack packs are available at stores nationwide and priced at $1.79 for the 2-ounce pack and $4.99 for a 6-ounce pack.
Want more quirky food news? Follow me on Twitter: @Jenn_Harris_
ALSO:
Sriracha Pringles exist! But you can get them only at one store
Can we save the bluefin tuna? National Geographic investigates
Ellen DeGeneres salami? One company's quest to make meat from celebrity tissue samples

---
Get our weekly Tasting Notes newsletter for reviews, news and more.
You may occasionally receive promotional content from the Los Angeles Times.