Lamp looks like a huge wheel of Parmesan; creators just love cheese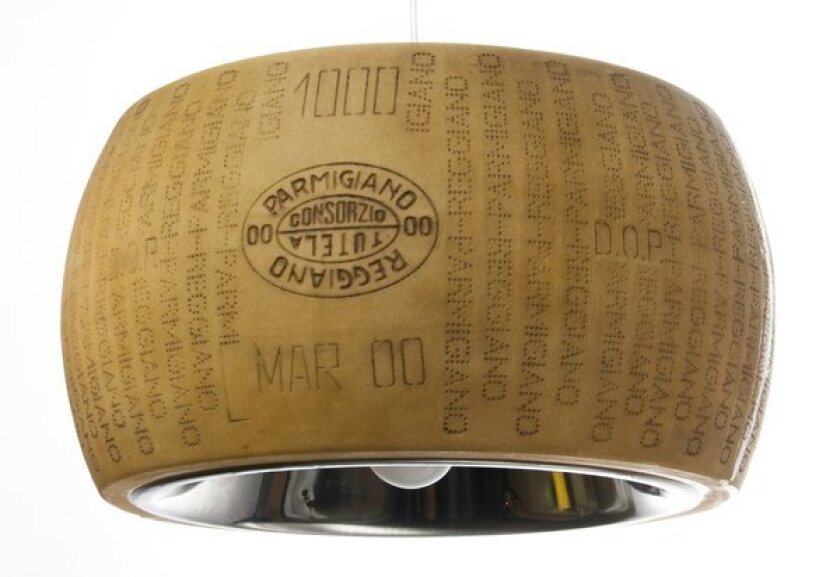 So, have you heard about the new Parmesan light? No, the Italians haven't desecrated the king of cheeses. Instead, a Dutch couple is just having a little fun.
At their website, ParmesanCheeseLamp.com, you can find suspended lights that are replicas of giant wheels of Parmesan. On the Facebook site it's called "the world's cheesiest lamp."
"After a culinary trip to Italy in 2011, we completely lost our hearts to the Parmigiano-Reggiano," wrote the owners of the website, a Dutch couple named Tom Sprengers and Cyrella Beckers. "During a visit to a Parmesan cheese maker the whole process of making cheese impressed us. We are both cheese lovers and decided to do something with this inspiration."
The lamp is about 17 inches in diameter and 10 inches high. It's made of plastic and comes in two versions, the Classic ($260, before shipping) and the DLX ($360), the main difference being the DLX is made with stainless steel interior parts and the classic is all plastic.
The lamps are made to order, so expect to wait three to four weeks for delivery.
For the more egalitarian-minded, who might not be ready to make a lamp from the king of cheeses, the website also offers a hanging lamp of basic Grana Padano ($360), and a playful 9-inch-diameter fixture shaped like a colander that comes in red, black, olive and white ($55).
ALSO:
Vegan breast milk lollipop. That is all
---
Get our new Cooking newsletter.
You may occasionally receive promotional content from the Los Angeles Times.