Pine & Crane for when you crave beef rolls and 'three cup chicken' in Silver Lake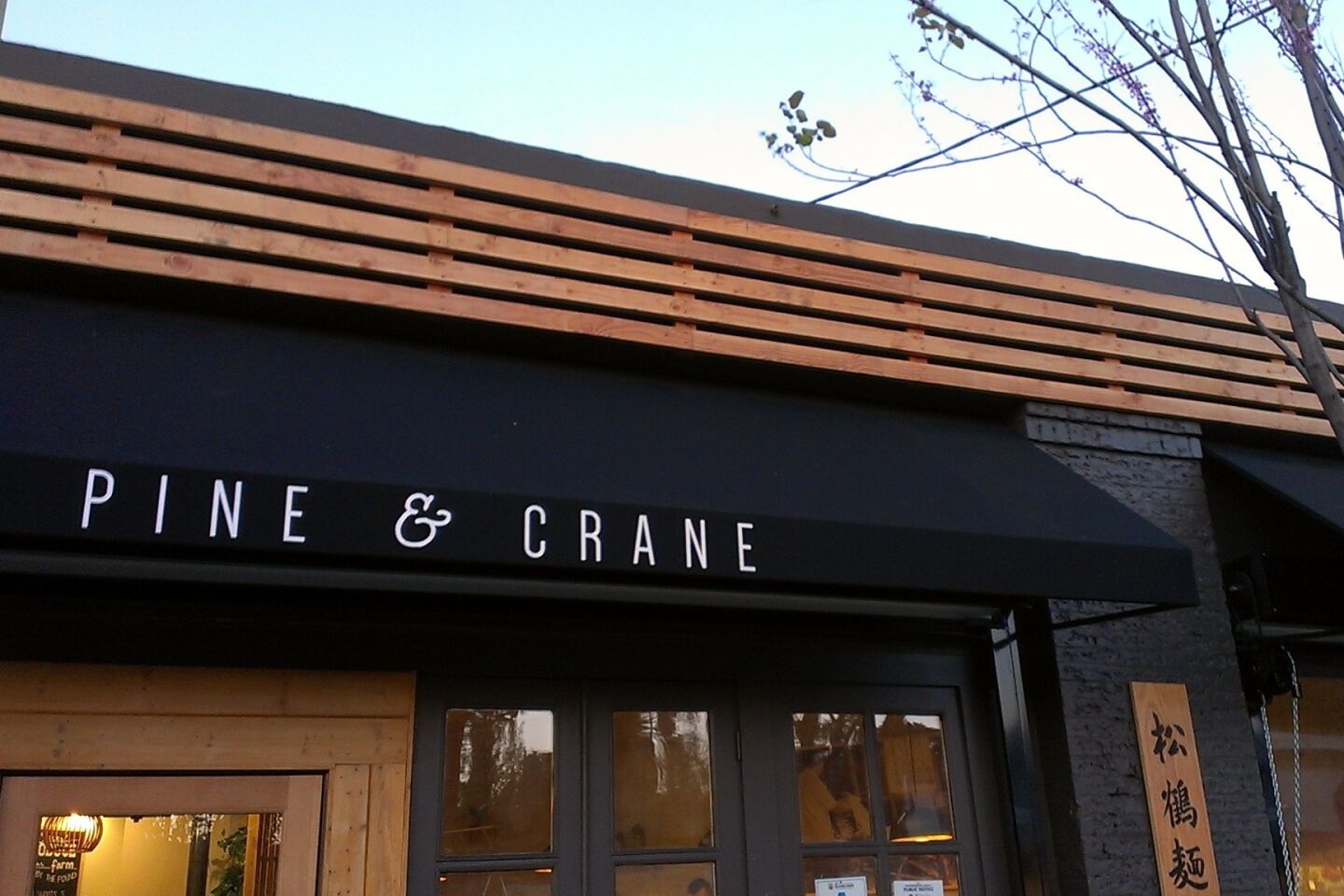 Pine & Crane opened in Silver Lake in the space that formerly housed Cru on Griffith Park Boulevard.
(Betty Hallock / Los Angeles Times )
The sunny dining room at Pine & Crane includes a long communal table in the center.
(Betty Hallock / Los Angeles Times )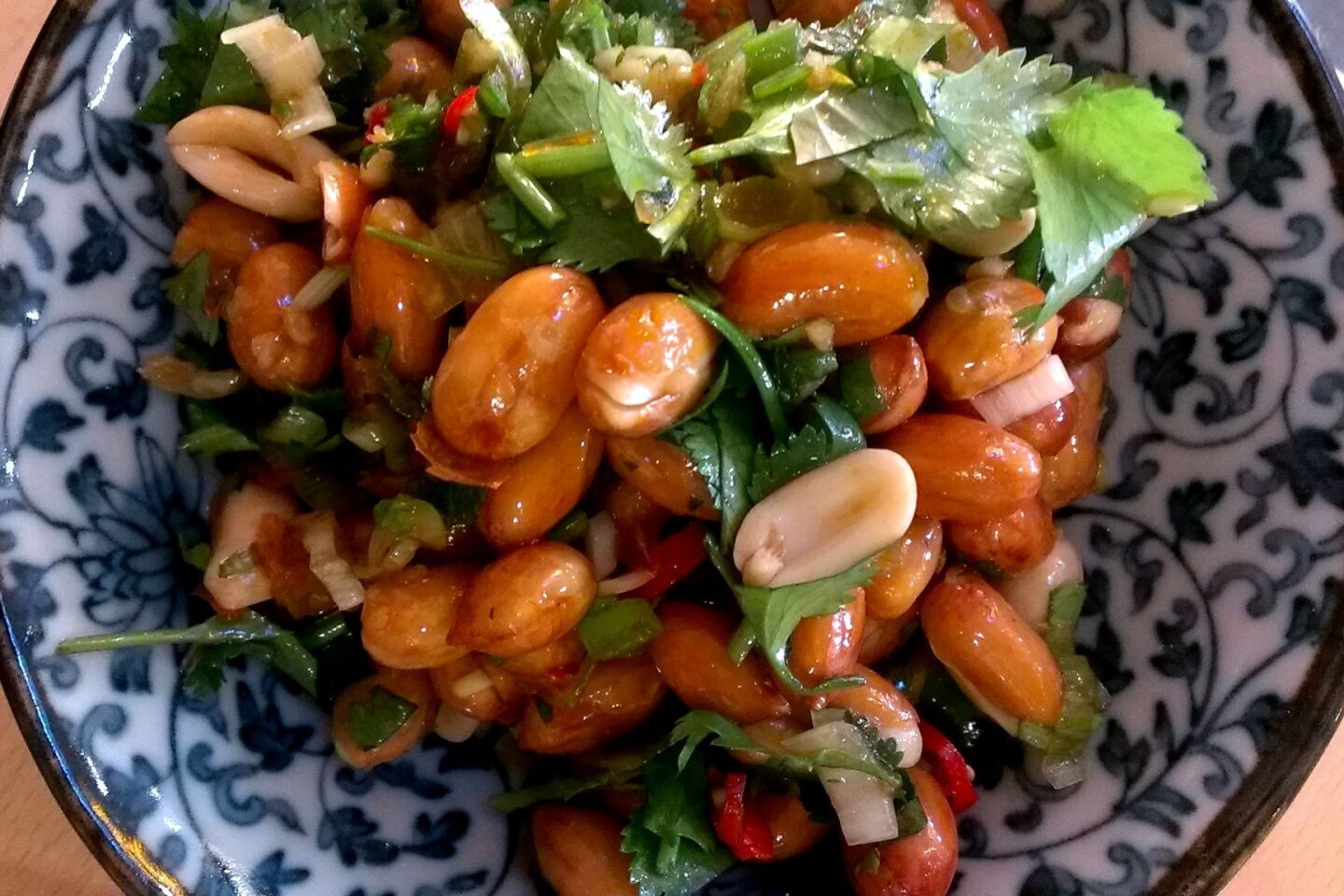 The spicy peanuts at Pine & Crane.
(Betty Hallock / Los Angeles Times)
Beef noodle soup, with brisket, bok choy and Taiwanese pickles.
(Betty Hallock / Los Angeles Times )
Beef roll, wrapped in a flaky pancake with scallions, cilantro and cucumber.
(Betty Hallock / Los Angeles Times )
A wall of teas and tea paraphernalia at Pine & Crane in Silver Lake.
(Betty Hallock / Los Angeles Times )
Order at the counter at Pine & Crane, take a number and grab a seat.
(Betty Hallock / Los Angeles Times )
"Three cup trumpet mushrooms" with garlic, scallion, ginger, basil and chiles at Pine & Crane.
(Betty Hallock / Los Angeles Times)
Dan dan noodles at Pine & Crane, with herbs and peanut sauce.
(Betty Hallock / Los Angeles Times )
Pea shoots are among the list of rotating seasonal greens at Pine & Crane.
(Betty Hallock / Los Angeles Times )
Name of restaurant: Pine & Crane Noodle Co.
Chef: Chef-owner Vivian Ku and "old school" Taiwanese chef Allan Lai.
What dish represents the restaurant and why? "Three cup chicken" (sanbeiji). It's a chicken dish that's a specialty of Ningdu in the southern Chinese province of Jiangxi, whose name comes from a traditional recipe that called for a cup each of soy sauce, rice wine and sesame oil. But it's so popular in Taiwan that there's a saying: "A restaurant that can't cook sanbeiji isn't a true Taiwanese restaurant." Here it's Jidori chicken, served heaped in a small pot, sticky with the slightly sweet sauce, scented with star anise and mixed with thick slices of ginger, whole cloves of garlic, chiles, basil and green onions. You'll want the whole thing to yourself. (There's also a vegetarian version, "three cup trumpet mushrooms.")
Runner-up: Beef noodle soup, with thick springy noodles, braised beef brisket, bok choy and suan cai (pickled mustard greens). With a cold side dish such as wood ear mushroom salad from Pine & Crane's deli case. Don't miss the seasonal sauteed greens such as pea shoots, chyrsanthemum greens, water spinach and sweet potato leaves. They come from Ku's father's farm in Bakersfield. Oh, and the sweet potato fries are sprinkled with plum powder.
Concept: Pine & Crane combines the stylistics of Silver Lake with the culinary standbys of San Gabriel Valley -- it's fast-casual Taiwanese in a modern setting. Your inner Asian-food elitist might sound alarms: "Taiwanese food in Silver Lake?" So the beef roll isn't quite as glorious as that of 101 Noodle Express in Alhambra, and maybe you like the beef in your beef noodle soup a little more cartilaginous. But you might be pleasantly surprised. It's a friendly spot with a concise menu that includes tasty appetizers such as spicy peanuts and scallion pancakes, a deli case with cold side dishes such as pickles and sliced meats, and both serious teas and fun boba drinks.
Who's at the next table? On one side, a neighborhood couple with their 4-month-old baby. They're so in the know that they might ask if you've tried the new pizza place down the street, Wood -- even before it has opened. On the other side a woman in orange running shorts and a New York University sweat shirt sharing beef noodle soup, dumplings and a pile of sauteed pea shoots with her boyfriend.
Appropriate for ...: Casual enough for family outings, a post-hike snack or grabbing a bite with friends. But, with the addition of beer and wine, it might even be date-worthy -- if not a first date, then maybe a "date night."
Uh-oh ...: If the 40-seat dining room is full after you've ordered at the counter and taken your number, it's a little anxiety-inducing waiting for the next available table. But you probably won't have to wait long.
Service: Upscale counter service.
What are you drinking? Fresh passionfruit green tea or taro milk tea that comes with the option to add boba. Because it's a Taiwanese restaurant, there is oolong tea -- five kinds from various regions of Taiwan. The restaurant is in the process of obtaining its beer and wine license and will have beer in bottles and on tap, along with a handful of wines by the glass.
Info: 1521 Griffith Park Blvd., Los Angeles, (323) 668-1128, www.pineandcrane.com.
ALSO:
My Mom's Bakeshop, a Filipino bakery for sweet soft rolls
The tomato ramen is calling at Kanpai Ramen in Glendale
Stuffed quesadillas and Milanesa tortas at El Condor in Silver Lake
Twitter: @bettyhallock
Get our L.A. Goes Out newsletter, with the week's best events, to help you explore and experience our city.
You may occasionally receive promotional content from the Los Angeles Times.