You can make reservations for Andy Ricker's Pok Pok LA on Monday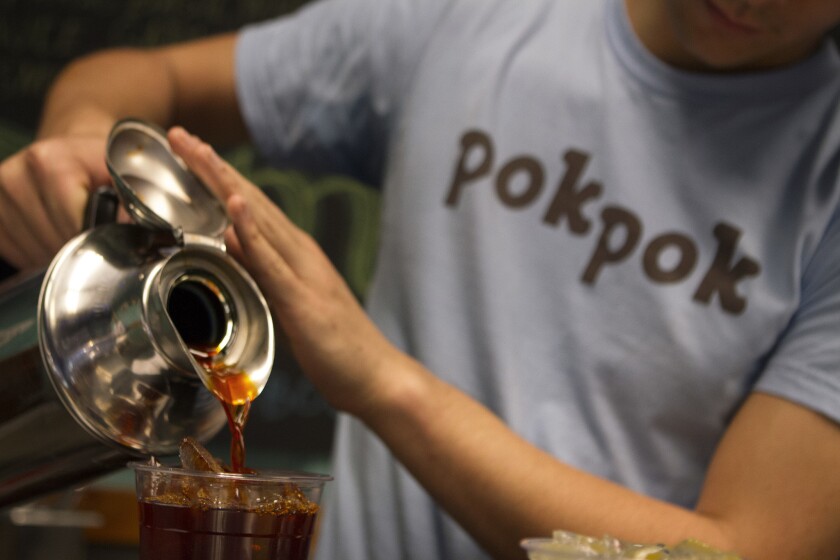 If you've been spending way too much time driving around Chinatown stalking chef Andy Ricker, whether at his Pok Pok Phat Thai counter in the Far East Plaza or at the construction site that has been Pok Pok LA since January, then we have happy news. Ricker says that on Monday he'll open reservation lines for his long-awaited restaurant in Mandarin Plaza.
Ricker opened his first Pok Pok outpost in Chinatown last December, and since then has been working on his second, a much larger project about two blocks up Broadway. The new restaurant is a hybrid of Ricker's Pok Pok and Whiskey Soda Lounge restaurants, both of which originally opened in Portland, Ore. (There's also an outpost of Pok Pok in New York.)
The new Chinatown Pok Pok has two floors, including a bar downstairs that will be open late, and a menu that will be available everywhere. "Basically I'm making a new category," Ricker said. He's calling it "drinking food."
"I like eating in bars. I hate it when I sit in a bar and somebody sitting two feet away from me can't order the same thing. It doesn't make sense."
The plan is for Pok Pok LA to be open for lunch and dinner, continuously all afternoon, seven days a week. That won't happen right away -- Ricker said he's had a "huge staffing problem" -- so look for the restaurant to be open maybe five days a week at first.
As for exactly when that will be, Ricker plans to announce some friends and family dates and to open online reservations using TOCK, the system he uses in Portland, on Monday. "I don't make target opening dates," he said. "It's a dangerous thing to do."
The idea is that the early reservations will be halfway between friends and family ("We don't have enough friends and family. I'm relatively new here.") and a soft opening, allowing the restaurant to charge something -- although not too much -- in the process.
"Footing the bill is ruinously expensive," Ricker said of the practice of inviting people in to eat for free when a restaurant is opening. "We'll sell some tickets. We won't make money, but it'll help."
As for the menu, expect a hybrid of the extant Pok Pok and Whiskey Soda Lounge menus, with more of the dishes from the former. "We ain't trying to fix what ain't broken," Ricker said.
Pok Pok LA will have a full liquor license, and Ricker said he's in the process of getting approval for outdoor charcoal cooking. As for who's cooking, he said he hasn't hired any Thai cooks yet, but "that is only because we haven't had any come through the door. It is not a prerequisite."
And though the L.A. menu won't differ much from the menu at Ricker's other corresponding restaurants, he said there will be regional and seasonally specific dishes ("hoping to find nice hearts of palm here in season") on the specials menu.
"We need to get open," Ricker said, before getting back to work.
Check the website and Pok Pok's social media on Monday, and more Ike's Vietnamese Fish Sauce Wings for us all.
Pok Pok LA, 978 N. Broadway, Chinatown, pokpokpdx.com.
Beause taking pictures of food is almost as much fun as eating it, on Instagram @latimesfood
ALSO
The 101 is coming: Jonathan Gold's restaurant list, plus a party
Coffee has gone corporate: A look at who owns what in the coffee world
Paul Prudhomme, Louisiana chef who popularized Cajun cooking, dies at 75
---
Get our weekly Tasting Notes newsletter for reviews, news and more from critics Bill Addison and Patricia Escárcega.
You may occasionally receive promotional content from the Los Angeles Times.