Where to find ponchiks, or Armenian doughnuts: Big, small, Nutella-filled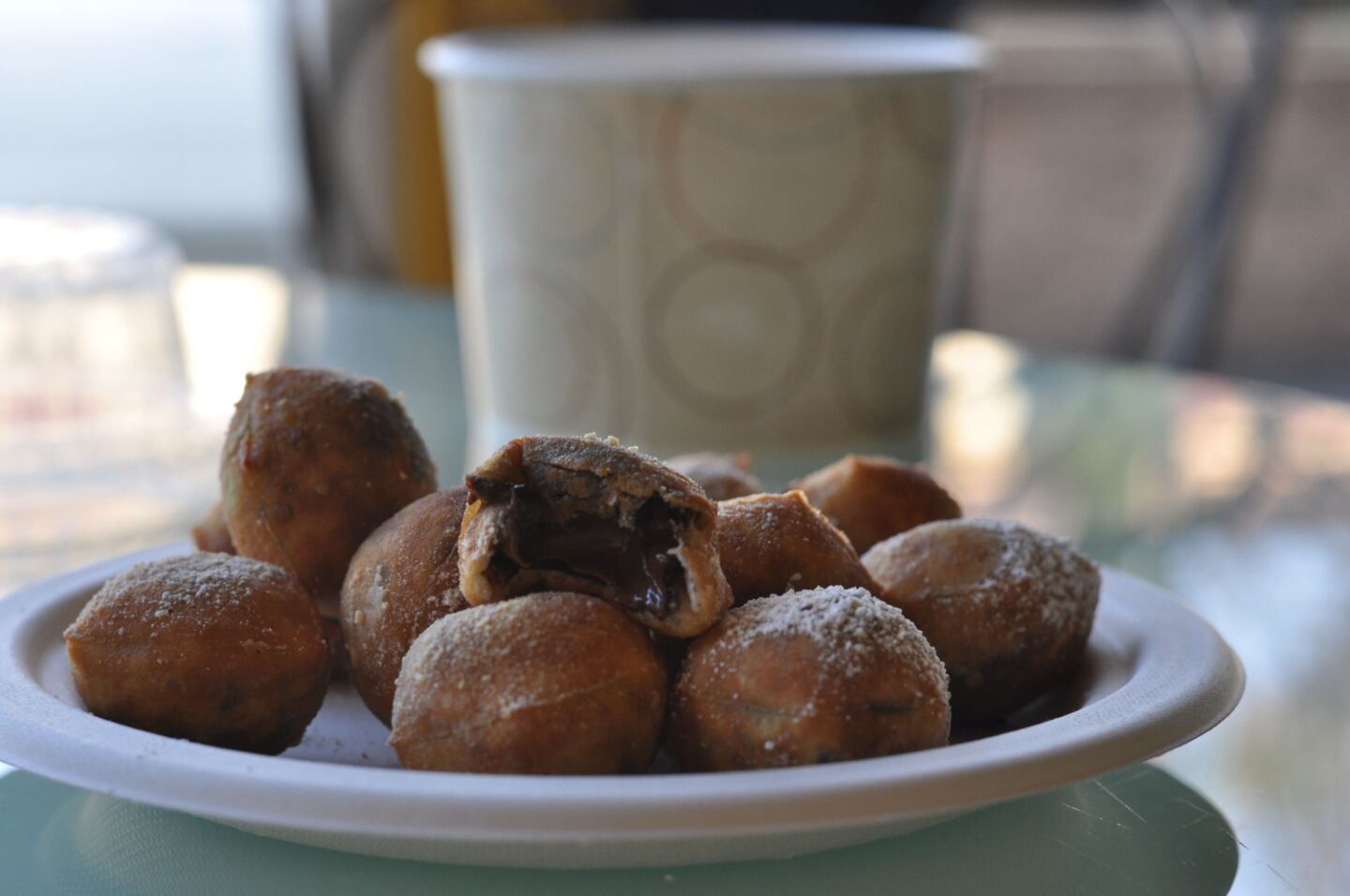 Art's Bakery in Glendale makes tiny ponchiks by the dozen, including these filled with Nutella.
(Amy Scattergood / Los Angeles Times)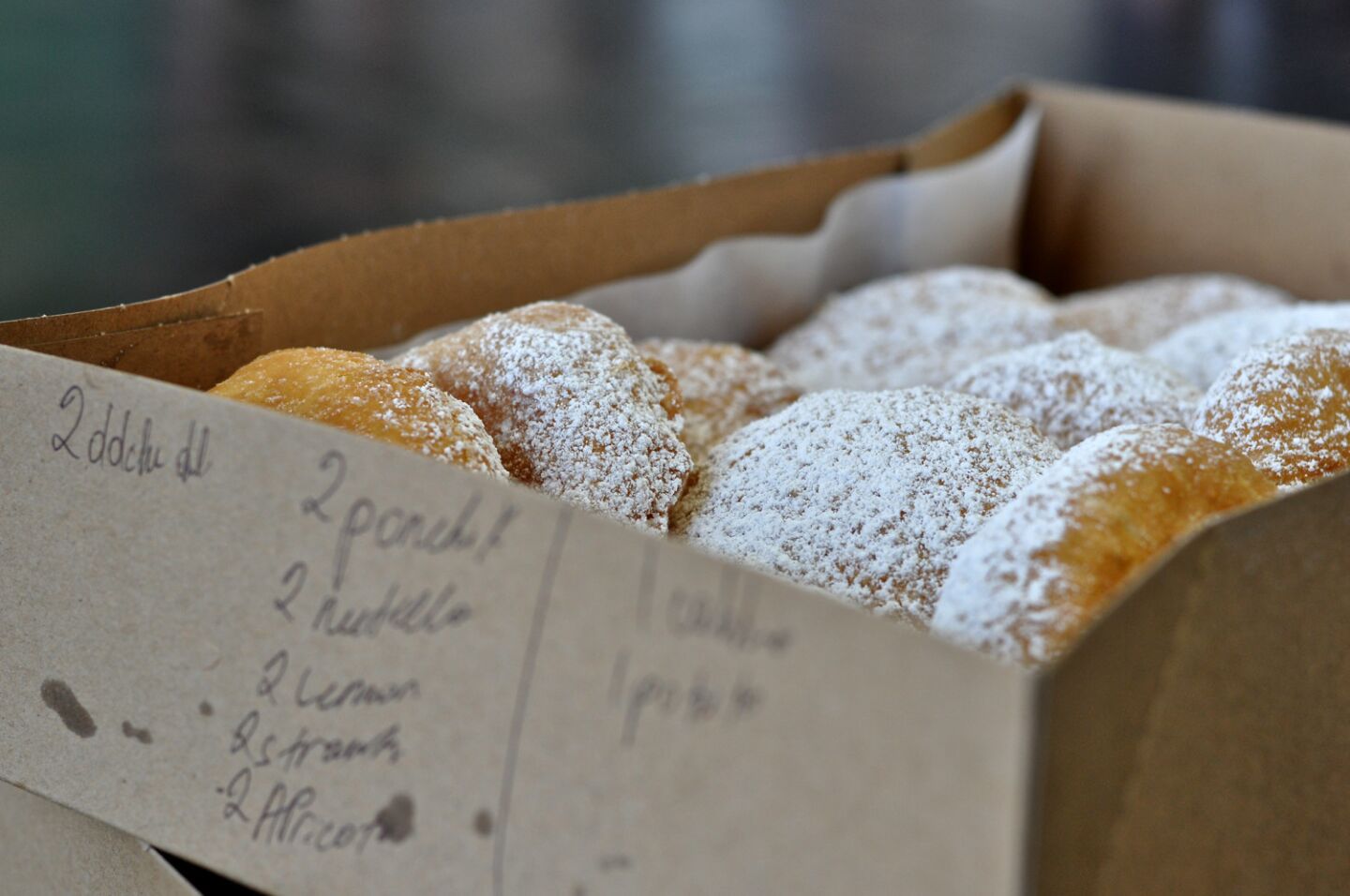 A dozen ponchiks, or Armenian doughnuts, at Papillon International Bakery in Glendale.
(Amy Scattergood / Los Angeles Times)
A plate of tiny ponchiks filled with raspberry jam that Art's Bakery in Glendale makes by the dozen.
(Amy Scattergood / Los Angeles Times)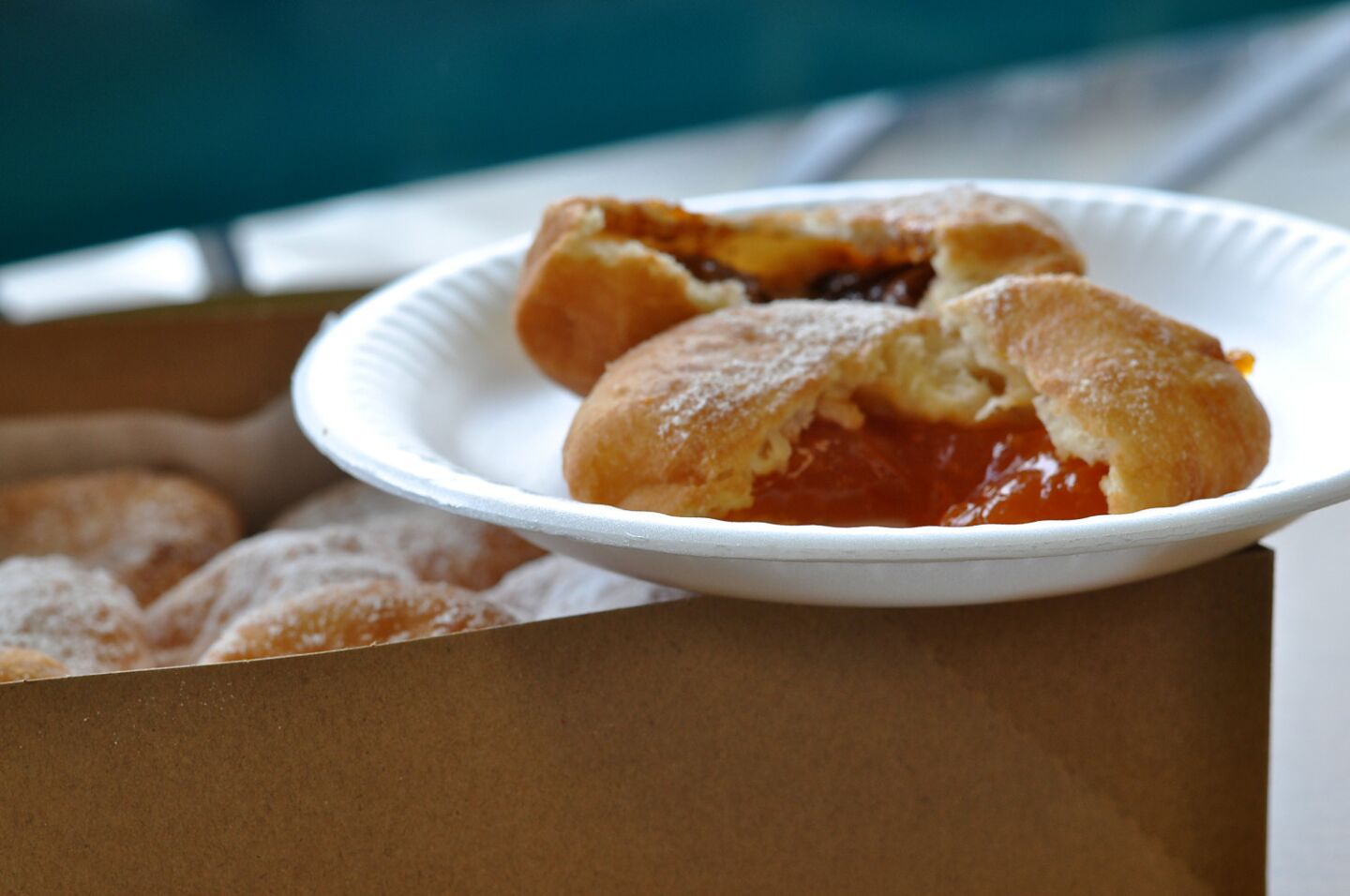 The ponchiks at Papillon International Bakery in Glendale are made to order, including these apricot and Nutella ponchiks.
(Amy Scattergood / Los Angeles Times)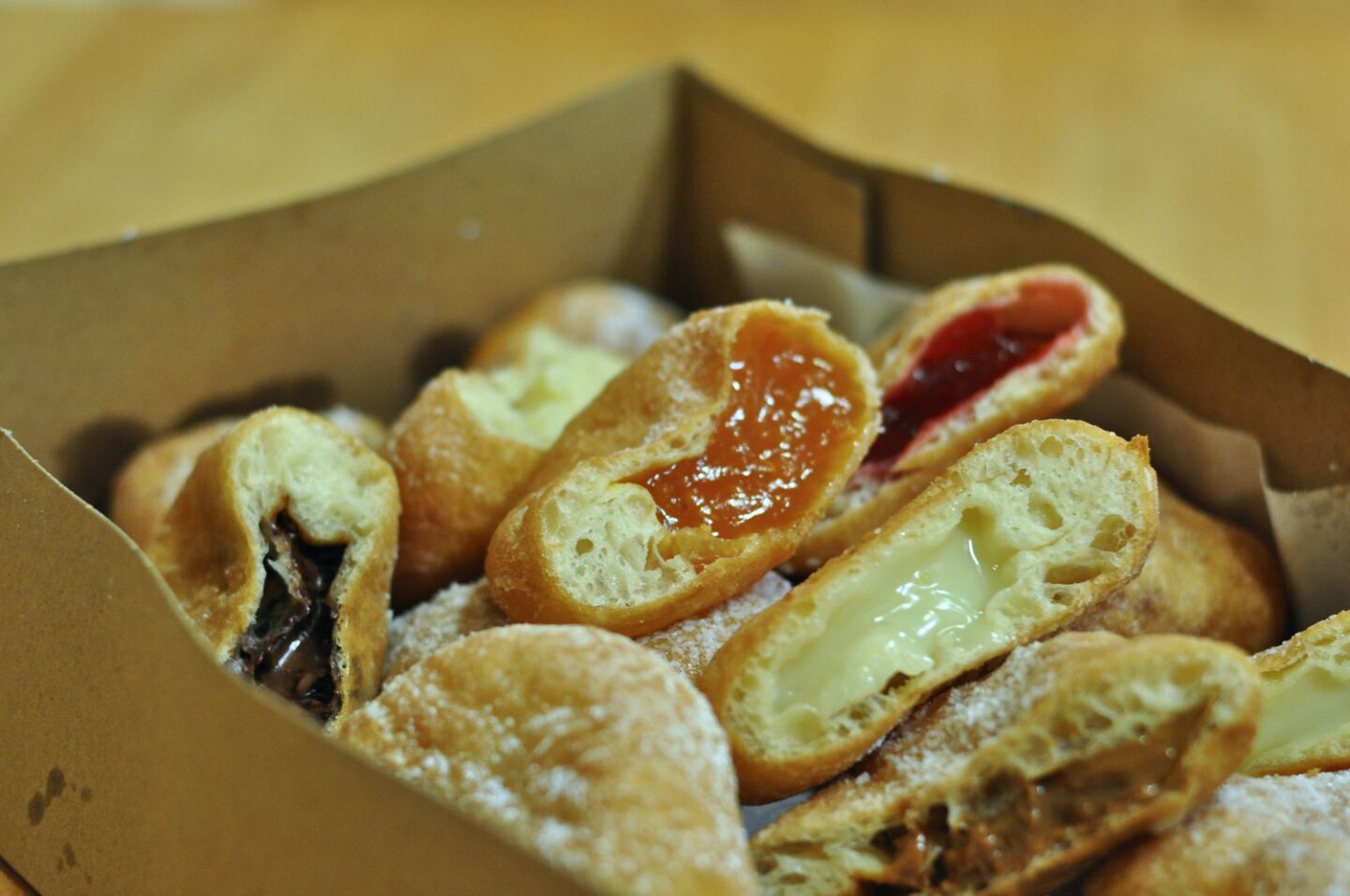 A box of a dozen ponchiks from Papillon International Bakery in Glendale, including apricot, raspberry, dulce de leche, custard and Nutella.
(Amy Scattergood / Los Angeles Times)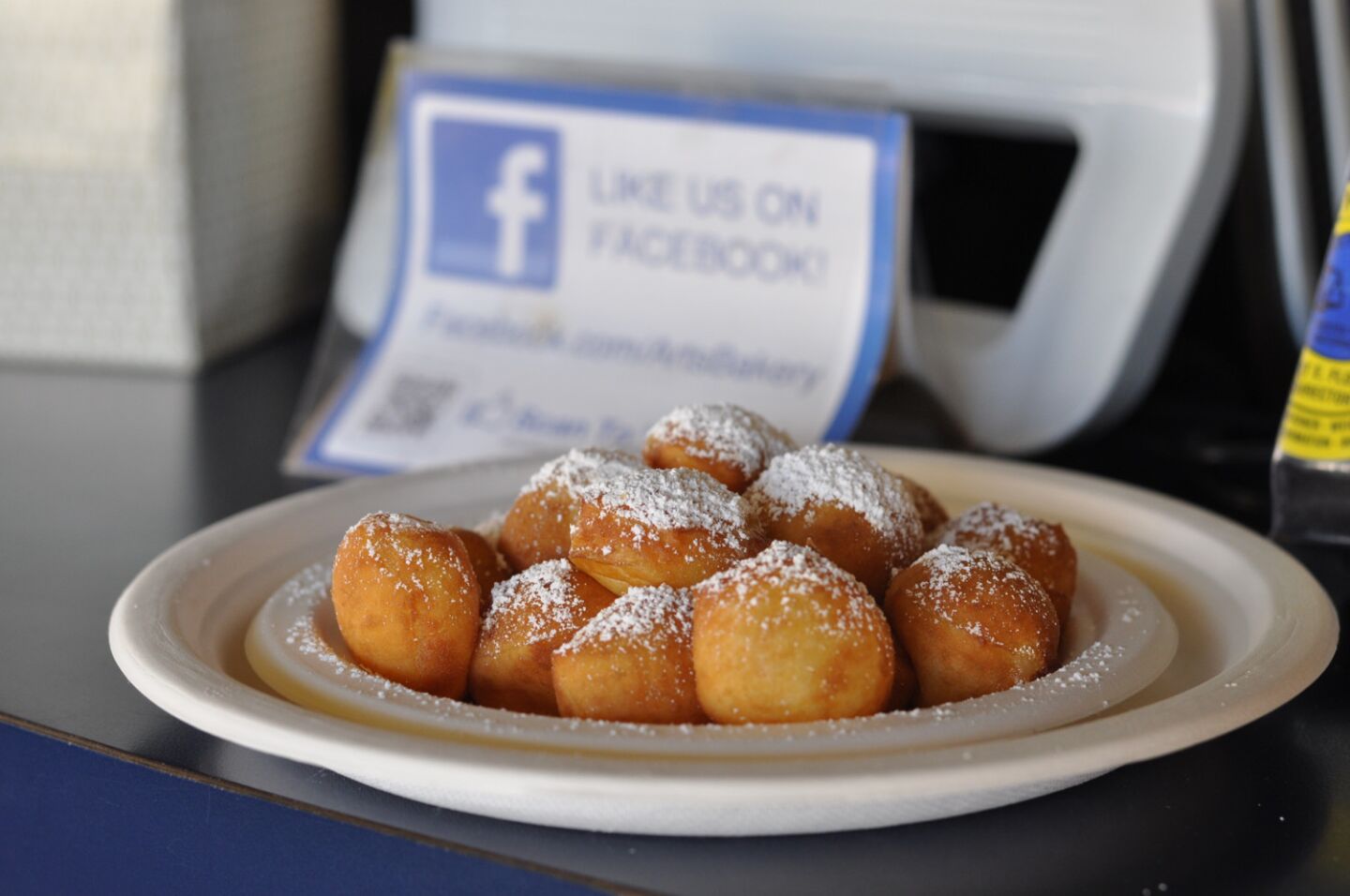 Art's Bakery in Glendale puts out a plate of freshly made miniature ponchiks, Armenian doughnuts.
(Amy Scattergood / Los Angeles Times)
While not as fluffy as a Berliner, beignet or bombolone, the Armenian doughnut ponchik is still easy to crave. Traditionally filled with a sweet custard, ponchiks can also be found in Armenian bakeries around town, filled with dulce de leche and various jams and especially Nutella, which seems to be a particular favorite.
Enveloping the filling is a thin layer of dough with a slight chew and subtle fluff that, aside from being fried, barely resembles either a yeast-raised or cake American doughnut. Ponchik recipes typically include either farmer's cheese or ricotta, lots of egg, some flour, some salt and either yeast or baking soda as leavening, although the dough doesn't require a rise. The thin and chewy texture of the dough creates a sturdy exterior that can hold an extra generous amount of whatever filling you choose.
Here are a three great places to try some. If you're in a rush, call ahead, as the bakeries usually make the doughnuts to order.
Art's Bakery
Art's Bakery in Glendale is a heavenly-smelling establishment where two large display cases showcase everything from cheese and spinach byoreks, and katayifi to petite tres leches, tiramisu and pistachio cannolis. Behind the register a very attentive and friendly staff will take your order, but don't forget to grab a ticket – this place gets crowded. The bakery, which opened its doors in 1987, is a well-known staple in Glendale, famous for their excellent nazooks and cakes made to order for all occasions, including weddings. Owned and operated by Simon and Angela Grigorian, the family business puts out some great ponchiks.
Here they sell only petite ponchiks, smaller than doughnut holes, about an inch in diameter, and there are four options: custard cream, Nutella, apricot and raspberry. They sell them by the dozen, $3.50 per dozen for the Nutella and $3 per dozen for the rest. We recommend the classic custard cream or Nutella. Made-to-order, they'll take a good 10 minutes to fry to that lovely golden brown, but these are well worth the wait and a great treat to take to the office to jumpstart everyone's mood on a Monday morning. $3 - $3.50 per dozen. 1122 East Chevy Chase Drive, Glendale, (818) 552-5053.
Father and Son Bakery
Located in a tiny strip mall off Sunset Boulevard, next to a smoke shop and a laundromat, Father and Son Bakery fries up extra-large ponchiks, a good 4 inches wide, for $1.25 each. Dusted with a heavy hand of powdered sugar and loaded with custard cream, these hold up well despite not being fried to order. The subtle chew of the doughy pocket is a great complement to the thick helping of custard, and one order is definitely enough per person. Well, maybe.
While the bakery's been standing for 25 years, owner Sanvel Treterian, a native of Armenia, acquired the establishment in 2005 from the original owners. In addition to the pastries, Father and Son sells an array of Karoun Dairy products, Armenian string cheese, flats of eggs and even some packaged ramen. Be sure to pick up some fresh lavash and Armenian Gata bread. $1.25 each. 5209 Sunset Blvd., Los Angeles, (323) 665-0303.
Papillion International Bakery
Papillon International Bakery opened shop in Glendale in 1996, baking traditional French and European pastries and also some savory items like piroshkis. After much success at the original location, they've expanded to Hollywood and North Hollywood. (They're also great on Instagram, with almost 82,000 followers.)
The ponchiks here are generously sized — 2 inches in diameter. All are $1.50, and you can choose from fillings of lemon, apricot, strawberry, pumpkin, blueberry, raspberry, Nutella, pastry cream and even dulce de leche, which is a new addition to the menu. These are large, light and decadent – just a couple will satisfy a hefty doughnut craving. And if you're in the mood for some Latin American fusion, pick up a couple of sweet empanadas on the way out. $1.50 each. 1100 South Central Avenue, Glendale, (818) 507-0039; 12904 Victory Blvd, North Hollywood, (818) 761-1848; 5019 Hollywood Boulevard, Los Angeles, (323) 953-1100, papilloninternationalbakery.com.
---
Get our weekly Tasting Notes newsletter for reviews, news and more.
You may occasionally receive promotional content from the Los Angeles Times.