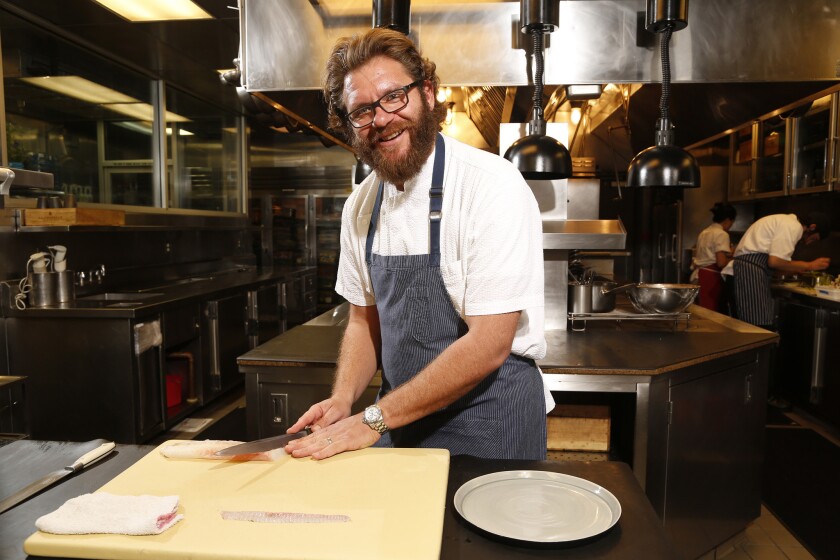 The following are two food events you need to know about. One is super fancy; the other is not. And both deserve a spot on your calendar.
Michael Cimarusti is celebrating the 10-year anniversary of Providence, his Melrose Avenue restaurant, which has been No. 1 on Jonathan Gold's 101 Best Restaurants List for the past two years. Lucky for you, Cimarusti is celebrating with a series of guest chef dinners. The first one was Tuesday, but it was so memorable, we'll tell you about it anyway.
Suzanne Goin (Lucques, A.O.C., Tavern) and Dominique Crenn (Atelier Crenn) joined Cimarusti in the kitchen for a seven-course meal, and it was magical. The next dinner takes place Sept. 14 and will feature Michael Tusk (Quince and Cotogna) and Marc Vetri (Vetri), along with Cimarusti.
SIGN UP for Jonathan Gold's Counter Intelligence dining newsletter >>
After that, a dinner with David Kinch (Manresa) and Mauro Colagreco (Mirazur), along with Cimarusti, is planned for Oct. 6. Dinners are $220 to $280, with optional wine pairings. There are 85 seats for each dinner, and reservations are required. 5955 Melrose Ave., Los Angeles, (323) 460-4170, www.providencela.com.
Love your favorite Eastside restaurants? They'll all be at the second annual Eastside Food Festival, happening Oct. 18 at the Mack Sennett Studios in Silverlake.
Food vendors include Alimento, El Condor, L&E Oyster Bar, HomeState, Sticky Rice, Little Beast and Jeni's Ice Cream. See? We told you your favorites will be there. You can also expect celebrity chefs, local brands, caterers, musicians, DJs and discussion panels with chefs, restaurant owners and artists.
The festivities run from 5 to 8 p.m., with an additional VIP hour from 4 to 5 p.m. Early-bird discounted tickets are $40 and available for purchase online. The event will benefit PATH, a nonprofit organization for the homeless. 1215 Bates Ave., Los Angeles, www.eastsidefoodfest.com.
My mom thinks I'm a good dinner date. Follow me on Twitter @Jenn_Harris_
ALSO:
Food Network "Chopped" judge is opening a restaurant in Hollywood
House of Bao opens in Chinatown, serves pigs' ears and dumplings next to Wal-Mart
Wolfgang Puck is having a BBQ with Adam Perry Lang; Torrance plans 4-day Japanese food fair
---