Recipe: Chipotle roasted salmon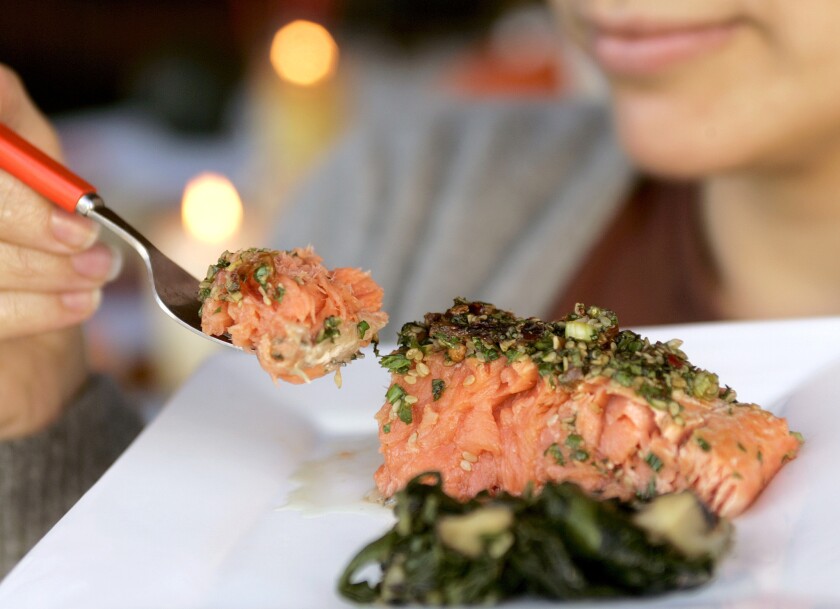 Total time: 35 minutes including marination
Servings: 8 to 10
2 chipotle chiles in adobo sauce
1/4 cup sesame seeds
1/2 cup tequila
3 tablespoons olive oil
3 tablespoons sesame oil
2 large cloves garlic, minced
4 scallions, green part only, thinly sliced
1/2 cup chopped cilantro
1 teaspoon dried Mexican oregano, crumbled
1 fillet of wild salmon, 3 to 3 1/2 pounds, about 1 1/4 -inch thick
1 1/2 teaspoons sea salt or kosher salt
1. Mince the chipotles and combine with the sesame seeds, tequila, olive oil, sesame oil, garlic, scallions, cilantro and oregano. Mix well.
2. Season the salmon with the salt. Lay the fish skin side down on a foil-lined rimmed baking sheet. Spoon the chipotle mixture evenly over the top. Let stand 15 minutes. Meanwhile, heat the oven to 500 degrees.
3. Roast the salmon for 12 to 15 minutes, depending on the thickness of the fish, or until a thin sharp knife slides in easily when inserted into the thickest part. Let stand 5 minutes before cutting into slices. Lift the foil onto a serving platter and slide the fish onto the platter. Serve hot or at room temperature.
Each of 10 servings: 298 calories; 30 grams protein; 2 grams carbohydrates; 1 gram fiber; 15 grams fat; 3 grams saturated fat; 69 mg. cholesterol; 318 mg. sodium.
---
Get our weekly Tasting Notes newsletter for reviews, news and more.
You may occasionally receive promotional content from the Los Angeles Times.