You may finally be able to get a table at Curtis Stone's Beverly Hills restaurant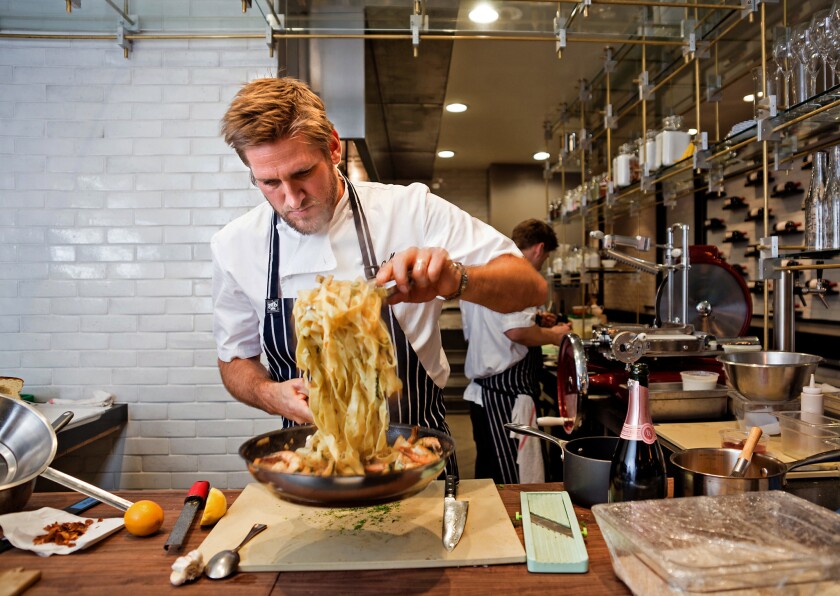 It's a fun L.A. game to list the hardest-to-get restaurant reservations in town — kind of like our version of impossible Broadway shows. These lists, which you can also find among the repeating listicles of blogs and other publications, mostly include Bestia and Trois Mec, and they mostly start with Maude. This is because Curtis Stone's Beverly Hills restaurant has 25 seats and is, well, run by Curtis Stone.
If you're not familiar with Stone's cheerful Australian persona, you probably don't turn on your TV or get out much. Stone has appeared on various television shows including "Top Chef Masters," "America's Next Great Restaurant" and "Around the World in 80 Plates." Stone, who relocated to L.A. some years ago, also has cookbooks and his own line of cookware. All of which makes both him and his first and only L.A. restaurant very popular.
For the last year and a half — Maude opened in February 2014 — to get a reservation at Maude, you had to wait for each month's reservation dates to open, and then pick up a phone and call the restaurant. Sometimes often, in the short window during which seats were still available. We're talking less than 30 minutes sometimes. This meant that often you were out of luck until the next month, when you could again look forward to repeatedly calling the restaurant.
This will change, as of next month, when Maude will start using a new online reservation system through their website using something called TOCK. If you're marking your calendars, the system goes live at 10 a.m. on Oct. 1 for November bookings.
Why did it take so long for Maude to do this? Apparently, Stone liked how personal phone reservations were — you can talk to an actual person! And you can still make your reservations this way if you like. But he did recognize that the system needed to be "enhanced."
What this means, in practical terms, is that you'll finally have a chance to eat Stone's food, which is presented in tasting menu form, each month devoted to a particular seasonal ingredient. Thus if you're very fond of truffles, you may want to set your iPhone's alarm for the first of October, which allows you to reserve for November's white truffle menu. (December is black truffles.) Which makes this a very good time to get an online system, particularly if you're the guy answering the phone.
212 S. Beverly Drive, Beverly Hills, www.mauderestaurant.com.
Because taking pictures of food is almost as much fun as eating it, on Instagram @latimesfood.
ALSO:
Your Los Angeles area ice cream and gelato map
Churros and Nutella from a food truck. Need we say more?
Craft brewing could be the next boom industry in Los Angeles County
---
Get our weekly Tasting Notes newsletter for reviews, news and more.
You may occasionally receive promotional content from the Los Angeles Times.