Neiman Marcus Beverly Hills has a new vegan restaurant. And yes, there's avocado toast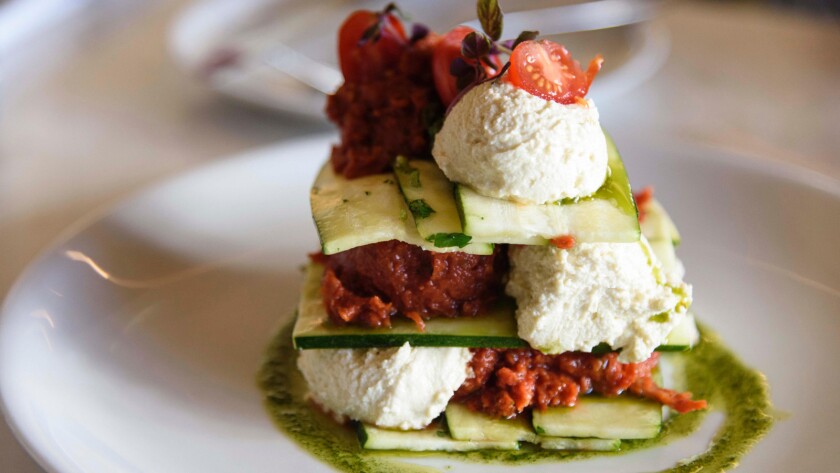 From Filipino food in Orange County to avocado toast at Neiman Marcus, here's what's happening in the world of food and drink:
Neiman Marcus goes vegan: One of the swankiest department stores in Los Angeles is about to open a vegan restaurant. Matthew Kenney NM, a new restaurant by Matthew Kenney (the chef behind Plant Food + Wine Venice), is scheduled to open at the Neiman Marcus Beverly Hills on Nov. 18. The restaurant, located on the third level of the store, has 24 seats and room for eight at the bar. Menu highlights include avocado toast (yes, this is still a thing); a mushroom and vegetable burger; taco salad with sunflower chorizo; and an avocado and Key lime tart. 9700 Wilshire Blvd., Beverly Hills, (310) 550-5900, www.neimanmarcus.com.
Worldly döner kebabs in Westwood: SpireWorks, a restaurant specializing in döner kebabs, will open in Westwood Village on Nov. 16. There are plans to open another location in Eagle Rock next year. The restaurant will serve beef döner kebab, inspired by the food that owner Bob Kaufman (former senior vice president for business development and franchises for Tower Records) ate during his many trips to Turkey. Kuniko Yagi (of the now-closed Comme Ça and Hinoki and the Bird) is a consulting chef. The restaurant has a build-your-own döner adventure model with your choice of beef, chicken or vegetarian kofte; a base of either the restaurant's signature bread, greens or rice; then toppings. The Baja California-style toppings include tomatoes, tomatillo sauce and cotija cheese; while the Bangkok-style toppings are items such as tamarind chutney, yellow curry aioli and pickled red peppers. 1061 Broxton Ave. Los Angeles, (424) 220-6299, www.SpireWorks.com.
Your new Long Beach Beer Belly: Beer Belly, the K-town restaurant known for its stoner-friendly creations (bacon fat fries topped with bacon; Buffalo mac 'n' cheese with fried chicken skins), is opening a location in Long Beach on Friday. The 2,000-square-foot space is at the corner of Long Beach Boulevard and East 3rd Street near the Long Beach Promenade. Chef Wes Lieberher's menu will feature new versions of some of the dishes from the Koreatown menu, along with items created specifically for Long Beach, including the BLVD burger made with candied bacon slaw, sharp cheddar and a sunny-side-up egg. The restaurant will have 24 beers on tap and a cocktail program by Karen Grill. There will be a back bar where diners can order experimental drinks Grill and her team are working on. 255 Long Beach Blvd., Long Beach, (562) 436-2337, www.beerbellyla.com.
Filipino food in Santa Ana: The Filipino food movement continues in Orange County with a new restaurant called Mix Mix, opening in Santa Ana later this year. Chef Ross Pangilinan, formerly of Cafe Rouge, plans on using his traditional French and Italian training to pay homage to his Filipino heritage: seared foie gras with charred pineapple and al pastor spice; crispy duck leg with mushroom risotto and Szechuan pepper. There will be a six-seat, reservation-only chef's table. And in the bar, cocktails will feature house-made bitters, syrups and infusions. 300 N. Main St., Santa Ana, www.mixmixkitchenbar.com.
The Hamptons in the SFV: Hamptons 818, a new restaurant meant to evoke the style and feeling of the Hamptons, opened a little more than a week ago in Sherman Oaks. It's sort of nautical-themed with an impressive selection of omelets and pancakes. And yes, there's a lobster roll on the menu. 14919 Ventura Blvd., Sherman Oaks, (818) 501-2700, hamptons818.com.
Still hungry? Pink Taco has a new taco truck. Stephen Trujillo, who has worked at the French Laundry and Bouchon, has taken over as chef at the Churchill. West Hollywood restaurant Catch LA is now open for weekend brunch. Avec Nous at Viceroy L'Ermitage Beverly Hills and Cast at Viceroy Santa Monica are launching new after-work menus (Rush Hour menu at Cast; Cocktail Hour at Avec Nous).
Currently craving a cheeseburger with no onions. Follow me on Twitter & Instagram @Jenn_Harris_
ALSO:
Dorie Greenspan talks about a world of nothing but cookies
Martha Stewart and Snoop Dogg talk cooking, cocktails and cannabis
Destroyer in Culver City disrupts the idea of fine dining like nowhere else on Earth
---
Get our weekly Tasting Notes newsletter for reviews, news and more.
You may occasionally receive promotional content from the Los Angeles Times.